Bijan Robinson prepares for what could be his final home game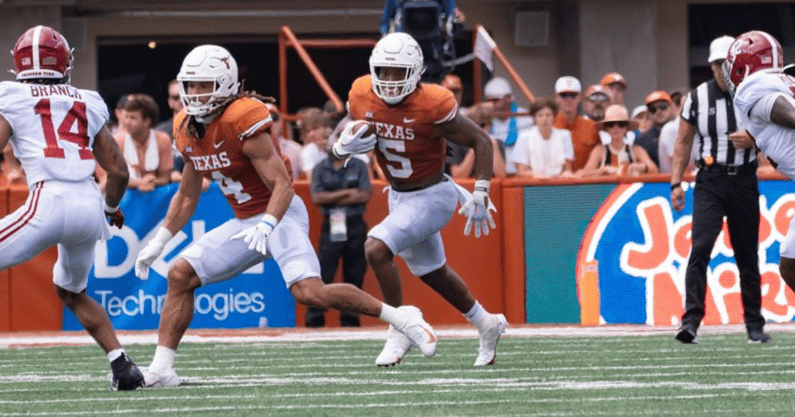 There is a strong likelihood that Friday's contest between Texas and Baylor will be Longhorn running back Bijan Robinson's final game at Darrell K Royal – Texas Memorial Stadium. The third-year rusher, despite having a year of eligibility left, seems destined to begin his professional journey sooner rather than later.
[Get a FREE 7-day trial of Inside Texas Plus!]
If it is his last home game as a Longhorn, Robinson won't say so publicly.
"After the season, I'll really assess everything," Robinson said Monday. "We'll see."
Texas head coach Steve Sarkisian was also mum about whether Friday would be Robinson's home swansong.
"I always try to put those kinds of talks off 'til after (the season)," Sarkisian said Monday. "I think that can create clutter in these guys. I know he wants to come in here Friday and play well, wire into the gameplan."
Whether it's his final home game or not, the Longhorns will need a strong game from Robinson if they want to beat the Bears and give themselves a chance to play TCU in the Big 12 Conference championship game. Just 98 yards would move Robinson past Jamaal Charles and into fourth place on the school's rushing yardage leaderboard behind Ricky Williams, Cedric Benson, and Earl Campbell.
Even if he doesn't hit that mark, Robinson has cemented himself as a runner of similar quality to some of Texas' all time greats. Those legends, Williams and Campbell specifically, have supported Robinson every step of the way, from his coming out performance versus West Virginia in 2020 to his career day versus Kansas last Saturday.
"That's a real blessing right there to be behind those guys," Robinson said. "Those guys are legends here. For me, it's just cool to be in the conversation with them. Earl and Ricky, they always helped me out with everything. Even Jamaal. It would be a cool thing to do something like that."
Robinson has been nothing short of a blessing for Texas. Whether it was in Tom Herman's last season in 2020 or in Sarkisian's first two seasons in 2021 and 2022, Robinson has been a key cog of the Texas offense in every game save two last year that were missed due to injury.
Even though the Texas program hasn't found the level of success it desires with him on the roster, Robinson enters Friday with no sense of regret.
"A lot of people ask me that, but I think I did everything I could here," Robinson said upon being asked if he was underutilized. "I'm just having fun."
During his session with the media on Monday, Robinson sounded like a player who knew he was about to make his final home appearance as a college football player. His tone was one of someone reminiscing on fond memories made in Austin.
"I'm going to enjoy it," Robinson said. "I'm going to miss all the seniors that have been here. For me, it's going to be an emotional one. I'm just going to have fun. I just want to play an awesome game to help us get a win."
While he wasn't sure if he was going to be honored along with participants in Texas senior day, he did give another indicator the next stop in his career would be in the NFL. When asked about his favorite memories as a Longhorn, he was quick to provide some of the moments that stick out from his career as a Longhorn.
First was the aforementioned game against West Virginia in 2020, when he put a spin move on Mountaineer defenders and ran up the sideline and was ruled to have stepped out of bounds, though replays leave that call open to interpretation.
"Should have been a touchdown," Robinson said.
Next was his run against Oklahoma in 2021, another play he thought should have resulted in six points.
There have so many good moments for the devout Christian. But there was also a moment that had him saying prayers of thanks: the time when he tried to hurdle a defender at Texas Tech in 2020 and had his heels touch the back of his head upon landing.
"That was crazy to me to watch that," Robinson said.
Robinson's faith has been with him every step of the way. He wears it out in the open, making sure to offer praise prior to starting any post-game press conference.
It's also reflected in what he wants to be remembered for at Texas. When asked, he didn't mention the 3000-plus rushing yards or the impressive touchdowns or even the endorsement deals with Lamborghini or his own brand of mustard.
The first thing he spoke about was setting an example for others.
"Just consistently being a good person," Robinson said. "On the field, it speaks for itself. I pride in trying to make people happy and trying to use my faith to a high standard, and just always being positive and speaking positivity out to everyone that might watch me or might see me."
Sarkisian is one of the people who Robinson will sit down with after the season, along with his family and others in his circle, to determine what his next step should be. It seems clear that next step is declaring for the NFL draft and beginning preparation for the combine, pro day, and other important pre-draft events.
But first comes Friday's game with Baylor. If that serves as Robinson's last game, it'll cap quite the three-year career in burnt orange.
"If this is my last one, I just want to enjoy it on Saturday and just have fun with everybody," Robinson said.