Cameron Dicker is crafting a case for the Ray Guy Award while making school history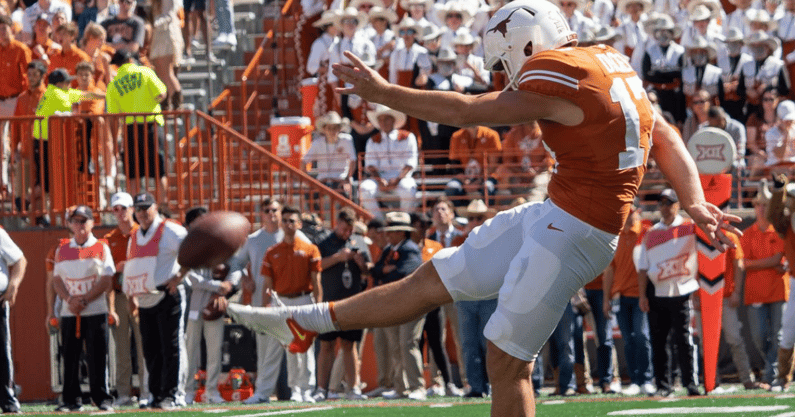 Cameron Dicker, in his roles as both Dicker the kicker and Dicker the punter, is having an excellent season.
In order to make the NCAA statistical rankings for punting, a player must have a minimum of 3.6 punts per game and play in 75 percent of a team's games. With 24 attempts over eight games, Dicker is just short of the required 3.6 thanks to not punting in contests versus Rice and Texas Tech.
[Subscribe to Inside Texas and get 50% off an annual or monthly membership!]
But when he has taken the field to surrender possession via punt, Dicker has been one of the best in the nation. This comes during his first season as Texas' full-time punter after taking over for Ryan Bujcevski late in 2020. All the while, he's inching closer to the top of several school records for specialists.
Per Sports Reference, who does not require 3.6 punts per game to make its rankings, Dicker is fourth nationally in punting at 49.6 yards per punt. He trails Michigan State's Bryce Baringer (50.1), Colorado State's Ryan Stonehouse (51.3), and San Diego State's Matt Araiza (52.2). Every member of that trio has at least 36 punts compared to Dicker's 24.
Of those 24 punts, only three have failed to travel 40 yards. Two of his punts versus Oklahoma traveled 39 yards, one from the plus-47 that was fair caught at the 14-yard-line and the other sent from his own end zone. The third under-40 punt was blocked by Arkansas' Jake Yurachek.
Twelve of his 24 have traveled at least 50 yards. He sent two at least 75 yards, one for 78 yards against Oklahoma…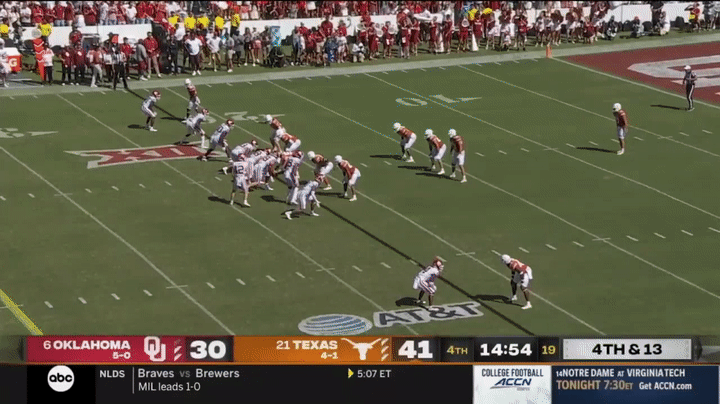 and another for 77 yards against Oklahoma State.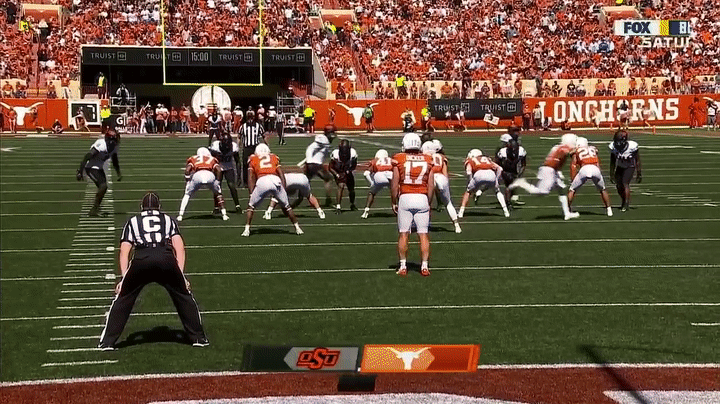 Those are the fifth and sixth-longest punts in school history, just behind Alan Lowry's 82-yard effort against Baylor in 1972.
His current average of 49.6 would break the record set by Michael Dickson during his 2017 Ray Guy season by 2.17 yards.
Baringer, Stonehouse, and Araiza made the Ray Guy Award's preseason watch list along with Bujcevski. However, Bujcevski has yet to suit up for a game this season, while Dicker has successfully flipped fields whenever called upon (ill-fated fake punt against Baylor notwithstanding).
All this is while continuing his place kicking and kickoff responsibilities. Dicker is 9-for-11 on field goal attempts and a perfect 37-for-37 on extra points. He hasn't missed a field goal in conference play, with his longest make a 41-yarder against Oklahoma.
His four field goals versus TCU were one shy of the Texas single-game record held by Justin Tucker, Ryan Bailey, Kris Stockton, and Jeff Ward. Thirty-four of his 52 kickoffs have ended in touchbacks with none sailing out of bounds.
A four-year stint as Texas' kicker has Dicker in position to leave Austin at or near the top of several statistical categories. He has more points in school history than any other kicker and trails only Ricky Williams and Cedric Benson in scoring.
He is fourth in field goals made with 56, three behind Phil Dawson. With 194 extra points made, he is 15 away from passing Dusty Mangum's school record of 218. Two years ago, he made the seventh-longest field goal in the history of the program, a 57-yarder versus Rice. Only Russell Erxleben, arguably the top Longhorn specialist ever, has converted from a longer distance.
Dicker has also hit 58 consecutive extra points, an active streak which is the fifth-longest in school history. He is unlikely to catch Mangum's mark of 121 straight (unless he returns for another year using COVID-19 eligibility relief), but passing Tucker's 71 consecutive to overtake third place is in reach.
The hero of the 2018 Red River Shootout added more to his plate ahead of the 2021 season. Dicker has handled all the special teams responsibilities at a high level and could be in contention for postseason awards and conference honors. Throughout the entire process, he is moving up Longhorn kicking leaderboards as his senior season draws nearer to its end.