DeMarvion Overshown to return for 2022 season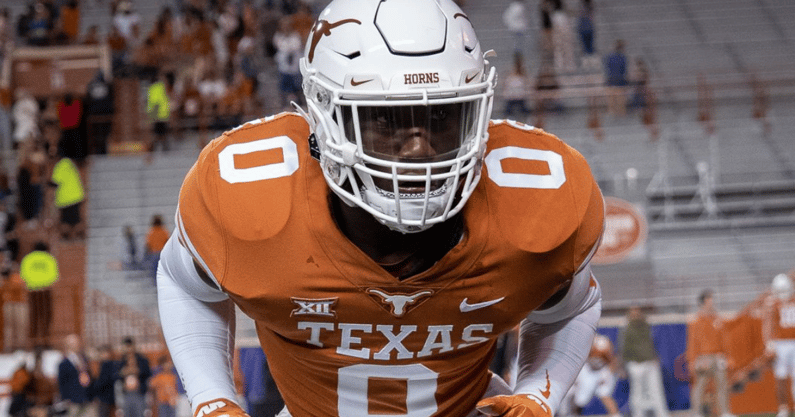 Agent Zero is back for year five. Texas linebacker DeMarvion Overshown announced Saturday he will return to the Longhorn football program for the 2022 season.
Inside Texas had indicated this was likely to occur.
[Subscribe to Inside Texas right now and get a 7-day FREE trial!]
Overshown, a fourth-year senior from Arp, Texas, is returning to Steve Sarkisian's football program using the extra year of eligibility provided by the NCAA as a result of the COVID-19 pandemic.
The 6-foot-4, 223-pound linebacker was a member of Texas' 2018 class. He began his Texas career at safety before moving to linebacker ahead of the 2020 season.
He was Texas' leading tackler during the 2021 season in 10 starts out of 11 appearances, tallying 74 tackles including 38 solos. He notched 5.5 tackles for loss and 2.0 sacks during his first senior campaign. He recorded two passes defended and two fumble recoveries during the 2021 season.
In his Texas career, Overshown has 153 total tackles, 20.5 for loss, 5.0 sacks, and three interceptions. He has played in 38 career games.
Overshown joins D'Shawn Jamison as players returning to Texas in 2022 using the extra year of eligibility provided by the NCAA due to the COVID-19 pandemic.
His presence means Texas should return most of its off-the-ball linebacker corps for Sarkisian's second season.
Overshown, who has taken advantage of Texas' Name, Image, and Likeness laws, will continue to have the opportunity to make money using his "Agent Zero" monicker.
More importantly for the Texas Longhorns, he will continue to be an active presence in the middle of the Longhorn defense.
This is a developing story. Stay up to date with the latest Texas Longhorns news on the Inside Texas Members Only message board.