Difficult stretch of games for Texas, other serious Big 12 contenders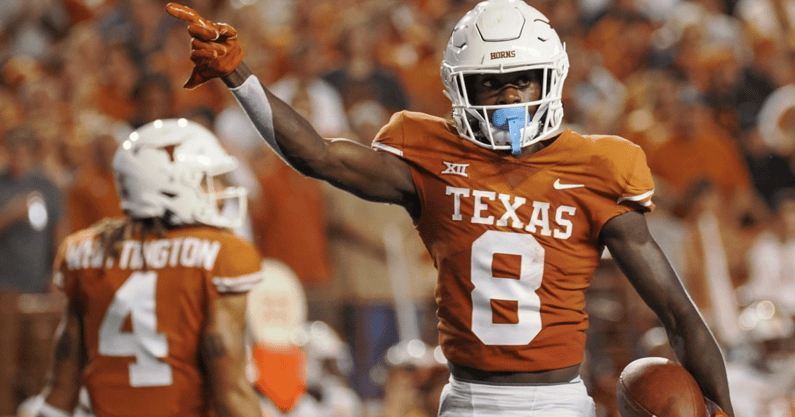 The Big 12 has entered a wild stretch in a year where the No. 10 team can beat the No. 1 squad on any given Saturday. This is the most parity I can recall in a season, even if a couple of teams are undefeated in conference and a team like Iowa State has yet to win a league game.. You're likely a Texas fan so you know how close Iowa State was to defeating a ranked team on the road.
[Get FOUR MONTHS of Inside Texas Plus for $1!]
The remaining Big 12 schedule likely favors TCU more than any other serious contender, but that isn't to say their schedule is easy. 
The No. 8 Horned Frogs just escaped Oklahoma State at home and are on the road this weekend to face Kansas State. Then they travel country roads to play West Virginia. The Mountaineers are always dangerous at home, ask Baylor. They'll TCU will return to Fort Worth to play a spirited Texas Tech. After that they go to Austin for what may prove to be the biggest game of the year for Texas and maybe the conference. There is a lot of football to be played between now and then, however.
No. 20 Texas narrowly defeated Iowa State this past weekend and next is on the road to face Oklahoma State after the Cowboys' disheartening road loss to TCU. Texas may be catching them at the right time. This weekend's game will be followed by a bye before the Horns go on the road to face Kansas State. The bye between those two tough road games is well timed. UT will have plenty to work on during the 'off' week. After the Wildcats, the resurgent Horned Frogs make the short drive south on IH-35 for the Gary Patterson bowl. GP's statue in front of Amon G. Carter should serve as the trophy for that contest.
No. 11 Oklahoma State didn't get the benefit of bye week timing Texas did. Their bye week was the weekend of September 24th. Given their current injury concerns, that's not ideal. Mike Gundy's team needs to put the double-overtime loss this past weekend behind them and gear up for Texas. While Texas has yet to prove it can play well on the road under Steve Sarkisian, the Longhorns are a very difficult matchup even on the road. Win or lose, this game should be difficult for both teams. There will be no rest for the 'Pokes as they'll head to Manhattan the following week to face the Wildcats.
No. 17 Kansas State has a similarly difficult run of games: TCU on the road, then Oklahoma State and Texas at home in successive weeks, followed by a road trip to Waco to face Baylor. 
Nobody knows how things will play out but ESPN's Power Football Index gives Texas the best chance to win the Big 12:
Texas: 55.4%
TCU: 23%
Oklahoma State: 9.2%
Kansas State: 8.5%
That feels about right because Texas has favorable unit matchups against these teams. However, Texas is young at key positions and is still working to improve upon potential fatal flaws like 3rd down defense. Plus, as noted above, Sarkisian's squad has yet to demonstrate success on the road while the Horns have key road games in the next two games.
Over the coming weeks each team will find out a lot about itself, and in turn we'll find out a lot about the Big 12 race. And keep in mind, even after the series of games outlined above, these teams will still need to close the season out strong in a year where there are no off weeks.
I can't wait for Texas to exit for the SEC and the bigger games in different venues that accompany the move, but the Big 12 has often delivered on entertainment value and this upcoming stretch could raise the bar.