Evaluating Big 12 title odds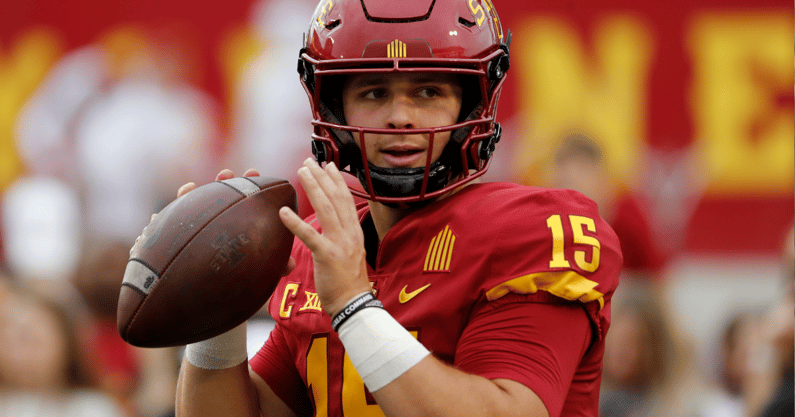 The website betonline.ag recently produced some odds for the conference championships and had the following for the Big 12 conference.
Oklahoma: 4/7
Texas: 4/1
Ok State: 11/2
Baylor: 12/1
Iowa State: 12/1
TCU: 40/1
Kansas State: 100/1
Texas Tech: 100/1
West Virginia: 100/1
Kansas: "We won't take your money," -Vegas, apparently
Obviously Vegas sees this as having been narrowed to a five-team race. I'm going to talk about seven teams and where I see them in the hunt for a Big 12 title game berth. Technically these odds also include winning the Big 12 title game, I'm not sure how much that changes the calculation except perhaps for Texas or Oklahoma.
You figure anyone who makes it has a chance. Maybe Oklahoma and perhaps Texas get a bump as being more likely to also win the Championship Game due to their talent levels.
[Subscribe to Inside Texas right now and get 50% off an annual or monthly membership!]
We'll do this in tiers, starting with…
You done messed up and it's gonna be hard now
We begin with Kansas State, whom I'm loathe to totally count out now Skylar Thompson is back and playing. It was brutal for them to drop the Oklahoma State game on the road without him and their defeat against Oklahoma put them in an 0-2 hole for league play.
The rest of their schedule is much more favorable now the Oklahoma's are out of the way, but they still face Iowa State in "Farmageddon" and end the season at Texas. Pretty tough.
Two losses doesn't knock you out though, here's the conference records for the two title participants dating back to 2017 when they added a Championship Game to the round-robin format.
2020: 8-1 Iowa State vs 6-2 Oklahoma
2019: 8-1 Oklahoma vs 8-1 Baylor
2018: 8-1 Oklahoma vs 7-2 Texas
2017: 8-1 Oklahoma vs 7-2 TCU
Three of the eight participants over the last four years had two conference losses and no one has entered the game undefeated. The 2018 Longhorns lost back to back games against Oklahoma State and West Virginia, as did the 2020 Sooners when they started Big 12 play 0-2 after losses to Kansas State and Iowa State.
So there is a precedent for a two-loss team, even one with consecutive losses, still finishing 7-2 to make the game. The issue for Kansas State is probably more about their defense, which at this point we'd have to say just hasn't been the same since Scottie Hazelton left to coach Michigan State (currently undefeated).
The other team in dire straits here is TCU. The Frogs have only dropped one game, to the Longhorns, but are being counted out in the odds for at least three easily discernible reasons.
They haven't been very good on defense. This is at least partially due to injuries but…
They are already badly beat up. Quentin Johnston has been out, supposedly Max Duggan and Zach Evans are questionable for OU, and the defense has been a revolving door at safety.
The Frogs still have @Oklahoma, @Oklahoma State, and @Iowa State left on the docket.
However, if the Horned Frogs can put a healthy-ish defense on the field against Oklahoma this weekend things could get interesting. Win that game and you avoid one of the obvious potential Ls on your schedule AND you gain a potential tie-breaker advantage.
That's a fine start, but are you sure you're up for this?
I'm going to include Baylor and Oklahoma State here, the former of whom is 2-1 in Big 12 play with a nice potential tiebreaker win over Iowa State. The latter, the Cowboys, are undefeated and have already beaten Baylor and now face Texas in Austin this Saturday.
The Bears received a fresh injection of confidence after getting beat on the road against Oklahoma State when they took apart a crumbling West Virginia squad. The Mountaineers really didn't play a very good game on defense. Some of it was an aggressive gameplan oriented around stopping the run but Gerry Bohanon torched them early with several throws into a secondary which was playing pretty bad team pass defense.
Several of the early slants to Tyquan Thornton were passed off poorly between defenders, uncharacteristic for this team. Baylor continues to be something of an enigma. They win games for a reason but to my eyes are not anywhere near as dominant as the record suggests.
They're 1-for-1 thus far against the better teams in the league, how will they hold up against Texas in a couple of weeks? They get the Longhorns and the Sooners in Waco with K-State and TCU as the road trips so this may be the year to sneak back into the title game if it's going to happen.
Oklahoma State is in slightly better standing than Baylor because they already beat the Bears and haven't taken a conference loss yet. However, they've just used their bye and still have @Texas and @Iowa State in back to back weeks and finish the year with Bedlam, which could end up being a semi-final game for the Big 12 title.
To my eyes, both of these teams are really solid, well-rounded teams who lack an extra gear. In particular, neither offense has shown many features which really scare you.
Oklahoma State has a good run game but their passing game is extremely sporadic, protection is iffy, and Spencer Sanders has a turnover issue. Baylor's run game has not been particularly impressive and their defense hasn't made the expected leap because the cornerback play isn't there for it.
The value pick
Iowa State has only a single blemish on their Big 12 resume, the road loss to Baylor which they flubbed with bad special teams play and yielding a great start to the Baylor offense before clamping down.
This team is exactly what we thought it'd be though back when everyone had them in the Big 12 title game. Brock "pump fake" Purdy has had some turnover issues which are pretty standard for them, the run game continues to be excellent, and their passing game with Charlie Kolar and Xavier Hutchinson picked up where they left off in 2020 and have improved. They even have added more play-action shot taking potential with Joseph Scates outside.
The defense? Same story. Playing terrific football up front, Will McDonald, fourth of that name, continues to be a menace, and the back end is probably better at safety than we've seen from the Cyclones since 2018.
Their only difficulty is navigating a schedule which still includes most of the conference's best teams when they already have the loss from Baylor. They just had their bye week and will travel to Manhattan for Farmageddon, then they get OSU at home, later Texas at home, and then a road trip to Oklahoma the week before last.
The favorites
Texas and Oklahoma are favorites by a solid margin, with Oklahoma naturally ahead of Texas after out-lasting the Longhorns in the Red River Shootout.
The reason for optimism on the Texas side of things mostly comes down to their offensive play through two Big 12 games. They ran over TCU in Fort Worth and then when Oklahoma loaded the box Casey Thompson threw for 388 yards at 11.4 ypa with five touchdowns and zero interceptions.
Freshman Xavier Worthy is a legitimate deep threat receiver (space force!) who went for 260 on the Sooners and raced past many of their corners (10.55 100m in HS) and they can boost their run game for Bijan Robinson with quarterback zone-option or 12 personnel sets.
The Texas defense has struggled some with Pete Kwiatkowski's scheme, which is pretty unique for this league. They play a lot of what they call "vision quarters" which is like a soft "Palms" or "cloud" coverage with the safeties playing deep and pass-first. This leaves them with six in the box at times and the seventh man pretty far removed from the action.
Texas' defense is one of the main areas for concern around the team, they haven't been great on the edge where the new staff brought in three transfers to bolster a position which last year started Joseph Ossai (drafted) and Moro Ojomo (now at defensive tackle) and only returned Jacoby Jones (injured against OU) and Jett Bush (235-pound walk on).
It's mostly optimistic around Oklahoma but I think they're slightly over-valued to win the league right now by those odds. They could miss out on the game entirely should they lose to Iowa State and in final(?) Bedlam and in a rematch with Texas or Iowa State they wouldn't currently be projected as overwhelming favorites.
They have two glaring issues. One is at quarterback, where Caleb Williams is still a freshman who made four massive plays against Texas you can describe as follows:
66-yard quarterback power run on a 4th and 1 run.
47-yard jump ball to Marvin Mims off his back foot on 3rd and 5.
14-yard touchdown pass to Marvin Mims after fumbling the snap and then scrambling on 3rd and 11.
52-yard jump ball touchdown pass to Marvin Mims on scramble drill.
Playmaker? Definitely? Little bit lucky? Certainly some. His eyes weren't closed but how often can you count on off-schedule playmaking to bail you out?
Maybe a lot, maybe not as much as we saw in the Cotton Bowl. Usually young players with a real knack for off-schedule magic have some early slip-ups until they manage to make their magic moments a big value-add rather than the primary feature.
The bigger concern is the Oklahoma secondary, which couldn't cover Texas very well at all. Much like Oklahoma State, you have to wonder how this team will handle things on defense when they face passing attacks which can deal damage down the field. A lot hinges on Woodi Washington's return from injury and Lincoln Riley is probably too busy deploying snipers to prevent reporters from peeking in on his practices to give a useful update there.
Which odds do you like best? Discuss for free on the Flyover Football board.