Five-star A.J. Johnson announcing college decision Monday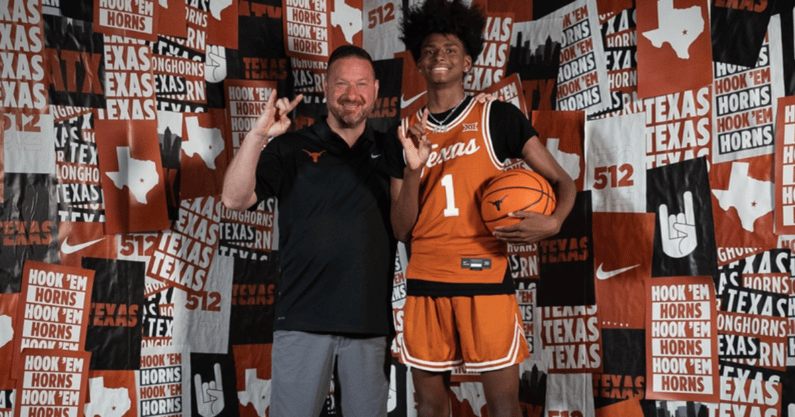 On3 Consensus 5-star A.J. Johnson is scheduled to announce his college decision Monday at noon Central time.
[Get a FREE 7-day trial of Inside Texas Plus!]
The 6-foot-5 explosive playmaking point guard will announce out of Texas and LSU with programs such as Louisville, N.C. State and USC also having been considered at various points during the process.
Johnson made September official visits to Texas on the September 10th weekend for the Alabama game, and to LSU on September 17. The visit to Texas was the only visit Johnson was accompanied on by "big brother" and Houston Rockets star guard Jalen Green.
Texas associate head coach Rodney Terry has been the point man in the recruitment of Johnson. Terry has long standing ties with Jalen Green, and Green and Hill's trainer and mentor Mike Hill, dating back to Terry's days as head coach at Fresno State.
Texas holds a big lead in the On3 Recruiting Prediction Machine following my RPM prediction.
Johnson on Texas
Johnson spoke to On3 a number of times about the Longhorns following his official visit.
"I just knew about Texas my whole life," Johnson told Jamie Shaw. "Like Kevin Durant went there, they have had so many pros that went there. Their NIL is crazy right now, like just their marketing of players and everything. Texas is such a big school. When I visited, I saw I like their offense for sure. I lived out about their, their stuff too. I saw they didn't really run that much practice. They have one little thing they do once a month where they do a little running drill up and down, and they got to make it in a certain amount of time, then they're done. So I didn't know that they just play a lot."
Texas head coach Chris Beard didn't mince words in his conversations with the No. 16 ranked prospect in the On3 Consensus ranking on his official visit.
"Basically that he wants to win a National Championship. He wants to coach me. He wants me to make an impact at point guard, and help win the National Championship."
The opportunity to be part of something special at Texas has an appeal, along with the branding opportunities. 
"The branding that they have at Texas (stands out). I feel like if I do what you are supposed to do, it's a great opportunity to brand yourself and go play in the NBA."
The Longhorns currently sport the No. 15 ranked class with On3 Consensus 5-star Ron Holland in the fold. Texas would likely jump into the top 5-6 classes with a commitment from Johnson.