Texas Longhorns who made NFL rosters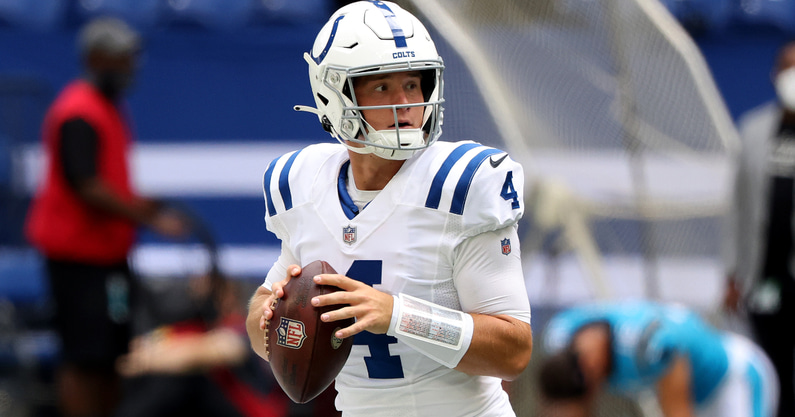 The NFL 53-man roster deadline passed yesterday. Texas is a long way from the height of Mack Brown's talent conveyor belt spit-firing talent across the league. But, Texas has recruited well enough at times to find players with baseline NFL ability, even if they were nowhere close to fully developed. Steve Sarkisian's recent class is guaranteed to put a number of players in the league, even with minimal development. But, let's hope we see a return to UT becoming one of the league's greatest talent producers. 
[Get FOUR MONTHS of Inside Texas Plus for $1!]
QB Colt McCoy – Arizona: Not a bad gig for the Longhorn legend.
QB Sam Ehlinger – Indianapolis: Indy is keeping three quarterbacks because they can't afford to put Ehlinger on the practice squad and lose him.
RB D'Onta Foreman – Carolina: Could be a touchdown poacher this season.
WR Devin Duvernay – Baltimore: The Pro Bowl returner should see increased targets at receiver this year
WR Collin Johnson – New York Giants: He was having a breakout camp but injured his Achilles. Horrendous luck for a great dude.
WR Marquise Goodwin – Seattle: It's fair to call him a journeyman, a well paid journeyman. Not bad for someone originally on a track scholarship.
OL Calvin Anderson – Denver: From undersized to overachiever. The Broncos have invested a lot of development into someone who will reward that with hard work and reliability. 
OL Connor Williams – Miami: Sometimes center is a better fit for former tackles rather than simply sliding to guard. Hello, Andrej Karic?
OL Sam Cosmi – Washington: He showed improvement throughout his rookie season and has the chance to become a quality long-term starter at right tackle.
TE Geoff Swaim – Tennessee: The NFL appreciates guys willing to do the dirty work.
FB/TE Andrew Beck – Denver: Doesn't have a reception or a carry since 2019 but see immediately above.
DE Charles Omenihu – San Francisco: If only they all maximized like this guy.
DE Ta'Quon Graham – Atlanta: And this guy.
DE Joseph Ossai – Cincinnati: This one as well.
DT Poona Ford – Seattle: And of course Poona.
DT Hassan Ridgeway – San Francisco: Too big and too athletic to not collect a long-term paycheck. This is T'Vondre Sweat's future. 
DT Malcolm Roach – New Orleans: This was his position coming out of high school. 
LB Jordan Hicks – Minnesota: He'll form quite the duo with Eric Kendricks.
CB Kris Boyd – Minnesota: He's paid a good amount in taxes by now.
S Adrian Phillips – New England: One of the best signs of poor development under Late Stage Mack.
S Brandon Jones – Miami: On the verge of a breakout in large part to blitz ability.
S PJ Locke – Denver: Here's a sign of poor usage under Todd Orlando.
S Caden Sterns – Denver: Like Jones, Sterns is often used as a blitzer.
S DeShon Elliott – Detroit: Just stay healthy. 
S Brenden Schooler – New England: Victim of circumstance. Was a better CFB player than you'll recall from last year. Special teams demon for Bill Belichick.
S Quandre Diggs – Quandre the Giant got paid over the course of the offseason. A longtime DBU (and IT) favorite, another former Longhorn that Pete Carroll loves to utilize.
P Michael Dickson – Seattle 
PK Justin Tucker – Baltimore*
*Denotes greatest kicker of all time
It's too bad the AFC West isn't comprised of the Broncos and Seahawks. That game would feature 8 Longhorns. Still, the Seahawks and their more recent rival, the 49ers, will bring six Longhorns to your television set.
Many reading this are no doubt Cowboys fans. While no Longhorns made their 53-man roster, Malik Jefferson had a strong camp and missed making the roster by a narrow margin. He'll be on the practice squad to start the season.