Inside Texas Answers: Bowl memories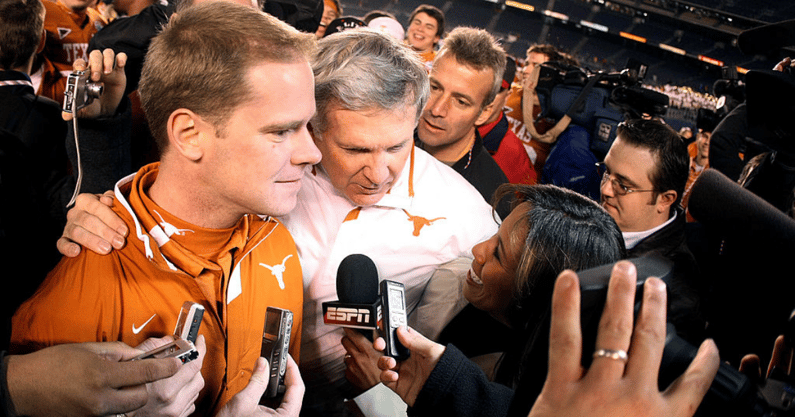 Texas' 5-7 season in 2021 means it was left at home during bowl season, but the Longhorns have seen their fair share of entertaining matchups in postseason contests this millennium and even in the one prior.
For Christmas Eve, the Inside Texas staff looks back with fondness on some of the Longhorns' top moments in some non-Rose Bowl postseason contests.
[Subscribe to Inside Texas right now and get a 7-day FREE trial!]
Scattershooting the postseason with Justin Wells
2000: The Cotton Bowl at the end of the 1999 season should have been the "We Don't Give A S**t" bowl. It also allowed Mack Brown the opportunity to finally play Chris Simms upon Major Applewhite's injury. Oh yeah, Aaron Humphrey and Kwame Cavil did not play for "team rules violations."
2000: The Holiday Bowl where Roy Williams, BJ Johnson, and Sloan Thomas couldn't catch a Simms pass. Each combined for eight receptions for 113 yards. Meanwhile, Brandon Healy caught five passes for 98 yards. If that didn't indicate how this game went, Oregon quarterback Joey Harrington caught a touchdown, one more than Texas' trio.
2001: When Applewhite kept turning it over, giving Washington a three-possession lead, Carl Reese unleashed freshman Derrick Johnson in the second half. Victor Ike played in this one because Mike Williams almost broke Cedric Benson's neck in the Big 12 title weeks earlier versus Colorado. Texas still came back and won. Cody Pickett still has DJ flashbacks.
2003: Texas topped Nick Saban's LSU Tigers in the Cotton Bowl at the end of the 2002 season in one of the coldest mornings in my life. Roy Williams goes Superman. Benson gave an LSU safety a concussion. Lee Jackson even had a touchdown. He was soooo happy.
2007: Rudy Carpenter started to hear it from the Longhorns, and a healthy Brian Orakpo made sure he felt it, too.
2009: The Fiesta Bowl after the 2008 season taught me what Ohio State fans are really like (awful). Texas looked terrible on offense in the first half, and the Longhorn defense couldn't stop Chris Wells. Eventually, Roy Miller went Sicko Mode. Colt McCoy and Quan Cosby figured things out for the win, despite Terrell Pryor looking like the next Vince Young.
The Holiday Bowls via Ian Boyd
I got into Texas football in the 1998 season. I'd been living in Austin for about four years in a non-sports family (I was 12) but started reading the Statesman every Sunday morning in the Church lobby while gorging myself on their complementary chocolate donuts. So I read a lot of post game Texas coverage in the Ricky Williams Heisman year before watching the Thanksgiving game live where he broke the record against Texas A&M. I was hooked from that point on.
So my survey of Longhorn football was dominated by Mack Brown-Texas Football for all my formative fandom years (including my time as a UT student).
Arguably the defining feature of Texas fandom during the holidays in the Brown era was near-miss seasons which concluded with a trip to the Holiday Bowl. Here are my strongest Holiday Bowl memories, supplemented by the greater context within the Brown era.
The 2000 Holiday Bowl was a fantastic microcosm for the Chris Simms era. He'd just taken over by default for sick Major Applewhite in the A&M game, a loss, and got a chance against Joey Harrington and the Ducks in a classic. Texas had a big offensive line of the sort Steve Sarkisian is looking to build, and then freshman wideouts BJ Johnson and Roy Williams. Each dropped touchdown passes while Harrington caught one on a trick play and the Ducks escaped with a 35-30 win. 14-year old Ian couldn't believe they dropped all those touchdown passes but said, "well, but they're just freshmen."
Naturally the following year the team rolled over most of the competition but blew it against Oklahoma and Colorado before letting Major Applewhite wrap up the year with a shootout win in the Holiday Bowl over Washington State. I had to listen to that one on a radio at my grandma's house and was happy for Applewhite that he got to go out a winner but wondered along with the rest of Longhorn Nation what the season might have looked like had he started all year.
I didn't watch the 2003 Holiday Bowl either for similar reasons (traveling for Holidays) but it was demoralizing to end another season in San Diego and this time to take a shellacking with the new generation lead by Vince Young. I wondered whether things would ever change.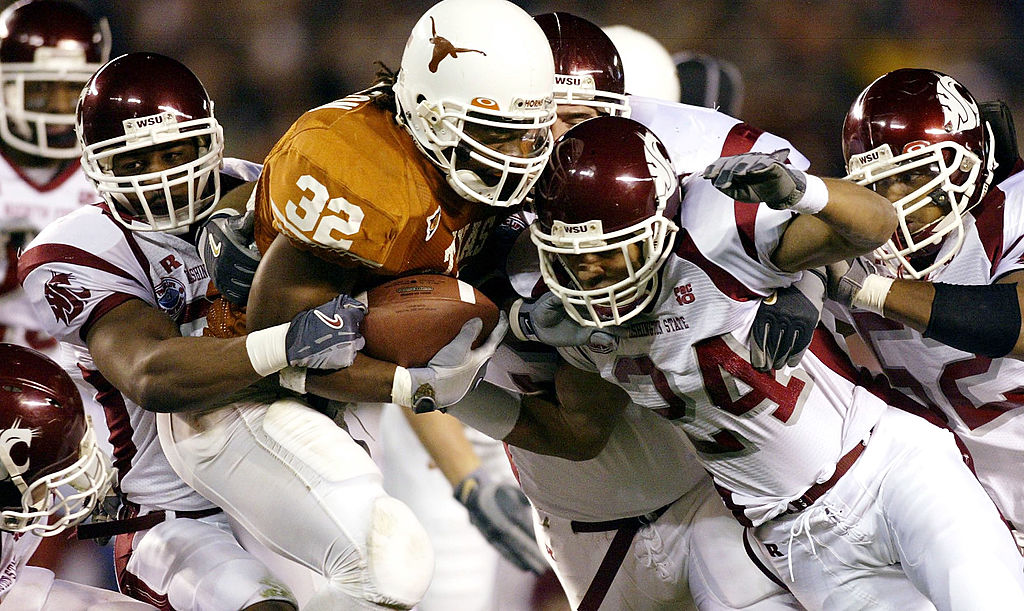 Things did change and it was a while before Texas was back in San Diego.
In 2007 Texas made their way back to Holiday Bowl in a fitting end to a disappointing season and met the Arizona State Sun Devils, lead by quarterback Rudy Carpenter. In a familiar story for younger Texas, Carpenter and the Sun Devils ended up talking a lot of trash to Texas during the days ahead of the game in San Diego. What they didn't know was that a young Texas D-line was going to field a healthy, more weaponized Brian Orakpo than had been seen to that point in the year.
Texas had also worked out down the stretch of the season to bring back the zone-read game with Jamaal Charles and ran for 300 yards with six rushing touchdowns in this contest for a 52-34 win. The Texas players made a mockery of the classic sports movie and Arizona State quarterback in the waning moments of the fourth quarter by chanting "Ruuuuudy! Ruuuuudy!" Carpenter threw two picks, was sacked four times, and finally pulled. The zone-read and Charles were mostly gone the following year but the suddenly potent pass-rush came back with a vengeance in 2008 as Texas had their brilliant final two-year run with Colt McCoy.
I watched this one with a bunch of college buds and we bemoaned the foiled opportunity when a fumble recovery by Texas was negated when Brown's operations man and stepson Chris Jessie stepped on the field and touched a live ball, thinking the play dead. Brown had recently won a National Championship with Vince Young, but there was still some grumbling and eye rolling at this event.
One of the final bright spots in the Brown era also came in the Holiday Bowl at the end of the 2011 season. I was newly married and watched with my bride, who only mostly knew what she was getting into. My enduring memories were of Texas locking down the Cal Bears in man coverage and Kenny Vaccaro jumping over a man on his way to a sack. Neither offense was great but the Bears could do nothing at all. The sense heading into 2012 was that the Longhorns had a genius running the defense in Manny Diaz and could really get things going again if the young offense could put something together.
Instead Mack Brown was fired two years later and Texas was never invited to the Holiday Bowl again. 3-2 with a lot of exciting games, typically as consolation prizes for weaker seasons, but who wouldn't trade the last decade for a few more Holiday Bowl memories?
Recent bowl moments from Joe Cook
I've been able to cover a handful of bowls since the 2016 season, all of them during Tom Herman's tenure as head coach.
Everybody remembers the first bowl game under Herman, where he was seen on the sidelines mocking Missouri quarterback Drew Lock. A story that has rarely been told is why he might have done it.
He claimed postgame he was just celebrating with his players, who, when you watch that clip, are obviously enjoying their head coach's actions. They liked seeing Herman give Missouri a taste of its own medicine after what Lock and other Tiger players said during the week leading up to the game.
Before the Texas Bowl, the Houston Texans hosted a large banquet dinner for both teams in a hotel near NRG Stadium. They had a question-and-answer, get-to-know-the-players activity. One of the questions was, what each team would do if the celebration restrictions were relaxed in college football?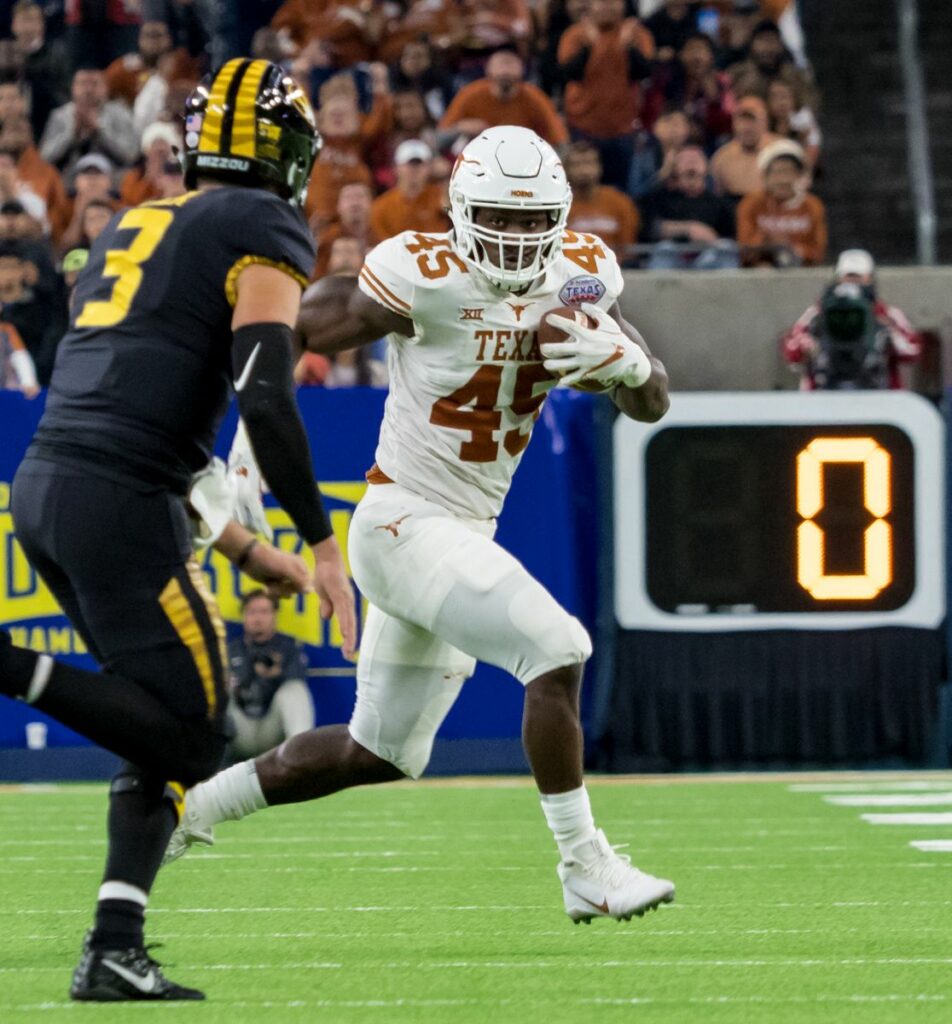 Lock, who had passed for almost 3700 yards and 43 touchdowns entering the game, took the question. He showed off the "secure the bag" celebration, but didn't say "if we score." He said "when we score." The Longhorns took offense to that, and played strong defense against the SEC opponent days later. Herman must have had a sense of his team's chip on its shoulder when doing that. It's one of the defining images of a matchup where a punter took home game MVP honors.
Speaking of SEC opponents, I can't recall a game I've had more fun covering than the 2019 Sugar Bowl. I'll admit, when I saw Oklahoma make the playoff, I booked my hotel and travel for New Orleans in excitement.
There was no "big, bad SEC" bravado from Georgia before the game. Although they had been knocked out of playoff contention, they were still a loaded team with talent all over the field with a goal of winning a big bowl.
Texas knew it had a task no matter how into the game Georgia claims to have been. But what happened pregame assuredly inspired the team.
Everyone has seen the famous clip of Bevo charging through a barrier at Uga in the meeting of mascots prior to the game. I wasn't sure if everyone in the Mercedes-Benz SuperDome knew.
As I found out, everyone, players included, did. I have a Twitter list of players on the Texas roster. Usually in the two hours before the game, the list is fairly dormant with maybe one or two retweets of messages from supporting fans. Other than that, and that one time at the 2015 Cotton Bowl, it stays pretty quiet until games are over.
But minutes before kickoff, that list exploded. The players saw what happened between bull and bulldog and, at least through their social media actions, were very, very pumped up.
Texas went out and beat the dog out of Georgia to win a New Years Six bowl game, and I'd like to think Bevo trying to beat the dog from Georgia played a small role.