Inside the gameplan: Misty taste of moonshine...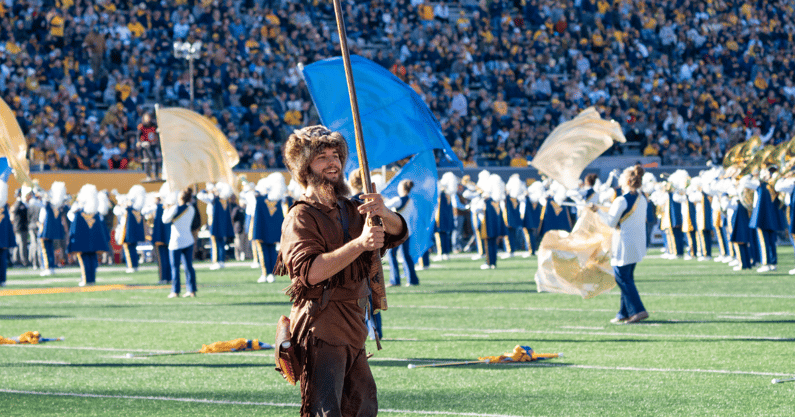 The West Virginia game is going to be Texas' bridge to the 2022 offseason. If they lose, the offseason begins as they'll be 4-7 with no hope of bowl eligibility or bowl practices and the rest of the year will be spent accordingly on staff evaluations and recruiting.
If they win? Then you're coming back home to face a good K-State team with bowl eligibility on the line on the day after Thanksgiving. That's a pretty big game, a win there and you restore some dignity to this season and afford yourself bowl practices with younger players.
Given the stakes, it seems more likely the Longhorns will show up in this game than that they'll come out flat again as they did against the Jayhawks at home. They'll need to be on it, the Mountaineers are in a similar situation. West Virginia is also 4-6 with this game serving as a sort of Texas Bowl semifinal, assuming the Mountaineers could follow up a win over Texas with another over the aforementioned Jayhawks.
West Virginia will have their notorious home crowd urging them on. Since the Mountaineers joined the Big 12 in 2012, Texas is 3-1 in Morgantown but under some unique circumstances. The 2013 'Horns won a 47-40 Overtime battle against a team shuffling quarterbacks. In 2015 Texas got ambushed 38-20 when they turned the ball over five times. The 2017 Longhorns clinched bowl eligibility on the road against West Virginia thanks to the return of Connor Williams, Sam Ehlinger, Michael Dickson, and Will Grier snapping his finger on the goal line early in the game. The 2019 Longhorns outlasted a tough but limited West Virginia team 42-31.
It's another test of character for a Texas team which has been failing most of these tests this season.
Controlling the middle
West Virginia's offense has struggled to establish an identity all season long. They've vacillated between a spread-I, power rushing attack which lacks the vertical passing dimension to make the system hum and then a 4-wide Air Raid attack with a quarterback who has a tendency to lose his mind and turn the ball over. Those critical flaws in either approach are why the Mountaineers will miss a bowl game if they lose this contest.
If this team had a better pocket passer, they'd be in Big 12 title contention. As it stands, you can gauge their chances in a given game by what they get from Leddie Brown and the power run game. When Brown is rolling, like when he had 22 carries for 109 yards and two scores against Iowa State, West Virginia has an identity and can win. If he's stymied or slowed, like when he had 20 carries for 85 yards and zero scores on K-State, West Virginia doesn't have enough to get over the hump.
Their run game is very similar to the Tom Herman system, they mostly run tight zone/duo concepts with the tight end either base blocking off tackle, sliding off tackle on split zone, or leading inside on iso. The tight end is 6-foot-5, 255 pound T.J. Banks from Western Pennsylvania. At their best, West Virginia historically tends to be a smashmouth offense with some offensive linemen, tight ends, and running backs plucked from steel country. The inclusion of Cincinnati in the future Big 12 will be a win for West Virginia in garnering more interest from their key recruiting areas.
At the risk of sounding ridiculous, Texas isn't a great matchup for the Mountaineer offense. Their run game tends to rely on vertical displacement from their downhill schemes and it's hard to get movement on the Texas D-line when they play Keondre Coburn flanked by Moro Ojomo and Alfred Collins.
Kansas tried it but didn't find much, they did their damage on outside zone. Ditto Oklahoma, who overcame their issues with the counter play. West Virginia can try the counter game in this contest, it's definitely in the playbook, but it isn't their main scheme.
You can expect to see them test the Longhorn linebackers ability to read flow and make the right fits with their split zone concepts.
In the 3-down concepts, the inside linebacker play is key, they have to see the gaps changing and fit the run without giving away an easy lane before secondary support arrives.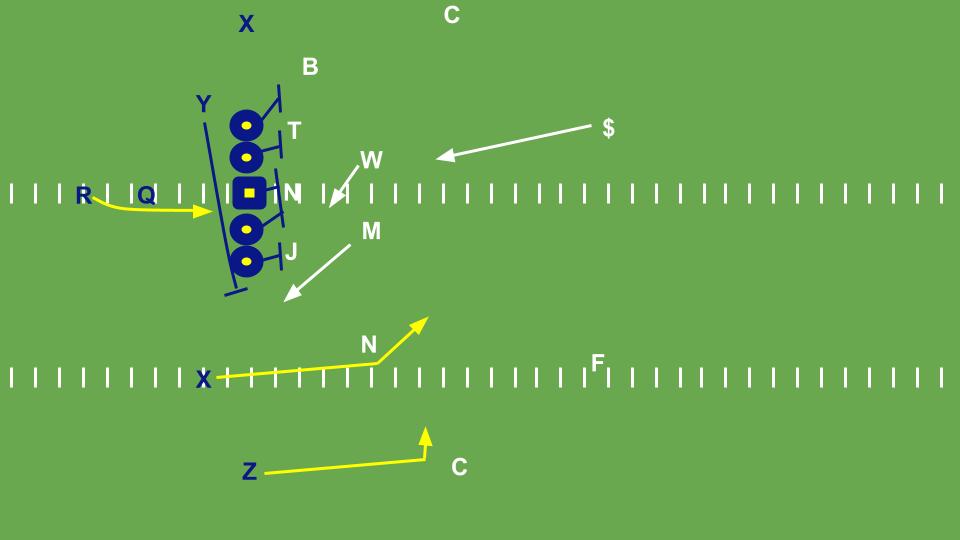 In the 4-down, 2-4-5 system the play is best defended by having the Jack linebacker meet the pulling tight end and squeezing closed the new gap he's trying to open.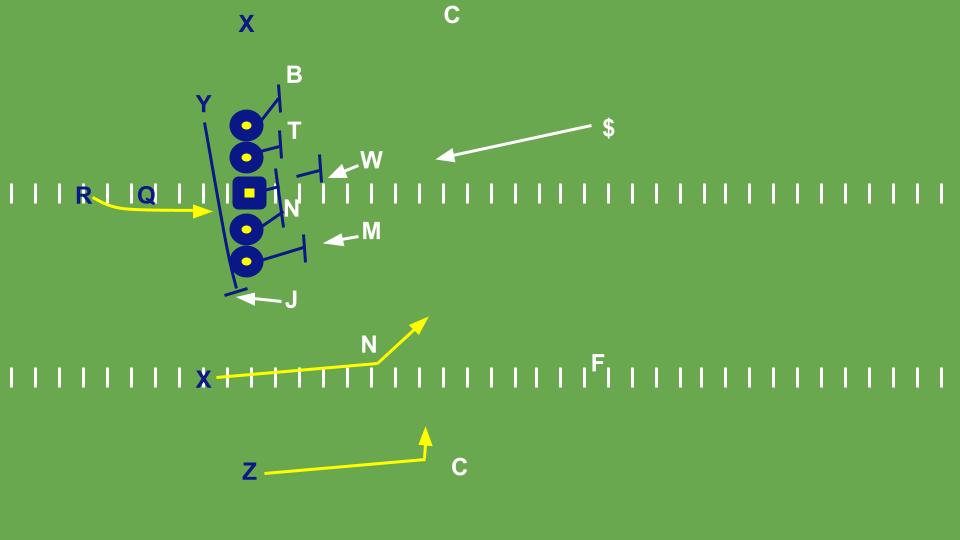 Texas' attempt to use both styles may be part of the reason they haven't mastered run defense this season. Terry Joseph's quarters schemes will also factor in here. How tight will they play the strong safety given the threat of West Virginia's RPO game and can he arrive in time to have an impact on the Mountaineer's run game?
Overall West Virginia is probably about one more year away from being a truly nasty, smashmouth offense. Next year they will return the entire line, the right side of which includes a pair of massive blue chips in Doug Nester (6-foot-6, 320 pound right guard) and Wyatt Milum (6-foot-6, 291 pound right tackle).
The defensive front for West Virginia is much more realized this year, although they'll probably be pretty dang good in 2022 as well. This is where most of Texas' concerns in this game lie.
Dante Stills is an absolute menace, a fully realized version of what Texas hopes Moro Ojomo or Alfred Collins can become, blending some play at defensive tackle with occasional work on the edge as a 4i or 5-technique. Listed at 6-foot-4, 280 pounds, Stills has amazing quickness and a lot of skill for using his hands and athleticism to get into the backfield. He's at 11.5 tackles for loss and six sacks on the year and he didn't pile those stats up against one or two bad teams, he's been a problem for everyone on their schedule.
Next in line is Akheem Mesidor, another plus athlete who plays inside more and ends up in the backfield an awful lot. Around those two they'll cycle through some big, traditional defensive linemen, defensive end Tajh Alson, and some Edge linebackers. Like Texas, they'll rotate between a 3-down tite front defense and a 4-down scheme, but they're much more in concert with their linebackers and the secondary.
Part of their trick is having a 3rd year starter at Mike linebacker in Josh Chandler-Semedo and then fifth-year seniors at nickel, field safety, and boundary safety. They won't wow you with their physical talent but all are solid, know how to disguise their defenses, and play their calls properly as a unit.
West Virginia gets away with shooting gaps up front with the ultra-athletic defensive line because their defensive backfield can make them right with decisive fits behind them. No one has really run the ball consistently or effectively against this defense save for Baylor (after blowing the game open with the passing game) and Iowa State (mostly on one 70-yard run).
This game could easily be a stalemate in the trenches.
Space warfare
For this game to come down to Jarrett Doege versus Casey Thompson would be a reasonable way for these two teams to settle the question of whether either should end the year bowl eligible.
Here's how they compare in Big 12 play:
Jarrett Doege: 234 attempts, 1,719 yards, 7.3 ypa, seven touchdowns, seven interceptions.
Casey Thompson: 193 attempts, 1,652 yards, 8.6 ypa, 20 touchdowns, six interceptions.
Obviously Thompson has him beat, partly due to his five touchdown passes inflicted on the Jayhawks in Texas' overtime loss. These numbers are really more a reflection on each team's relative strengths in the passing game.
Sark's passing game has been very vertical and centers around hitting Xavier Worthy down the field, on the move. The Mountaineers often lean on more of an Air Raid approach, throwing quicker combinations underneath. They'll work a combination like this one to death: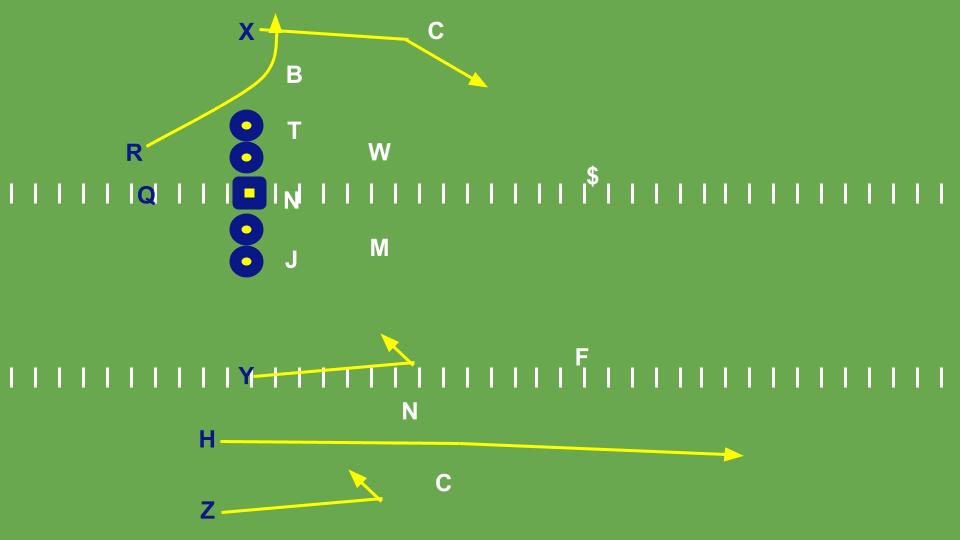 Oklahoma couldn't figure this one out, consistently yielding open slants when the corner and outside linebacker couldn't seem to remember who was supposed to cover the flat and who had the slant. Those struggles proved to foreshadow the Sooners' tremendous struggles this season.
The main threats from West Virginia's passing game are slot fades and corner routes to Winston Wright (H here) and then slants to Bryce Ford-Wheaton (X). Ford-Wheaton is 6-foot-3, 215 pounds and essentially what Texas was hoping Troy Omeire might be this season. He can bring down contested catches and he's a problem with the ball in his hands because of his size and power.
For all their issues this season on defense, Texas is reasonably well-equipped to handle the traditional Air Raid. They can play drop eight coverages with the Buck and/or Jack linebacker dropping, they can play two-high shells and use the strong safety to rob routes, and their linebackers are rangy and can catch if you accidentally throw it at them.
In 2019 and 2020 the Mountaineers threw the ball up and down the field on Texas but couldn't finish drives in the red zone with points. It's not too terribly difficult to execute a formula in which Doege throws for 300 yards but averages seven per attempt or less and throws more interceptions than touchdowns.
What matters in this game is whether the Longhorns show up in the box and stop Leddie Brown on off-tackle cutbacks in the zone run game. If they can do that, they'll earn the right to play for bowl eligibility at home against Skyler Thompson and the Wildcats.