Inside the Gameplan: What can Gary Patterson bring to Texas?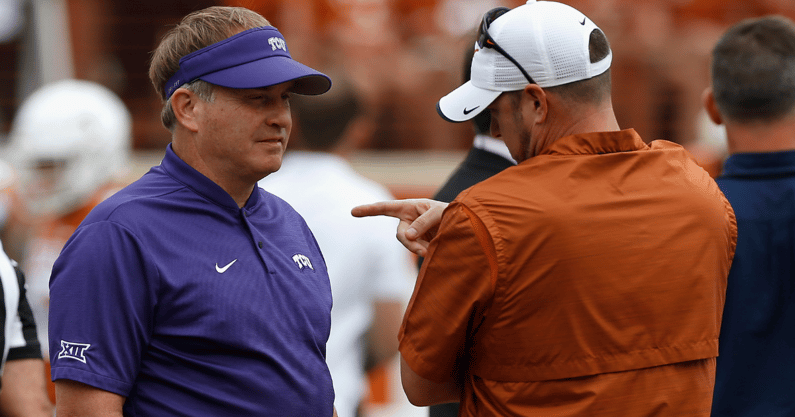 One of the most oft-discussed and intriguing offseason stories thus far for Texas has been the long-rumored inclusion of old rival Gary Patterson into the program.
Patterson has been a bitter foe to Texas for a very long time. His TCU teams obviously circled the Longhorns on the calendar and he went 7-3 against them after his Horned Frogs joined the Big 12 for the 2012 season. When Steve Sarkisian handed him a loss in 2021 it helped finish off the Patterson era in Fort Worth, which then made him available as a possible hire.
Many a Texas fan was hoping Patterson would be hired as defensive coordinator to fix a defense which lost steam at the end of multiple games before ultimately coming apart in November. Perhaps he'll make that move down the line, but for now he seems to be set up to serve as "special assistant to the head coach," working as an authoritative, full-time consultant on the topic of playing effective defense in Austin.
What will he bring to the role and how will his inclusion be likely to impact the manner and quality with which Texas plays defense (and football in general) in 2022?
Gary Patterson, from underdog to underachiever
Gary Patterson demonstrated two major skillsets at TCU which helped build them into a Power 5 national power and then a relevant Big 12 contender. First, he ran the Horned Frog offseason program and did so before he was actually named head coach. This was why TCU was unperturbed when Dennis Franchione left for Alabama and simply promoted the defensive coordinator to head coach without missing a beat.
For all the things Patterson is well known for, building up the initial TCU program into a rival to the Chris Petersen/Kellen Moore Boise State Broncos was possibly the apex of his career. In that period he would have regularly faced Pete Kwiatkowski, albeit as a D-line coach and not yet the coordinator. TCU finally got a chance to face Wisconsin in the Rose Bowl in 2010, won, and was promoted up to the Big 12 shortly after.
The Horned Frogs were famous then, and for a long time afterward, for finding raw athletes and developing them into fantastic defensive players with an effective strength and conditioning program and practice regimen. If you watched the NFL playoffs last weekend you'd see some of his old success stories. Such as Sugar Land 2-star running back Jerry Hughes, whom TCU bulked up and developed into a 255-pound end who plays to this day for the Buffalo Bills, or Travin Howard who was a 190-pound, low 3-star safety from Longview who was bulked up into a 220-pound linebacker who plays on third downs today for the Los Angeles Rams.
More recently and perhaps more relevant to today, a few years ago Patterson snatched a 6-foot-5, 235 pound mid-3 star from Manor (Texas' backyard) named Ochaun Mathis who is likely to follow Patterson and plug his now 260-pound frame into the Longhorns' massive hole at their "Jack" Edge position.
Having Patterson around to observe Texas' offseason program from now until the season starts is likely to pay some major dividends for the program. He's been criticized for having an overly old school, authoritarian style which doesn't get results with today's generation of athlete. I'm a bit suspicious of this prevailing narrative, especially when Nick Saban is currently dominating the sport. Tom Herman and Yancy McKnight were criticized for being too harsh and authoritarian, yet Texas never had issues with physicality, effort, or discipline under their watch. I suspect stagnation, particularly poor hiring and lack of effective delegation was the bigger culprit in TCU losing their underdog approach under Patterson.
The other major skill Patterson demonstrated at TCU was multi-faceted but can be summed up as "defensive coordination." Patterson is a masterful scout of opposing offenses and a great defensive play-caller. His 4-2-5 defense which is praised and generally the most famous thing about him was designed to give him flexibility in building a long play-call list without complicating the game for his players.
The 4-2-5 system would divide up his defense into sub-units who can each have their own assignment and responsibility. Those units are:
The front six, D-line and linebackers in a nickel front. Obviously Patterson bases in nickel.
The read-side coverage to the passing strength (wherever the slot is). Involves the cornerback to that side, the strong safety, and the free safety.
The away-side coverage away from the passing strength (often in the boundary but not always). This is a two-man unit with the other cornerback and the weak safety.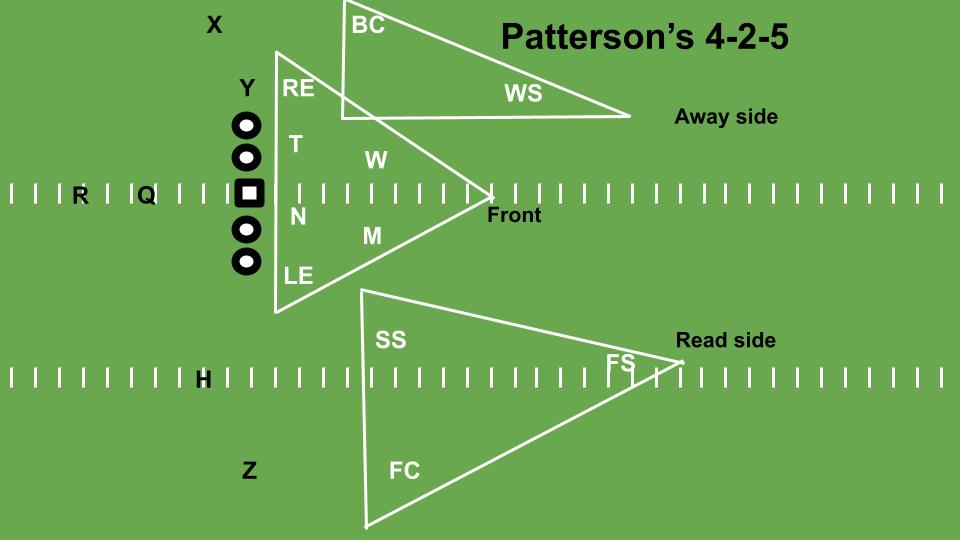 The structure is pretty famous and, at this point, fairly ubiquitous. Texas already employs something similar with Terry Joseph and split field coverages. What's more unique to Patterson is how he used the sub-division to try and exert more control over his players. It allowed him to build complex structure with specific assignments and warnings for his players while keeping their grocery list relatively short.
From what I understand, it's the polar opposite of how Pete Kwiatkowski likes to coach defenses, which is to teach the game at a high level and give players autonomy to recognize and react to what the offense is doing.
Gary Patterson has the Big 12 thoroughly scouted already and knows what everyone is trying to do. He had maybe two weak spots, the Art Briles Bears (no longer relevant and mixed results anyways) and the Lincoln Riley Sooners (no longer relevant). Everyone else he might trade back and forth with but he generally had the measure of the play-callers.
RPOs and evolutions in spread play-action were a problem for Patterson's system at TCU. He was adapting but slippage in their ability to maintain a depth chart of winning players across the D-line ultimately sunk them.
How will Patterson mesh with Texas?
If you don't consider possible problems with a Texas coaching hire you must be new to this. The program has been victimized by Murphy's law for some time now.
Question number one is, how will he interact and mesh with the existing staff?
What will Patterson think of Terry Joseph's coaching of the cornerbacks and his particular methods for playing split field coverages? Will he be impressed with how Blake Gideon coaches safeties? What sort of authority will he have in terms of making suggestions/adjustments?
Next, how will his overall philosophy mesh with Kwiatkowski's? Schematically his 4-2-5 isn't too different and his long expertise with blending split field coverages with movement-heavy defensive fronts has the potential to be a boon to this defensive staff. On the other hand, the philosophic difference of trying to teach "this is how to read an offense" (Kwiatkowski) vs. "they're going to do this so stop it" (Patterson) is a potential area for schism.
Finally, what exactly is the plan here? Is it for Patterson to download his massive database of knowledge on offseason development, current Big 12 offensive tendencies, and how to play two-deep coverages at a high level while stopping the run to the existing staff and players? Or is it for him to slowly (or quickly) undermine the staff to Sark or Chris Del Conte and aim to take over as much of the program as he can?
Ironically, while he has some significant philosophic differences with Kwiatkowski, the area where I see greatest potential disruption is with Joseph and Gideon. Patterson has a lot of specific ideas about how a secondary should be run. Meanwhile his best years at TCU coincided with working with his mentor and defensive front coach Dick Bumpas. Incorporating Bumpas' front calls into his responsibilities while struggling to hire or delegate elsewhere is part of what brought Patterson down, being able to partner with Kwiatkowski could be a potential boon if they are sympatico on big picture items.
Much of this will come down to how well Sark oversees the incorporation of Patterson's input and what exactly Gary wants from this job. Is this an opportunity to make some money, work easier hours, stay in the game, and maybe punish TCU for pushing him out? Or does he have bigger ambitions for what his role could ultimately be at Texas? If it's the latter, an end result of Patterson working as a defensive coordinator with Kwiatkowski has potential but getting there could be too messy for it to come together.
Patterson unquestionably owns a deep reservoir of knowledge which could prove invaluable for Sarkisian and the existing staff. We just can't overlook the fact he's been used to having his own way at TCU while beating Texas regularly for a long time and how those experiences could shape his approach to fitting into the program.
Possible Patterson adjustments to Texas' defense
Presumably Patterson might have a number of suggestions about Texas' offseason program and how to improve their process of developing amazing raw athletes into strong football players. I'd be speaking well out of my depth though in identifying what he'd recommend there.
Defensively there's a few areas of overlap and a few areas of difference between how Patterson did things at TCU and how Texas ran their defense in 2021.
One sizable difference which is unlikely to change is how they apply pressure. Gary Patterson wasn't much for zone blitzing and dropping his defensive ends whereas it's a major hallmark of Kwiatkowski's approach. Both coaches used a lot of four-down type fronts with Edge players chosen for athleticism and mobility, but Patterson didn't drop his into coverage much.
Another interesting question will be how they use the safeties. Patterson would play 2-read coverage but his preference was always to play pure MEG quarters (man coverage by the cornerbacks) when possible, with the safeties lining up at depth but staying flat-footed at the snap to read the offense's intentions and then attack the ball downhill.
To get a sense of the difference flat-footed safeties bring in the run game, check out TCU's effort against Texas last season.
https://twitter.com/Ian_A_Boyd/status/1483879805711966217?s=20
You rarely saw Texas' safeties come downhill so fast or arrive to the running back before the first down marker. They were capable of it, and Texas let them do it at times, but not near as often as TCU. It's not just a factor in the run game either, it also sets up safeties to jump routes in the middle of the field, or to be burned over the top if they misread a play or can't turn and run fast enough.
Patterson was great at teaching his safeties to play this scheme and when he had guys like Derrick Kindred (4.5 40 at the combine) or Trevon Moehrig (4.52 40 at his pro day) playing free safety, they wreaked havoc. In 2021 he took Memphis cornerback T.J. Carter who came over as a transfer and converted him into a safety who played two different positions and was second on the team in tackles. Against Texas when they had issues after Carter was disqualified for targeting, they moved cornerback Tre'Vius Hodges-Tomlinson (5-foot-9, 177 pounds) to free safety and he finished the game with nine tackles and a forced fumble (you can see him tackling Bijan Robinson in the second clip).
Texas may have as many as two starting safeties in 2022 who are converted cornerbacks (Anthony Cook, maybe Kitan Crawford or Jahdae Barron) and more coming down the pipe (Jaylon Guilbeau, Austin Jordan, and Xavion Brice could all potentially slide inside).
Texas is heading into 2022 with a number of young safeties on the roster and some cornerbacks who could potentially move positions to safety or nickel. This sets them up to have a team without much experience on the last line of defense but it also presents an opportunity to mold a particularly athletic room under the eye of three coaches who have expertise in coaching the position. So long as they're all on the same page, this is a definite opportunity for major growth which could benefit Texas for years to come.
Gary Patterson is a legendary defensive coach with a bit of an uncertain future after being pushed out at the institution he built into a relevant, nationally recognizable program. If everyone's on the same page about what he can offer to Texas, this could be a big boost for the Longhorns in rebuilding their own program.