IT Today: Cole Hutson, the only early enrollee OL, earns high praise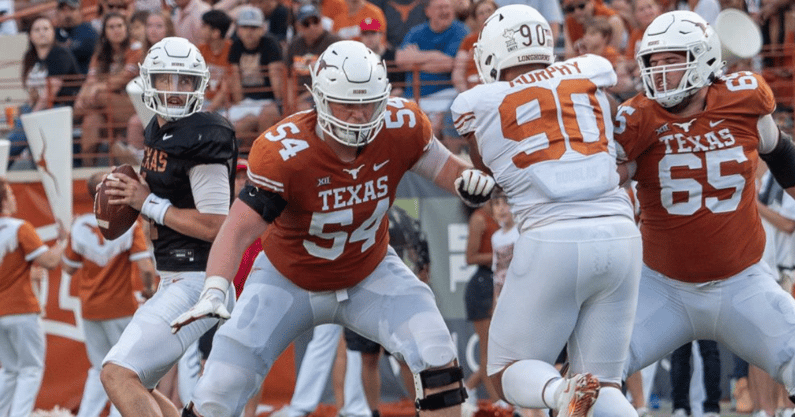 Welcome to Inside Texas Today! On weekdays, Inside Texas Today will provide the latest on Texas Longhorns sports from around the Forty Acres. This morning, Steve Sarkisian on Frisco (Texas) early enrollee O-lineman Cole Hutson.
Here's the Friday, May 20, 2022 edition.
[Get a FREE 7-day trial of Inside Texas Plus!]
Texas signed one of the best offensive line classes in the modern recruiting era in 2022, but only one of those offensive linemen enrolled early.
Cole Hutson arrived in January and took advantage of the opportunity to gain valuable reps considering the low number of o-linemen on campus during the spring. They were reps he needed considering his high school offense was not as balanced as the one Steve Sarkisian operates.
"I was very impressed with Cole," Sarkisian said on Wednesday. "I think early on, one of our concerns with Cole was he came from a very run-dominant high school offense, and that transition to college of pass protecting, and how quickly could he get there? He's a very big human being. We saw the physical nature. We saw the leadership qualities in him in winter conditioning, then we saw the player for about a week, week-and-a-half."
Like most freshmen, Hutson hit an early wall in a situation that can be a tad overwhelming. Sarkisian said he quickly broke through that wall.
"In the last two weeks of spring ball, he really took off again and I think there was a comfort level for him in pass protection," Sarkisian said. "I think there was a physicality that he plays with that is natural to his game, and I thought he played his best football the last week-and-a-half, two weeks of spring ball and showed up in the spring game. Hopefully, he can continue to build upon that."
When his classmates show up on campus at the end of this month, Sarkisian has high expectations for what Hutson can do in helping them acclimate to the rigors of college football.
"One thing we challenged him with was coming out of spring, as you guys know I meet with every player on the team, he's got a really cool chance to be that conduit between our current offensive line group and offensive football team with these six new linemen that are coming in here in the summer because he got that head start in the spring semester," Sarkisian said. "I think he'll be a really cool leader of that group as far as getting them acclimated, getting them comfortable, getting them implemented into our culture, then also a chance for him to teach offline. All these guys are really hungry. They all wish they were here during spring ball. He happened to be the one that was here. He's got the mental makeup to do that to go along with the physical attributes."
Listed at 6-foot-5, 309 pounds, Hutson was the No. 423 prospect in the On3 Consensus, the No. 30 offensive lineman, and the No. 64 prospect in Texas.
Texas viewing for 5/19