Texas guard Marcus Carr rallies Canada U23 to 69-67 win over USA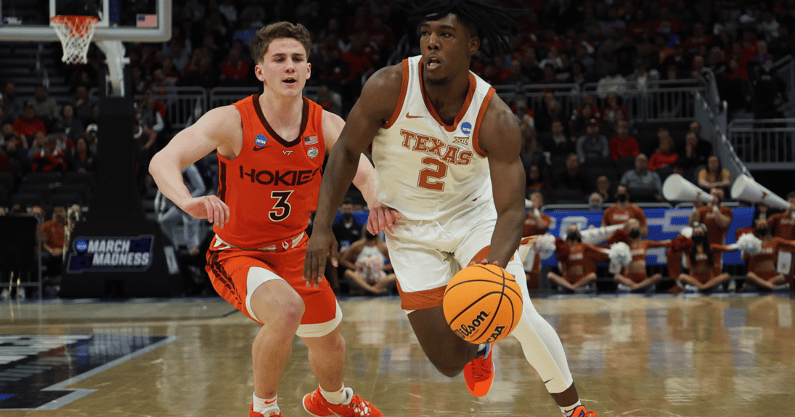 University of Texas senior guard Marcus Carr scored seven of his team-high 14 points in the final minutes to rally the Canadian U23 Men's National Team to a 69-67 victory over Team USA on Wednesday night in a preliminary-round game of the GLOBL JAM at the Mattamy Athletic Centre.
[Get a FREE 7-day trial of Inside Texas Plus!]
Canada improved to 2-0 at the GLOBL JAM with the win, while Team USA, which is being represented at this event by Baylor University, fell to 0-2.
Carr, who transferred to Texas from Minnesota after an all-Big Ten season in 2021, started for Team Canada for the second-straight night and converted 9-of-11 free throws while adding five assists against just one turnover, four rebounds and one steal in 19 minutes. Through his first two games at GLOBL JAM, Carr is averaging 14.0 points per contest and has posted 15 assists against just two turnovers.
With 1:30 left in the fourth quarter and the score tied at 60-60, Carr hit a free throw to give the Canadians a 61-60 advantage. He drained a three-pointer on Canada's next possession to increase the margin to 64-60 with 53 seconds left. Carr added a single free throw with 40 seconds remaining to push the lead to 65-61 and then converted a pair of free throws with four seconds left to give Canada a 69-64 cushion and seal the victory.
Carr and Team Canada conclude play in the round-robin preliminary round format at the GLOBL JAM with a matchup against Italy on Thursday, July 7 at 8 p.m. Central.
Brazil (1-1) earned a 72-68 victory over Italy (1-1) earlier on Wednesday. All four teams will advance to the semifinal round on Saturday, July 9, followed by the Championship games on Sunday, July 10.
More info on Marcus Carr
Carr will slide over and play in more of a combo guard role in year two in Austin. Carr is more than capable of running a team, as long as the players around him are shooters. Playing alongside Hunter, Carr will be in position to attack more, and create from the wing, an area Texas needed to improve going into year two.
Carr averaged 11.4 points, 1.9 rebounds and 3.4 assists in 2021-22. He connected on 39.4% from the field, 33.8% from three and 76.9% from the free throw line.
The super senior played his best basketball in the NCAA Tournament last season. He averaged 19 points, 8.0 assists and and 1.0 steals per game in two tournament games. He connected on 14-29 from the field, 7-13 from three and 3-5 free throws.
Carr enters his final season of college basketball with 1,747 points scored. He has career averages of 13.9 points, 3.5 rebounds and 4.7 assists.