NCAA Tournament: Quick looks at Virginia Tech, Purdue, Yale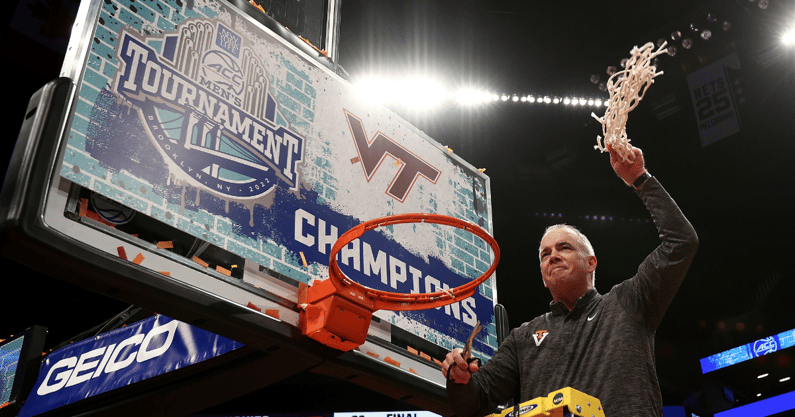 Texas received its first NCAA Tournament invite under head coach Chris Beard on Sunday, and learned its first round matchup would be with the Virginia Tech Hokies out of the ACC.
If Texas were to advance, the Longhorns would face the winner of Purdue versus Yale on Sunday at the Fiserv Forum in Milwaukee, Wis.
What does each team bring to the NCAA Tournament? A brief look at each…
No. 11 Virginia Tech Hokies
2021-22 record: 23-12
Head coach: Mike Young (3rd season)
How the Hokies made the field: Defeated Duke 82-67 to win the ACC Tournament
KenPom ranking: No. 23
Leading scorer: Keve Aluma – 15.8 points per game
Leading rebounder: Justyn Mutts – 7.4 rebounds per game
The Hokies were 19-12 during the regular season before they topped Clemson, Notre Dame, North Carolina, and Duke in the ACC Tournament to lock up their spot in the NCAA Tournament. Their flourish to end the season included a run of winning 13 of their final 15 games with the only losses to North Carolina and Clemson.
Young marched the same starting five of Aluma, Mutts, Hunter Cattoor, Nahiem Alleyne, and and Storm Murphy in all 35 games this season. Virginia Tech ranked third nationally in three-point percentage this year, shooting 39.3 percent from beyond the arc.
While the Hokies shot the ball well, they struggled to grab rebounds. They were ranked No. 308 in the country in rebounds per game, averaging 32.2 boards per contest.
Their tournament chances will depend on whether they can continue to shoot the ball well from beyond the arc in Milwaukee.
No. 3 Purdue Boilermakers
2021-22 record: 27-7
Head coach: Matt Painter (17th season)
How the Boilermakers made the field: At-large selection from the Big 10
KenPom ranking: No. 14
Leading scorer: Jaden Ivey – 17.3 points per game
Leading rebounder: Zach Edey – 7.7 rebounds per game
Purdue has one of the best players in the country Jaden Ivey as the leading piece on one of Matt Painter's better teams. The Boilermakers finished third in the Big 10, one game behind Illinois and Wisconsin.
Purdue has four players who average double figures in scoring, led by Ivey's 17.3. They also have 7-foot-4 center Zach Edey, who averages a double-double with 14.7 points and 7.7 rebounds per game. Edey leads Purdue's rebounding efforts, where the Boilermakers rank second nationally in rebound margin.
They also make a lot of shots. Purdue is fourth nationally in three-point field goal percentage and sixth nationally in field goal percentage.
If Texas makes it to the second round, they'll have to hope they catch another team on an off shooting night.
No. 14 Yale Bulldogs
2021-22 record: 19-11
Head coach: James Jones (22nd season)
How the Bulldogs made the field: Defeated Princeton 66-64 to win the Ivy League Tournament
KenPom ranking: No. 147
Leading scorer: Azar Swain – 19.2 points per game
Leading rebounder: EJ Jarvis – 4.7 rebounds per game
Yale won the four team Ivy League Tournament held in Cambridge, Mass. to earn the league's automatic bid into the NCAA Tournament. The Bulldogs went 11-3 in conference before topping Penn and Princeton to join the dance.
The Bulldogs don't seem to have an elite area in their game. The only two statistical categories in which they are ranked in the top 100 are three-point field goal defense, where they check in at No. 35, and free throw percentage, where Yale is No. 94.
Their leading scorer, Azar Swain, was a first-team All-Ivy Leaguer this year. Swain scored in double-figures in all but two contests this season.
Yale had several Quadrant 1 games this year, including matchups with Seton Hall, St. Mary's (Calif.), and Auburn, but could not gain a win in any of them.