Offseason inventory: A look at Texas quarterbacks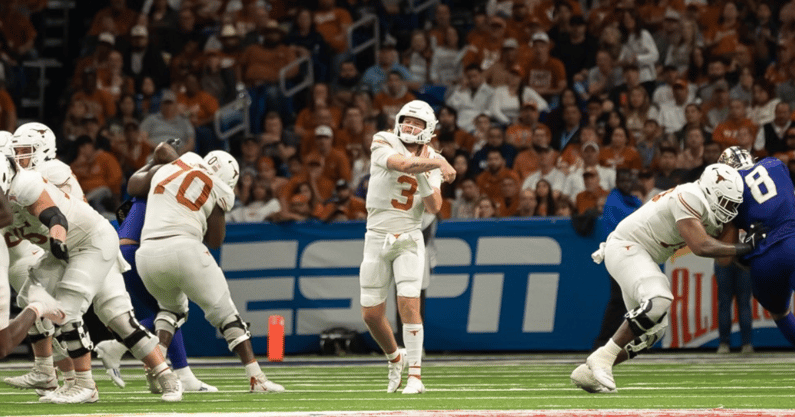 Steve Sarkisian has his program on a noticeable upward trajectory. The defense made great strides, the culture is markedly improved, and the talent continues to increase across the board. For Texas to take the next step as a team, the offensive line will need to make another jump in play, and most importantly, quarterback is going to need to show clear improvement. 
[Get Inside Texas Plus until the start of the 2023 season for $29.99!]
Entering Sark's third year he has yet to receive good, consistent quarterback play. If you noticed Texas' strong S&P+ rating didn't correlate to wins, that's because of inexperience at quarterback. Struggling on third downs? Inexperience at quarterback. Large discrepancies between first and second half production? Inexperience at quarterback. Defenses playing the run first and run second and Texas being unable to capitalize? Inexperience at quarterback. You get the picture.
When Sark was hired at Texas many noticed the talent he had to work with at his previous stops. One thing that should have been mentioned more often, Sark typically had an experienced quarterback. 
Sark, AJ Milwee, and Quinn Ewers have a huge offseason ahead because the 2023 Texas Longhorns will go as far as Ewers' arm, head, and limited experience will take them.
It's not an excuse to say the injury suffered at the end of the first quarter against Alabama had lingering effects long after Ewers returned to the field. After that injury he played timid, and far too often was worried about preventing the injury from happening again rather than following through on his delivery. His mechanics routinely broke down which led to issues with accuracy and consistency. The staff felt limited in what it could call and became far too reliant on deep shots.
The bowl game offers hope that Ewers is regaining his composure. He was quicker and more confident in every way against Washington. That was a quarterback who looked to have put his issues behind him. That was a quarterback the staff can work with and develop.
Sources are still very high on Ewers and believe he'll be better for his freshman struggles. 
Murphy had a good freshman year. He also had the luxury of being able to work outside of the public eye, as opposed to Ewers' trials and tribulations being broadcast weekly. Murphy did well to speed up his mechanics which was routinely tested as the scout team quarterback. Even with an improved defense he was able to hold his own for a freshman. He threw well deep and generally protected the ball well, relatively speaking. 
Murphy is a favorite of the coaches for the way he prepares and comes to work every day.
You know my stance on quarterback — a lot of it comes down to the privilege of good timing. I don't know if Murphy has timing on his side at Texas, but I know he's a starting quarterback eventually. 
Wright almost got a chance to start against UTSA in the third game of the year but Hudson Card was able to play through his ankle sprain. Wright has improved in his time at Texas but his path to the field gets more difficult with each new prototype added to the program.
The offense we saw in the Alamo Bowl probably suits him more than Sark's preferred play-action offense.
There's nothing to write about Manning that hasn't been written countless times. He has the overall talent level of Ewers coupled with the coachability of Murphy. With no sage leader in the room his maturity, humility, and competitive drive will guide him well. 
The best case for Texas is Ewers lights it up next year. But in the event he doesn't, Manning (and Murphy) are going to need to prepare as the starters. Texas can ill afford to have another year of poor quarterback play. 
Summation
Four quarterbacks is the right number and in this day and age that's a minor achievement. Sark is on target there. Unfortunately, the room is still extremely light on experience. Murphy and Manning may not add the level of competition the room needs, but they will be competitive to help drive the room forward.
Sourcing points towards Ewers understanding what went wrong this year and him being determined to work to fix it. Previously it wouldn't have been fair to call him immature, and he's a good young man, but he hasn't been accustomed to struggling at the sport and last season may have unlocked something in him he hasn't needed until now.
It's not all on Quinn. The coaches need to develop that offensive line into something better than it was last year to help make up for the loss of Bijan Robinson and Roschon Johnson. The coaches need to keep tailoring the scheme to fit Quinn. And, perhaps most importantly, they need to add another receiver or two from the portal.