Quarterly report: Grading Texas by position (offense)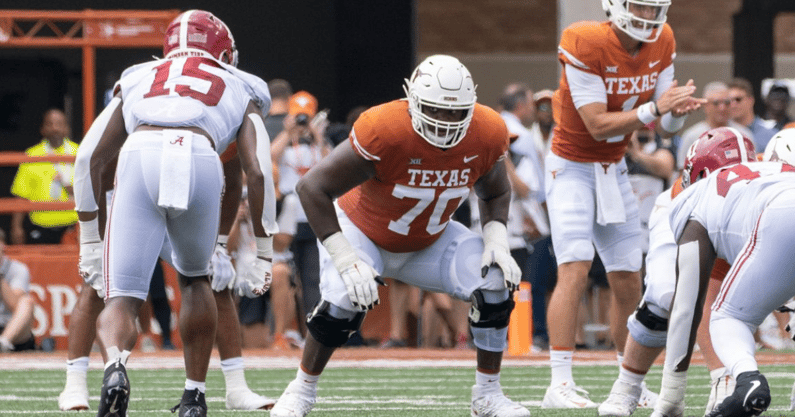 While there are still hints of skepticism within the Texas fan base you can tell a certain confidence and belief is returning to a large percentage of fans. Take this week as an example. UT is heading to Lubbock "where weird things happen" but fans aren't nearly as concerned about the game as they were just a few weeks ago. Whether that's justified remains to be seen, but given the start to the season, it is understandable.
[Get ONE MONTH of Inside Texas Plus for $1!]
Texas has played 12 quarters of football so far, and and for the most part, those 12 quarters have yielded much more consistent play over last season.
The offense hasn't yet hit its stride but has looked oh so promising, even (especially?) against Alabama, when at full strength. The defense is noticeably improved whether measuring individual play, cohesiveness as a unit, or effort.
In short, the start to this season has so far demonstrated these players are being developed by a group of coaches who were known for that ability when they were hired.
These grades are subjective, you can tell because I'm using letters. If they were numerical with decimal points and to the thousandths they would be scientific and not up for debate. We want debate.
Here's the offense.
Quarterback: B
Quinn Ewers: 25 completions, 36 attempts, 69.4% completion percentage, 10.0 yards per attempt, 2 touchdowns, 1 interception
Hudson Card: 33 completions, 50 attempts, 66.0% completion percentage, 6.9 yards per attempt, 1 touchdown, 0 interceptions
Many of you are overachievers and a B isn't considered good, but given context, it's a strong early grade. The two quarterbacks, Quinn Ewers and Hudson Card, have only combined for three touchdowns, but they've also only thrown one interception, and that was on Ewers' first series of the year.
Had Ewers not been hurt at the end of the 1st quarter versus Alabama, this grade would probably be an A.
Card has filled in admirably, most notably against Alabama where Texas led with 1:30 remaining in the game.
The short story is Card is improved and Ewers is as dangerous as advertised.
Running Back: B+
Bijan Robinson: 51 attempts, 311 yards, 6.1 yards per carry, 5 touchdowns, 7 receptions, 132 yards, 18.9 yards per catch, 1 touchdown
Roschon Johnson: 21 attempts, 131 yards, 6.2 yards per carry, 1 touchdown, 1 hurdled defender, 6 receptions, 43 yards, 7.2 yards per catch, 1 touchdown
Despite a deep stable of running backs, through non-conference Texas has leaned heavily on Bijan Robinson and Roschon Johnson. That's a sign the running game hasn't been consistently good so far, but part of that is a function of the O-line not getting a consistent push and the inability to routinely hit the deep ball in the passing game. The run game certainly showed signs of life after Texas wore down an overmatched UTSA last Saturday.
Running the ball is only part of the value add. Each are dangerous receivers on the perimeter.
As the rest of the offense picks up, the running backs will be the primary beneficiaries.
Offensive Line: B
This is a strong grade given all the factors. Texas is starting two true freshman, two sophomores, and one of the more maligned starters in some time. That maligned starter, Christian Jones, is having a breakout season and is one of the better players on offense. True freshman left tackle Kelvin Banks has lived up to the hype, particularly as a pass protector. Cole Hutson, Jake Majors, and Hayden Conner are probably a little better in pass protection than I would have guessed heading into the season. So far the group has only given up 6 sacks. Three of those came against Alabama, but one came from a linebacker and another from a corner. These guys are holding up even against good D-line play.
Run blocking will need to become more consistent as they head into a conference slate that includes a handful of quality defensive lines, including this week against Texas Tech. They may have begun to hit their stride in the 2nd half against UTSA and will benefit from the return of Quinn Ewers, whenever that occurs.
Tight End: B
Ja'Tavion Sanders: 10 receptions, 94 yards, 9.4 yards per catch, 1 touchdown
Six of Sanders' receptions came in the opener against UL-M, but he was active versus Alabama, drawing one penalty and another that should have been called. Everyone knows he's a terrific receiver, and we'll see much more of that as we get deeper into the schedule, but his ability as a perimeter blocker is starting to stand out. He will be a complete tight end early in his career.
Gunnar Helm is the only other tight end with a reception (1). Clearly they're missing that component with Jahleel Billingsley absent the first six games.
Special mention for Andrej Karic. Big No. 92 is seeing a lot of snaps as an extra blocker. He should come in handy this week against Tech's disruptive Edge Tyree Wilson.
Wide Receiver: B
Jordan Whittington: 14 receptions, 146 yards, 10.4 yards per catch
Xavier Worthy: 11 receptions, 162 yards, 14.7 yards per catch
The clearest evidence the offense has another gear or two to hit is reflected in wide receiver production. Thus far, all receiving touchdowns are limited to running backs and tight end like we're following Texas A&M or something.
While he hasn't broken off many long plays, Whittington has reliably caught the ball when targeted, even when covered, and moved the chains. With his toughness and physicality he's the receiving version of Roschon.
Worthy continues to have elite 'get open' skills. Steve Sarkisian was wise to vary his routes this past weekend. Sark doesn't prefer throwing the ball to guys working back to the line of scrimmage, but curl routes were comfortable throws for Card and got Worthy involved. He was also used more on quick passes where he's always a threat to slip a tackle and break a long gain. His ball skills aren't elite, but he has received inconsistent service at times.
Casey Cain has made plays the few times he's been targeted.
Overall, the wide receiver group deserves mention for their effort blocking. It's not always perfect, but running plays and short passes feature 9 blockers giving effort, not five.
***
I saw the band Wilco at ACL in 2004. It was my first time hearing them. One song opened with each band member playing his own melody, totally out of tune with everyone else. It was loud, chaotic, and not pleasing to the ear. The band was even scattered across the stage, content with their mini solo career; each member just doing his own thing. Over the course of a minute or two the musicians started moving closer together. With each step towards the middle of the stage they came closer to achieving harmony. Once they did, it was something to remember.
Inherent in the above grades is the room for improvement the offense still has across the board. Each position group is doing fine, but as they continue to fine tune as a group they will eventually find their offensive-wide harmony between health, scheming, play-calling, the run and pass game, and cohesion.
Once those complementary aspects cohere, it will be something to remember, too.