Quick Alamo Bowl Primer On The Washington Huskies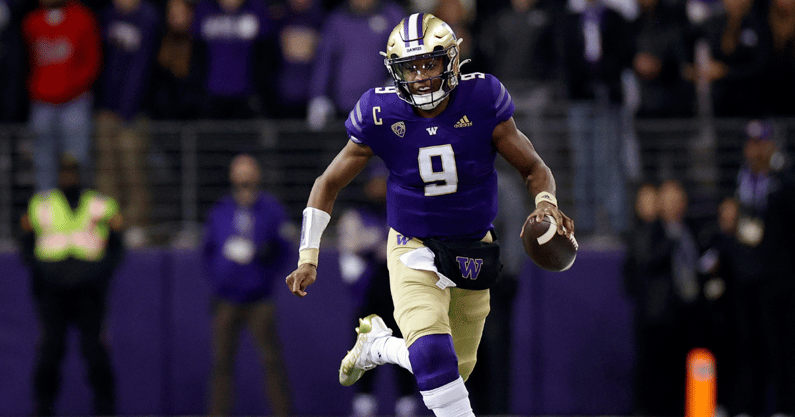 A more thorough breakdown will be coming around Christmas, but here's a quick rundown on the Washington Huskies.
[Get a FREE 7-day trial of Inside Texas Plus!]
The Huskies finished the year 10-2 under rookie head coach Kalen DeBoer (former OC for Indiana). They've won six in a row after a 4-2 start, including big wins over hated rivals Oregon and Washington State. They lost to a quality UCLA squad in the Rose Bowl and were upset by a bad Arizona State team in Tempe. Both on the road. Their home record is a glittering 7-0. The Alamo Bowl won't feel like a home game for them, I'd wager. Though I'm sure their passing game will appreciate turf and perfect atmospheric conditions.
Washington's defense is extremely aggressive but very beatable if you can turn it against them and expose their team speed. They have 35 sacks on the season and run blitz often. They get off the field by inflicting negative plays. Texas should have a highly efficient passing day if Ewers can get it together and the Longhorn offensive line deals with their stunts. Otherwise, you'll see some Baylor type gaffes under pressure, but with big plays of our own.
Washington's strength of their defense is their edges. They're big edges and the Huskies aren't shy about letting them get upfield, sometimes recklessly. Starters Bralen Trice and Jeremiah Martin both go about 6-4, 270. The backup edges also play extensive snaps and they'll play 3 or 4 at a time on passing downs. The whole unit has a combined 25 sacks on the year with Trice and Martin combining for 16.5 of those. The interior are stubby Polynesian dudes who try to hold ground with leverage.
The linebackers and secondary are mature and experienced. Overall team speed is mediocre at best and they will give up big plays in the passing game (7.8 yards per attempt for opponents). They're best at stopping the run, but teams with strong running games ran just fine on them (Oregon, UCLA) while they snuffed out mediocre to poor running games. Teams that involve the QB in the running game had the most success since it negated their edge play. Mobile QBs in general give them fits.
I think Texas can run on them, but it will require some stubbornness and then it will break open. A Bijan and Roschon swan song would be fun and here's to dreaming.
Lazy people will compare their offense to TCU, but they're much less balanced with the run and are absolutely stubborn throwing the ball. Their running backs are JAGS who mostly exploit undermanned boxes or crease a stunting front. QB Michael Penix is truly a mad bomber and they don't often pay a penalty for letting downfield routes develop (less than 10 sacks surrendered on the season, Penix has only 7 interceptions). Penix seems to hit a 60-80 yard touchdown nearly every game. Only two opponents have held him under 300 yards passing this season. They're also amazing at converting 3rd down.
Penix leads FBS in passing yardage and they'll throw it 50 times if they can. He is mobile and strong enough to shake off contact (he's about 6-3, 215) but he runs around to buy time to throw. He's not involved in the running game the way a Max Duggan or Frank Harris is. He breaks contain or back pedals to buy time and then flings it. He has fine touch on his deep ball and plenty of arm.
The Husky WR corps has been elite. Rome Odunze and Jalen McMillan are both 1,000+ yard receivers. East Texan Ja'Lynn Polk is a strong #3 option. These dudes all go and get the ball and they're good on fly routes and after the catch. Probably the best WR corps we've seen, though a healthy TCU is a pretty tough unit.
Texas is more physical on both sides of the ball and the Texas defense has been pretty adept at limiting big single play scores. Washington should struggle to run the ball when the field compresses and they'll need busted coverages to get 7s instead of 3s in the red zone. Offensively, Texas upside will largely be determined by which Longhorn skill players participate.
Should be a fun game. Who plays for Texas and which team wants to be there will play a large role in the outcome.