Ranking The 2022 Big 12 Running Backs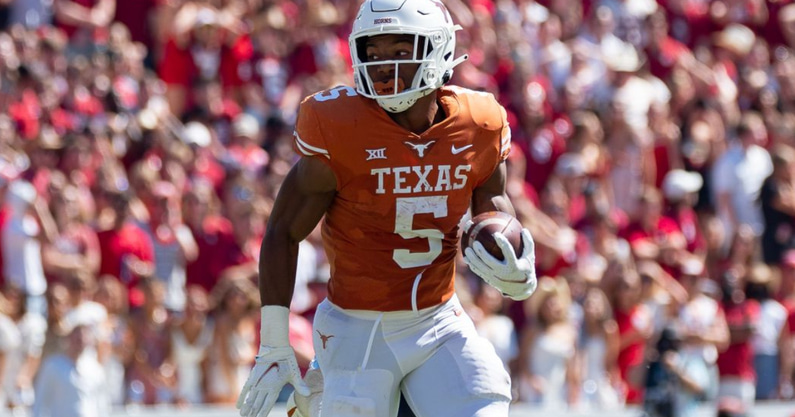 The Big 12 featured several bell cow running backs last year. Seven different runners eclipsed 1,000+ yards rushing on the season. Throw out the shortened season COVID lockdown in 2020 and the conference only had four 1,000+ yard running backs in both 2018 and 2019. Why the profusion of Big 12 bell cows in 2021? No real grand unifying theory except that RB time share backfields declined, the running backs were good, and everyone in the league ran the ball a little more than usual. The league was led by breakout surprise Abram Smith from Baylor, who rushed for 1601 yards at 6.1 yards per carry. Not shabby for a converted linebacker.
[Get a FREE 7-day trial of Inside Texas Plus!]
Smith is gone, and along with him, 5 of the top 7 leading rushers in the conference depart. Only two dominant bell cows remain and they are two of the best, most exciting runners in all of college football: Texas' Bijan Robinson and Kansas State's Deuce Vaughn.
Bijan actually has less production and fewer touches than the water bug 45 pounds lighter with whom he shares elite billing, but his 6.5 yards per carry rushing average and 12.0 yards a catch receiving average speaks to his explosiveness. If Bijan can avoid the minor injuries that have plagued him in his first two seasons, a 2000+ yard season in combined rushing/receiving is within reach.
Over two years, Vaughn has rushed for 2,048 yards at 5.7 yards per carry and added 74 catches for 902 yards as a receiver. He scores a touchdown every 14 plays from scrimmage. Beyond the statistics, the 5-5, 170 pounder is amazing in space, a terrifying pass catcher, and showed a significant improvement in durability in Year 2.
The known quantities and/or elite talents drop off past Vaughn and Robinson, but there are some quality dudes.
Kendre gets his own tranche as he has real breakout upside potential. Miller is a Beast Texas product from a hamlet that barely appears on a map. Overlooked in the recruiting process, he ended up in Ft Worth and looked explosive as a freshman and dynamic as a sophomore alternating with Zach Evans (who departed for Ole Miss). Last year, Miller rushed for 623 yards at 7.5 yards per pop. It's his job and while Sonny Dykes is going to throw the ball a lot, Kendre has a real shot at being a 1,000+ yard rusher and possibly putting up huge numbers. Miller has a knack for big runs and is one of the better, lesser known skill players in the league. He does run a little high and may be susceptible to soft tissue injuries.
Devin Neal impressed as a true freshman last year at Kansas, eventually winning the job outright and notching 707 yards rushing and 8 touchdowns. Lance Leipold wants no-nonsense guys who play hard and that's Neal. Great economy, chain mover, always falling forward. His surrounding cast may hold down his numbers or efficiency, but Neal is quality. His most dominant performance came against Texas, where he notched 4 total touchdowns and 143 rushing yards. I think I remember every carry.
Roschon won't break 1,000 yards rushing in 2022 as long as everyone stays healthy, but Ro has racked up 1636 yards rushing over three years to go with 18 rushing touchdowns. He also came up big in the absence of Bijan Robinson against Kansas State, racking up 179 hard yards on 31 carries playing RoCat QB and traditional running back. Johnson offered a taste of what he's capable of if he were a lead back. Roschon would start for half of the teams in the league and demand a time share from most others. Keilan Robinson is also worthy of mention but depth charts are unforgiving things.
Manor product Tahj Brooks is a power runner with feet who racked up 6.5 yards per carry and 568 rushing yards despite missing 4 games due to injury and sharing the backfield with SaRodorick Thompson. Brooks is a very capable runner who got off to a great start (237 yards rushing, 4 tds) in his first two games, but he was never quite right after his injury. Thompson also returns, but if healthy, Brooks is 1A to his 1B.
Eric Gray ran for 412 yards last year in spot action, but was an effective receiver, grabbing 23 balls. He'll be the lead back – at least initially – in the Sooner running game and the former Tennessee transfer should be effective, at least as a function of volume. He is an experienced player and the 22 year old has racked up 1723 rushing yards and another 598 receiving yards in his college career. Gray has never really quite performed to expectation or preseason hype, but the talk in Norman is that they are going to feed Gray this year. Freshman Jovantae Barnes could be an interesting dark horse if Gray can't handle the meals.
Oklahoma State lost starter Jaylen Warren, but Dominic supplanted the more experienced LD Brown and Dezmon Jackson to take the primary back up role last year. Richardson looks solid, but young talent Jaden Nixon could supplant him as the starter. He'll get volume, but efficiency?
Baylor OC Jeff Grimes turned Abram Smith into a monster runner, so why not Taye McWilliams? The OL situation is good and the running scheme is outstanding The unknown is McWilliams' ability level as an every down runner. If the Bear running game clicks again, McWilliams will be the beneficiary. Craig "Sqwirl" Williams could also factor.
Iowa State has a quality OL and will need to break in a new QB. Matt Campbell also isn't shy about hanging the bell on a runner. Enter Jirehl Brock. He's billed as a less explosive Breece Hall. He didn't do much against Clemson in their bowl game when he earned the start after Hall sat out to preserve his NFL draft status, but his true ability level will play out over a full season.
Tony Mathis averaged 4.3 yards per carry last year backing up Leddie Brown. To date, he is a FBS median runner. JT Daniels better throw well.