5 Texas High School football games to watch for week 5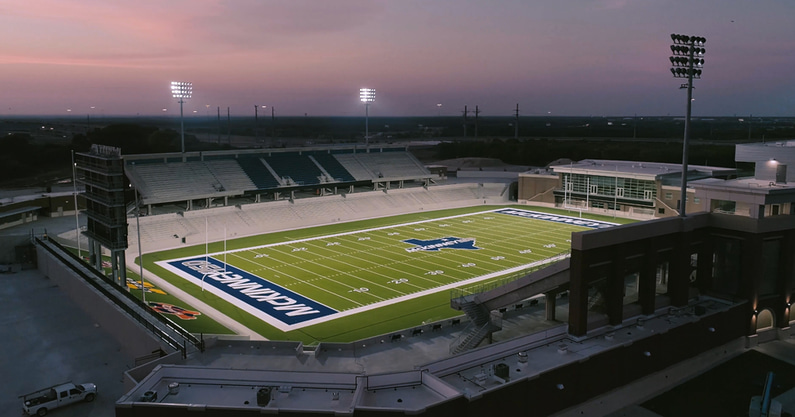 Week 5 of the Texas High School football season kicks off tonight as teams across the state begin district play.

This week's 5 games to watch features matchups from the greater Houston area, East Texas, and the DFW metroplex.
Inside Texas members have access to the weekly TXHSFB Megathread which features additional streams, prospect schedules, and the TXHSFB game thread.
*Thursday*
Fort Bend Hightower vs. 5AD1 No. 4 Manvel
Stream Link (FREE)
7 p.m.
Players to watch:
2022 FB Hightower WR Caleb Douglas- USC commit
2022 Manvel LB Justin Medlock- Miami commit
2022 Manvel S Collin Wright- Stanford commit
2022 Manvel DL JP Deeter- Purdue commit
2022 Manvel EDGE Kivon Wight- Boston College commit
2022 Manvel OL Tevin Shaw- Houston commit
2022 Manvel S Malachi McLean- Colorado State
*Friday*
6A No. 12 Rockwall vs. 6A No. 8 Rockwall-Heath
Stream Link (FREE)
7 p.m.
Players to watch:
2022 R-H QB Josh Hoover- Indiana commit
2022 R-H WR Jay Fair- Auburn commit
2022 R-H S Peyton Williams- South Carolina commit
2022 R-H RB Zach Evans- Minnesota commit
2022 R-H WR Jordan Nabors- Baylor commit
2022 Rockwall QB Braedyn Locke- Mississippi State commit
2023 Rockwall WR Noble Johnson- Offers from Tennessee, USC, Miami
Langham Creek vs. 6A No. 19 Bridgeland
Stream Link ($)
7 p.m.
Players to watch:
2022 Bridgeland QB Conner Weigman- Texas A&M commit
2023 LC WR Jaquaize Pettaway- Offers from Texas, Texas A&M, LSU
2022 LC QB Tanner Murray- Offers from Rice, Tulsa, Marshall
6A No. 4 Denton Guyer vs. McKinney
Stream Link ($)
7 p.m.
Players to watch:
2023 Guyer S Peyton Bowen- Offers from Texas, Oklahoma, Notre Dame
2023 Guyer S Ryan Yaites- Offers from Texas, Auburn, Notre Dame
2023 Guyer QB Jackson Arnold- Offers from Notre Dame, Ole Miss, TCU
2022 Guyer S Marquan Pope- Pittsburg commit
2022 McKinney DB Damon Youngblood- Louisiana commit
2024 McKinney WR Xavier Filsaime- Offers from Pitt, Utah, UCF
2024 McKinney ATH Bryan Jackson- Offers from Baylor, Pitt, Utah
2024 McKinney ATH Makhi Frazier
Small school game of the week:
4AD2 No. 1 Carthage vs. 4AD1 No. 2 Gilmer
Stream Link ($)
7 p.m.
Players to watch:
2022 Carthage LB Kip Lewis- Oklahoma commit
2023 Carthage WR Montrel Hatten- Offers from Arkansas, Houston, Baylor
2022 Gilmer QB Brandon Tennison- UTSA commit
2023 Gilmer ATH Rohan Fluellen- Offers from Tennessee, Pitt, Houston