Texas lands commitment from 3-star ATH Savion Red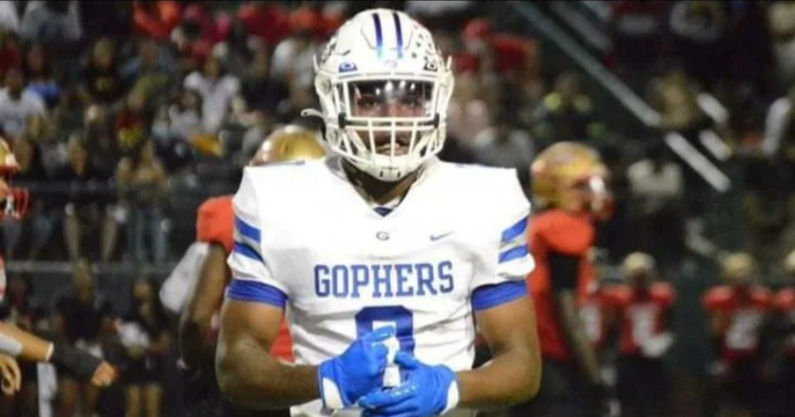 Once he made it to Austin, Grand Prairie (Texas) ATH Savion Red knew he was home. The do-it-all prospect from DFW committed to Steve Sarkisian and the Texas Longhorns on his official visit to the Forty Acres.
[Subscribe to Inside Texas right now and get a 7-day FREE trial!]
Listed at 5-foot-10 and just over 200 pounds, the Grand Prairie Gophers went as far as Red could take them this year.
Once an SMU commit, Red opened up his recruitment on November 24 and received an offer from the Longhorns a few days later. Texas stopped by Grand Prairie on December 8, and secured his commitment on his official visit to Texas.
Excerpt from the Recruiting Notebook
Red wasn't a high profile player before 2021, he was a slot receiver as a junior who saw the sort of limited action you tend to get as a high school receiver. As a senior they moved him to quarterback and he attempted 128 passes for 769 yards at 6.0 ypa and then had 148 carries for 1,353 rushing yards at 9.1 ypc with 20 rushing touchdowns in a Wildcat offense.
He's built thick for running between the tackles at 5-foot-10, 210 pounds and has terrific start/stop quickness and change of direction for bouncing runs outside or setting up cutback lanes. He'd be an obvious fit as a running back in Kyle Flood's late cut inside zone/power run game. As a Wildcat quarterback he could run option or fake hand-offs and still have the initial burst to make up for a late start and make a violent cut or hit the edge. Red has the physicality and athleticism to play other spots like receiver or potentially on defense, but the timing of Texas gaining interest in him after losing Jamarion Miller makes running back most likely. As a receiver he'd be a good weapon in the RPO game with the strength and quickness to get open on slants and outs even against tighter coverage. You're not going to move this guy off his spots easily if he learns some good releases off the line. – Ian Boyd
Strengths: Good height for RB or slot. Has room for some lower body add in terms of bulk but is already plenty muscular to play either position. Very good acceleration off the line. Great small area quickness making his 4.5 second recorded shuttle seem slow for what's on film. Has enough wiggle to make people miss in small areas. Generally patient runner who tries to keep the run where it's designed to go. Reads blockers well and rides the hip of the blocker really well. Keeps legs moving on contact and fights through contact with competitive spirit. Hard to bring down in the open field. As a WR, he gets off the line well and shows the route tree to all levels. Senior film shows some evolution to his personal route tree with out-and-ups, sluggos added to basic routes last year. Seems to have pretty soft hands and competes for the ball. He reads the poor throw pretty well. Judges the jump ball well and seems remarkably comfortable with contested catches. Just makes plays. A willing blocker. Will contribute on special teams early. Has position versatility and clearly his coaches wanted him to have the ball in his hands more often than not, moving him to QB senior year. Very productive as he accounted for 28 TDs as a senior (including 20 rushing). I see him more of a RB than a WR, but I think he'd excel at zone running.
Areas for Improvement/Concerns: Top end speed seems inconsistent. Will probably lose some footraces in college. Rounds off routes more than I'd like. Would like to see more lower body and hip explosiveness. Let's the ball into his body more than I'd like when catching. While he's a very willing blocker, he wins on strength, not leverage and lets the blocker into his body a bit more than he should.
Red is the 27th commit in Texas' 2022 class.