Texas Player Perspective: Casey Thompson starting versus Rice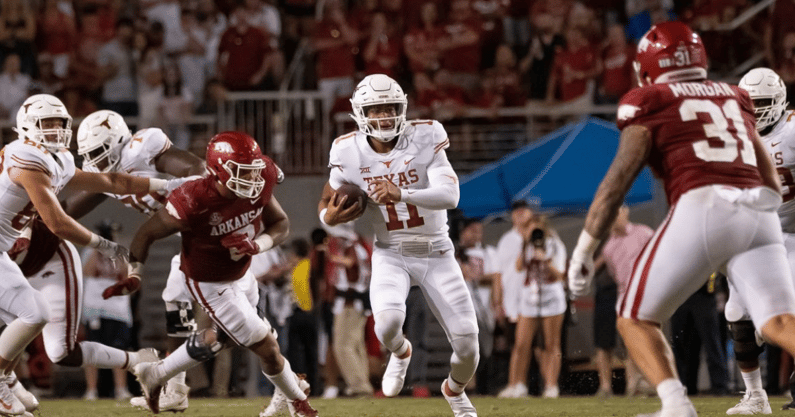 Texas head coach Steve Sarkisian opened his Monday press conference by announcing Casey Thompson will start at quarterback versus the Rice Owls. After Sarkisian was finished with his media responsibilities, Bijan Robinson, Derek Kerstetter, and Moro Ojomo spoke with the gathered press.
Thompson and DeMarvion Overshown spoke with the media over Zoom on Tuesday. Here is what the players had to say about Sarkisian electing to start Thompson at quarterback.
Casey Thompson
"I just realized today the last time I started a game was November 2017, which is crazy. But I'm excited. I've waited a long time for this opportunity, and I think it's a testament to perseverance and hard work. And I'm excited for this team, the opportunity that we have to bounce back and to continue to push forward and press on towards the goals we still have ahead."
Why was it important to Thompson to stay with the program?: "I'm very thorough in my thought process and approach to things. At this point, I'm already in this thing and I've waited for my opportunity and I've waited so long, there's just no way that I could just quit and let up at this point. My thought process was, yeah, it hurt for a second and I'm going to let it sting, but I'm going to wake up the next day. Literally, I just took a day to think about it and soak it all in, then as soon as the Monday comes around, I just woke up, went back to work, and said no matter what happens I'm going to be ready to play. And I'm going to take this thing over when this opportunity presents itself."
"Even last year and the years that I was a backup behind Sam (Ehlinger), and even in the last few weeks, nothing changes as far as my preparation. I still watch full game clips on Sunday and Monday. Tuesday, Wednesday, Thursday I watch third down and red zone. Then towards the end of the week on Friday, getting on the bus and going to the hotel, I still watch cut ups and stuff, and go through my playbook, the game call, the game sheet, and my tips and my reminders. I'm going to keep the same approach and the same exact habits that got me to where I am today. I think that it's worked so far. If anything, I think it's time to turn up the notch just a little bit. Maybe a little bit more film study, a little bit more treatment, a little bit more time watching film with my receivers, and stuff like that."
How he was informed: "I woke up on Sunday. I focused on my recovery and focused on my body. Then I woke up on Monday and focused on practice, and I came in the building and Coach Sark told me I was going to be named the starter. I'm like oh wow, there it is. That's really how it happened. Like I said, I can't worry about the future. I'm just focused on today. That's the approach I really try to take with this whole process."
"Every day we wake up, we're never going to be perfect. We're all human, but the more you can strive for perfection, especially at a position like quarterback, one of the hardest positions in all of sports, it's just the consistency. I think sustaining a level of consistency, that's what quarterback is all about. It doesn't matter if I get five plays or if I get 50 plays, I try to do my best on every play. That's my mindset. I'm trying to focus on that. I'm taking it one play at a time, but also to have the ability to learn and grow from your mistakes. Every day, I wake up and I try to say today's going to be a great day. I cannot fail, I can only learn and grow. That's the mindset that I tried to approach this process and this quarterback competition with as well."
Moro Ojomo
"We're behind both of our quarterbacks. We love both of our quarterbacks. We are for whoever our coaches choose. He's been doing this for 20-plus years. That's his job. We need to do our job, right? So whoever coach picks, we believe in our coach. We believe in our team. We believe in both of our quarterbacks, and we're ready to root behind them and play the best possible football we can as a unit."
Bijan Robinson
"I support both guys. I've been riding with both guys since the beginning of the season. Both of them play very great. Casey, I know he has a little more experience than Hudson and he can make some reads or make some calls he might have seen before as he's been here. I'm happy for Casey. I just know we can execute and ride with him moving forward."
What has Robinson seen from Thompson?: "I feel like he has a lot of experience. When he got in there, he looked really calm. Nothing really rattled him, nothing really fazed him. It looks like he's been there before. He just looked comfortable in the pocket. He made the right reds. Even when he had to tuck it and run, he's still confident when he was doing that. I just think him having that experience behind Sam (Ehlinger), how he's been here, when he got in it was nothing new for him."
Was Robinson surprised Thompson didn't play earlier?: "I'm not surprised. You've got to give (Hudson) a chance. With Hudson, he's never played in an environment like that before. Everything was all new for him, just like for a lot of us on that team. Him coming in, we have to see what he can do and see how he handles that kind of pressure. And it's good for him to have that kind of experience. I know we made that switch in the second half, but I felt Hudson needed that experience. He needed to get that kind of feel of the game moving on."
Derek Kerstetter
"I just trust him, man. He's a heck of a coach. He's had a lot of good offenses and a lot of good quarterbacks. I fully support his decision. I fully support Hudson and Casey. They're both good quarterbacks and just love playing for both of them."
What has Kerstetter seen from Thompson?: "He's came in and played well when he's gotten his opportunities. We'll see what he's got. I believe in him and I'm fully supportive of Hudson and him like I said. They're both good quarterbacks and we're excited to see what he's got."
DeMarvion Overshown
What did Overshown see from Thompson at Arkansas?: "I saw more experience. You could tell early on that Hudson was a little rattled. Casey went in, he used his legs pretty good and was able to escape. You could tell he was just more experienced. That's an offensive thing. I know Coach Sark has got a plan for those guys. I was just really working on the defensive side."
Discuss this story on the Inside Texas Members Only message board