West Virginia head coach Neal Brown shares good understanding of Texas' three phases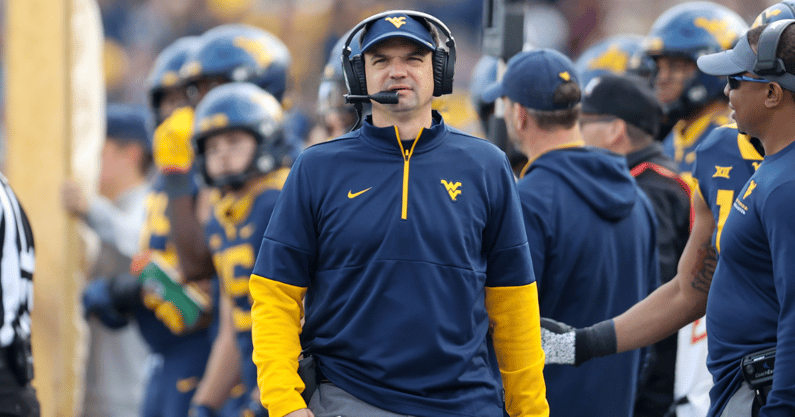 West Virginia head coach Neal Brown, currently 2-2 after the Mountaineer's win over Virginia Tech on Saturday, met with the media on Tuesday to discuss his program's upcoming game with Texas, also 2-2.
[Get ONE MONTH of Inside Texas Plus for $1!]
Brown shared a more detailed understanding of his opponent than coaches typically do in this setting. 
Of course, none of it will end up on a bulletin board like Joey McGuire's postgame comments after Texas Tech upset visiting Texas on Saturday. Still, it was interesting to hear an opposing coach's detailed thoughts on UT.
Unsurprisingly, Brown spent most of his time discussing the Texas offense:
"A lot of respect for that brand and the team. Start with offense, I think it starts with Sark. He's as good a play caller as there is in college football. Quarterback, whoever plays, they're going to play at a high level at quarterback. I think Hudson Card has played really well, been watching him since high school. He played at Lake Travis, one of the best high school programs in the country. He could have gone anywhere in the country. I think he's a really good player, he played really well last year when he was healthy as well. If Ewers plays, I thought he played extremely well early on against Alabama. Obviously highly regarded, so whoever lines up at quarterback they're going to be good. All right, I think it's pretty simple there. If you guys ask questions about that that's how I'm going to answer it because that's what I believe."
Brown may be off in his assessment of Card's play last year, but not in his ability in general. Card has shown the ability to put Texas in position to win games this season.
The running back room is one of the deepest in the program and that group has caught Brown's attention. 
"Running back, Bijan Robinson is probably as good or better than any college football player in the country. That whole room is talented. Roschon Johnson has played there, quarterback in high school, they're using him a lot in the Wildcat right now and he's a physical runner, one of their best special teams players which I think says a lot about him. And then Keilan Robinson is a guy that can make you miss. Sark's doing a good job, he played all three of them together quite a bit last week. He's doing a nice job using those guys."
Brown would go on to call Robinson a "five-tool player running back…." 
"Tight end is a really good pass receiver in Sanders, he's a great athlete, and then you have Worthy. Worthy was freshman All-American last year, he can take the top off it, can really run. I think Whittingham [sic] is really underappreciated. He's strong, he's fast, he's great after the catch. He's a really good player, I really respect his game, I like his game."
Worthy's availability this week is something Texas fans will be watching for this weekend. Coach proved his own point on Jordan Whittington but he was complimentary.
"Their O-line is improved. They're really young up front but they're doing some things and Sark's put them in a good position to be successful."
In coach-speak, "doing some things" also means they aren't doing some things, but Brown took it easy on this group given their youth. The O-line has a ways to go, but the pieces are there to work with. This group should improve throughout the season.
"Really a tough offense to prepare for, they motion, they shift, multiple weapons really at each skill position."
Brown has noticed what many others have as well, improvement on defense. And, If running back isn't the deepest room, Brown identified another potential position group in defensive tackle. 
"Defensively they have a lot of veterans playing at a much higher level than when we saw them last year. I think it starts up front. They go six deep at defensive tackle. That's just not heard of. They've got six guys that are plus Big 12 players. Most teams in our league are dealing with three, maybe four, but they've got six and and several NFL players within those six and so that's the biggest challenge is those guys in the middle. They're playing the run at a much improved rate."
Texas will be six deep this weekend assuming Moro Ojomo returns. Steve Sarkisian mentioned in his Monday press conference Ojomo returned to practice on Monday.
"I think Overshown who played a little bit against us last year, but he's really active, he gave us a lot of problems down their in '20. He's long. I think both corners are playing well. Jamison's been there for a long time. They've got the kid [Ryan Watts] who transferred from Ohio State. Those guys are playing well."
Aside a mental lapse or two from the corners, Brown is spot on in his assessment. Both are playing well.
"And then special teams to kind of finish up, schematically they do a lot. They're really well coached, they got their best players on special teams, great team speed, talented returners, Worthy is their punt returner and if he doesn't go back there Jamison goes back there, and Jamison's been a kick off returner and a punt returner for really his entire career there. He's dangerous with the ball. Kick off return they got Roschon Johnson and Keilan Robinson back there. So guys that can take it the distance. I think our coverage units are going to have to be on point. And they blocked, I think they blocked the most punts in the country last year so they're going to come after that. They've got some speed that they use on those units."
Special teams has been a bit boom or bust during Jeff Banks' time in Austin, but they are showing to be more consistent this season. It should be noted punting and kicking duties, two big question marks heading into the year, have performed well.
Texas and West Virginia kickoff on Saturday at 6:30 on FS1. Texas opened as a 9.5 point favorite.