Practicing in the heat, Texas football works on fundamentals, techniques in day one of camp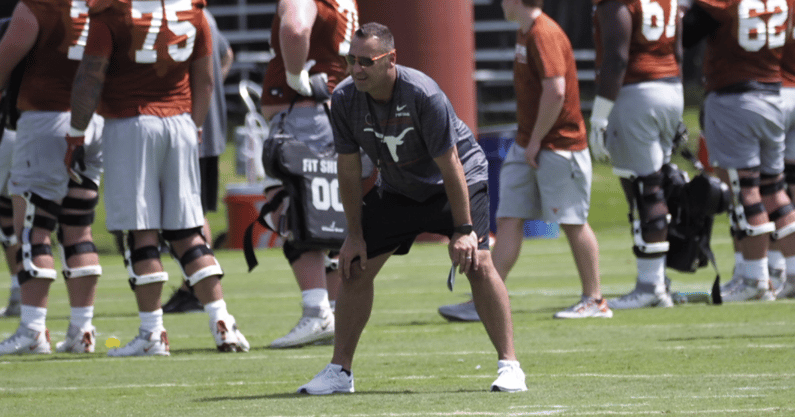 It's hot in Austin, Texas. For the next week, the coolest forecasted high temperature is 98 degrees, with the thermometer likely to hit triple digits several times over the coming days. Texas head coach Steve Sarkisian understands it's hot, but also knows he has a football season in Texas to prepare for. That preparation began on Wednesday at the Frank Denius Fields when the Texas Longhorns officially opened preseason camp.
[Get a 50% off an Inside Texas Plus subscription!]
The Texas sun is nothing to play with, and Sarkisian understands his position requires him to balance the health of his players with needed preparation for the coming 12-game slate.
"That's got to be paramount," Sarkisian said Wednesday of player safety. "Monitoring any health issues; asthma, sickle cell, things of that nature. Monitoring hydration. Clearly, we monitor the amount our guys run with our Catapult. We have a good pace and pulse of what's happening with the team, then go from there."
Even with those careful measures, Sarkisian knows he can't keep the kid gloves on with his team for the next month. When the Louisiana-Monroe Warhawks come to Austin to open the season, and the Alabama Crimson Tide do the same the week after for an 11 a.m. kick, Campbell-Williams Field is likely to be quite literally the hottest place in town.
"We've got to play," Sarkisian said. "It's probably going to be hotter because it's in the stadium, and it'll be that much warmer."
Sarkisian's Longhorns began official preparation for ULM and the rest of the schedule on Wednesday with only helmets and jerseys on, abiding by NCAA regulations. They were able to work for around two hours, equaling the amount of time coaches could spend with players on the field in a given week over the course of the summer.
Wednesday's practice was a sort of continuation of those workouts for current Longhorn players, but at a faster pace and with higher stakes.
"You start to apply the fundamentals and techniques we were able to work on in the summer, whether it's O-line, D-line, DBs, receivers, quarterbacks," Sarkisian said. "You try to go back to, here's day one instillation, and who can retain that installation, go apply it through drills, then ultimately in the team settings. You try to find out who has that level of consistency to do right over and over and over and over again."
Throughout the summer, Sarkisian said he owed players at every position the opportunity to earn starting or backup roles during practices in pads. Those pads won't come on for a couple of days, and Sarkisian specifically mentioned that players were highly unlikely to move up or down the depth chart based off the first few days of action without full equipment.
Though movement isn't likely, there will be plenty of data for Sarkisian and the rest of his staff to scour. He claimed Wednesday that each player gets the same amount of reps through the way his practice is designed, and that the coaches watch every rep following the completion of practice.
Day one in the heat is in the books. Day two and day three will also be in the afternoon heat before an evening practice on Saturday.
But Longhorn football is officially in the preseason, and in 30 days the fruits of the labor that began on Wednesday will be fully apparent to the public.
Injury/absences and other notes
-Sarkisian said freshman defensive back Jaylon Guilbeau was not at practice on Wednesday due to a personal issue, but would return to practice on Thursday.
-Transfer tight end Jahleel Billingsley was experiencing tightness in his hamstring in the early stages of practice. He was limited for most of Wednesday's workout. "You start talking about player safety of just monitoring these guys, I just didn't feel the need to make it any worse," Sarkisian said.
-Linebacker Luke Brockermeyer, who tore a ligament in his knee in the latter stages of the 2021 season, was "not full go" according to Sarkisian, but did practice. He had a decent-sized brace on his knee.
-Sarkisian gave himself more chances to work with the defense away from practice and help them feel his presence by re-shuffling some of the week's regular schedule. He scheduled the offense's lift for when the defense was in meetings, granting him the chance to see more of what defensive coordinator Pete Kwiatkowski was doing with his side of the ball.