2022 college football coaching carousel update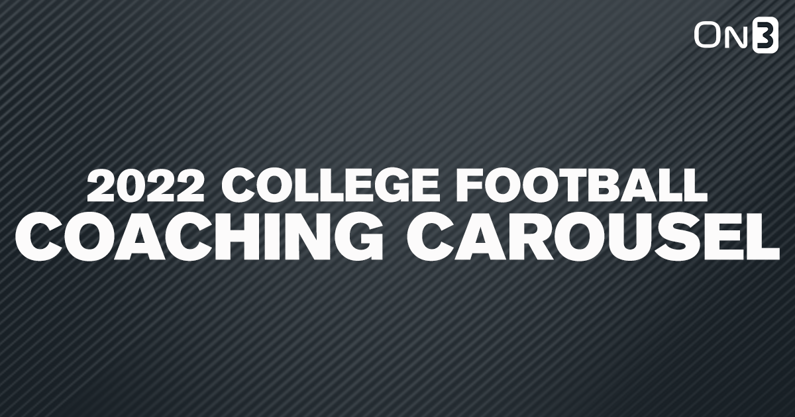 Last year's coaching carousel was one of the craziest in a while. This year's doesn't seem likely to be as crazy, but considering three coaches were fired in September, who knows?
To help you keep up with all the latest developments on the coaching carousel, we'll be posting updates here about FBS head-coaching jobs and noteworthy assistant coach moves.
Charlotte expected to hire Michigan's Biff Poggi as head coach
November 15: The first hire of this coaching cycle has been completed. Michigan associate head coach Biff Poggi is being hired as the new head coach at Charlotte, sources tell On3. Poggi, a longtime and accomplished high school head coach in Maryland, returned to the Michigan staff last year after a previous stint on the Wolverines staff in 2016.
USF fires Jeff Scott
November 6: USF has parted ways with Jeff Scott and defensive coordinator Bob Shoop. Scott was 4-26 in three seasons as USF's head coach, including 1-8 this season.
Auburn moves on from Bryan Harsin
October 31: Auburn has fired Bryan Harsin. Harsin was 9-12 in two seasons as Auburn's head coach, finishing his tenure with four straight losses and losses in eight of his last nine games against Power 5 teams.
Will Healy out at Charlotte
October 23: Charlotte has become the sixth FBS team to fire its head coach, parting ways with third-year coach Will Healy. The 49ers fell to 1-7 Saturday with a loss to FIU.
Wisconsin fires Paul Chryst
October 2: A second has decided to make a coaching change today: Wisconsin. In a surprising development, the Badgers have fired Chryst five games into the former Wisconsin quarterback's eighth season as the Badgers' coach. The move comes after a 34-10 to former Wisconsin coach Bret Bielema and Illinois, which dropped the Badgers to 2-3. Defensive coordinator Jim Leonhard will take over as Wisconsin's interim coach.
Colorado parts ways with Karl Dorrell
October 2: Colorado has fired Dorrell after a 43-20 loss to Arizona that dropped the Buffaloes to 0-5. Colorado has lost 15 of its last 18 games against FBS opponents since a 4-0 start under Dorrell in 2020.
Georgia Tech fires Geoff Collins
September 25: Collins was fired four games into his fourth season with the Yellow Jackets. Collins was 10-28 at Tech, failing to win back-to-back games even once. Georgia Tech has just two wins over FBS programs since 2020. An overhauling of Collins' coaching staff during the offseason, replacing eight assistants, didn't help early this season. Tech also fired AD Todd Stansbury, the man who hired Collins away from Temple.
Herm Edwards fired by Arizona State
September 18: Amid an NCAA investigation and a day after a loss to Eastern Michigan, Edwards was relieved of his duties with the Sun Devils. Edwards was 26-20 in four-plus seasons at Arizona State. AD Ray Anderson, the man who hired Edwards, also could end up losing his job. When Edwards was an NFL coach, Anderson had been his agent. Edwards was an ESPN analyst when he was hired at Arizona State.
As expected, Scott Frost fired at Nebraska
September 11: A day after a 45-42 loss to Georgia Southern, Nebraska fired Frost as coach. In four-plus seasons with the Huskers, Frost went 16-31, including 5-22 in one-score games. Nebraska owes Frost a $15 million buyout; it would've dropped 50 percent – to $7.5 million – if he had been fired after October 1. In the offseason, Frost revamped his offensive staff, gave up play-calling duties, took a pay cut and changed his buyout terms. In the end, it didn't matter. Frost had spent two seasons at UCF, including leading the Knights to a 13-0 record in 2017, before he was hired at Nebraska.