Christopher Vizzina gives Clemson a high upside talent at QB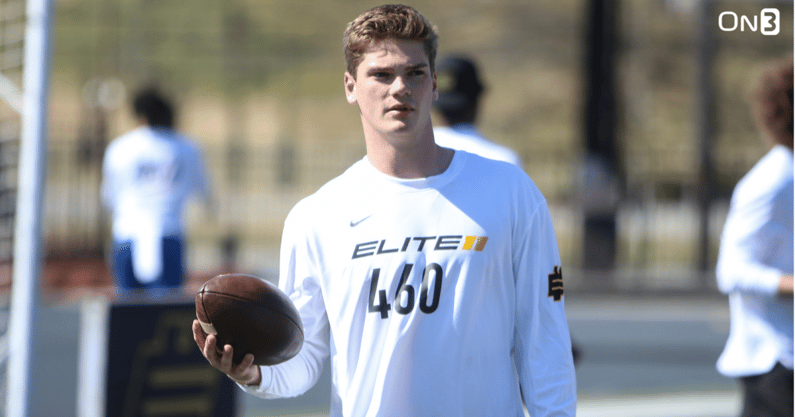 Another quarterback domino in the 2023 cycle fell on Tuesday afternoon with Christopher Vizzina announcing his commitment to Clemson.
The Birmingham (Ala.) Briarwood Christian product ranks as the No. 20 overall prospect and No. 4 quarterback in the On300. Vizzina chose the Tigers over finalists Auburn, Georgia, Ohio State, Ole Miss and Notre Dame.
Vizzina emerged as Clemson's top quarterback target over the past several months and gives the Tigers an ascending prospect with a high upside at the position.
Let's take a look at some of the attributes and skills that make Christopher Vizzina one of the top quarterbacks in the 2023 recruiting cycle.
Projectable physical tools
For starters, Christopher Vizzina has projectable physical tools for the position. He recently measured in at 6-foot-4, 205 pounds with a 9.5 inch hand. Given his frame, Vizzina should be able to carry 220 pounds with ease.
Vizzina's combination of arm talent and on-field athleticism is among the best in the 2023 cycle at this point in time. He's able to generate velocity and drive the ball downfield on Friday nights.
We've also seen Vizzina shine in camp settings. He impressed the Clemson staff while throwing alongside fellow top 2023 quarterbacks Arch Manning, Nico Iamaleava, Eli Holstein and Dylan Lonergan last summer. Vizzina has put together some very strong showings at Elite 11 regional events over the past two years. He was recently invited to the Elite 11 Finals after his showing at the Atlanta regional earlier in the month.
Vizzina has a clean, replicable throwing motion. He's a steady, accurate passer with little variance in location on a throw-to-throw basis. We see this transfer over to the field, where Vizzina is one of the more efficient passers among top 2023 quarterback prospects. He completed 68.4 percent of his attempts for 2,065 yards, 16 touchdowns and four interceptions in 11 games as a junior. His 10.53 yards per attempt is among the best among top 2023 quarterbacks, all while playing tough competition in Alabama's 6A classification.
Advanced movement skills
Christopher Vizzina's movement skills are a differentiating attribute when stacking up the top 2023 quarterbacks. He pairs the translatable physical tools with arguably the best pocket movement and on-field mobility we've seen in the cycle thus far.
Vizzina is the most productive rusher of the group. He ran for 600 yards and 15 touchdowns as a junior, showing the ability to rip off long touchdown runs on both designed keepers and scrambles. He consistently shows the play speed and pace to pick up big chunks of yardage.
The first play in the clip below shows Vizzina taking it to the house from 50 yards out against Clay-Chalkville – a 15-0 state championship team who may have the fastest secondary in the state of Alabama. By comparison, we haven't seen anything to this level from Vizzina's highly-ranked peers thus far.
In addition to the sheer rushing ability, Vizzina has some of, if not the best reactive pocket movement in the cycle. He has twitchy lower body movements with the ability to quickly react and reset his feet when pressured. The quickness is validated in the camp setting, where Vizzina has the best shuttle time (4.28 seconds) among his highly-ranked peers.
In addition to being quick and elusive, Vizzina also proves to be tough to bring down. He regularly shrugs off tackles in the pocket. It's common to see defenders bounce off of him both in the pocket and at the second level.
Vizzina combines his foot quickness with a natural feel in the pocket that is advanced for this stage. As you can see in the clips above, he consistently shows the ability to negotiate within the pocket in the face of pressure. We often see Vizzina step up to avoid the pass rush while keeping his eyes downfield. He strafes and shrugs off tacklers. There isn't much hesitation to stand tall and deliver downfield with defenders in his face – a highly encouraging sign for a high school junior.
Rapid ascent as a player
Christopher Vizzina also stands out due to his steady improvement and upward trajectory as a player. Unlike most other top quarterbacks, Vizzina didn't start playing the position full-time until his 8th grade season. You wouldn't know he was relatively new to the position. There's a natural feel to his game that belies his experience level.
With that said, we've seen Vizzina continue to improve over the past few years. He was one of the biggest rankings risers in the cycle last fall. That type of upward trajectory and continual development typically bodes well when projecting a quarterback's long-term upside.
Vizzina is also one of the younger top quarterbacks in the 2023 cycle alongside Dante Moore. Vizzina is exactly one year younger than No. 1 overall prospect Arch Manning and is 16 months younger than USC commit Malachi Nelson (No. 2). The new Clemson pledge won 20 games as a high school starter before he was able to drive.
Given his age and less time at the position, it's logical to assume Vizzina has considerable room for development.
Fit at Clemson
Christopher Vizzina adds another blue-chip arm to Clemson's quarterback room. The skill set is such that he would fit in most schemes, but he does fit well in Clemson's offense. Vizzina's ability to present a run threat while being able to make all the throws pairs with what Dabo Swinney has liked to do with Trevor Lawrence, Deshaun Watson and Tajh Boyd.
Clemson needs to add depth to its quarterback room for the 2023 season. Landing their top target certainly is big for Dabo Swinney and company in that regard.
DJ Uiagalelei and Cade Klubnik both entered Clemson as highly-touted and prolific high school quarterbacks. They played for two of the nation's top high school football programs. Both were surrounded by elite supporting casts. Perhaps most importantly, Uiagalelei and Klubnik played behind offensive lines that featured Power 5 and FBS prospects across the board. They were very rarely pressured at the high school level. That is not the case with Christopher Vizzina, who faces strong competition without the same advantages Uiagaelei and Klubnik enjoyed. That experience could bode well for Vizzina's transition facing pressure at the college level.
There's still a ways to go in Vizzina's evaluation. We'll closely monitor his progression throughout his senior season. How top quarterbacks perform in their final high school campaign is typically one of the better indicators in a long-term projection. While how Vizzina develops remains to be seen, there are some encouraging signs that Clemson has landed a quarterback with one of the higher upsides the cycle.