On3 Week 13 Heisman Trophy Top-10 Poll
There are only two weeks left until the season is done and conference championships have been played. That leaves us about two weeks out from having a crystal clear picture of what the Heisman Trophy race looks like.
But we can still put together a pretty good picture right now, following Week 12's action.
On3 has gathered its four national experts and polled them for their top 10 players in the Heisman Trophy race right now, creating a grading rubric that we can use to rank them. The player voted No. 1 will earn 10 points, while the player voted No. 2 will earn nine, etc. on down the line. Here's how the voting shook out this week.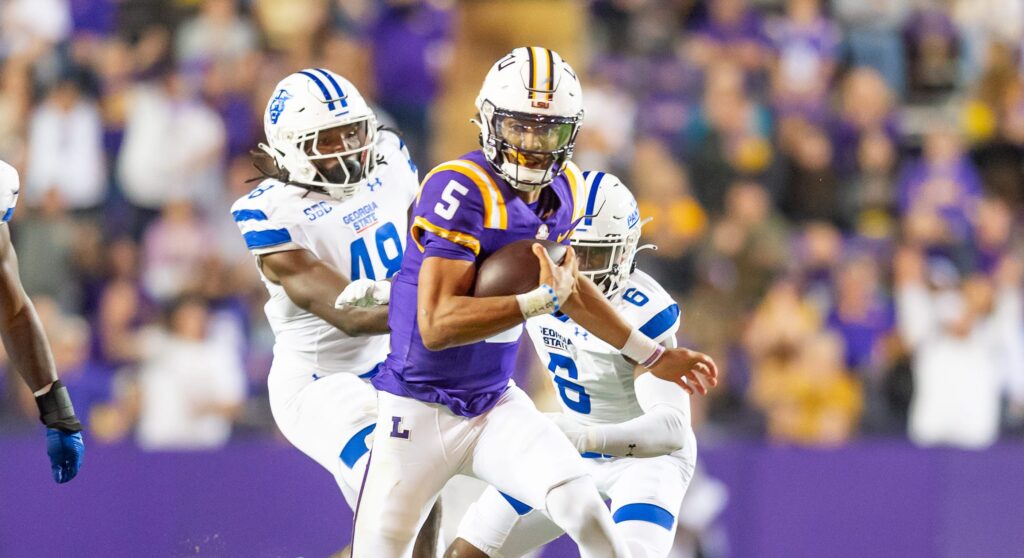 It should come as little surprise that Daniels was a unanimous pick at No. 1 after putting up more than 500 yards and five touchdowns for the second straight week. Daniels threw for 413 yards and six touchdowns against Georgia State, while also running for 96 yards and two more scores.
He has accounted for 13 touchdowns in the last two weeks to really juice his campaign. Daniels is currently sitting on 3,577 passing yards, with 36 touchdowns and just four interceptions. He has also run for 1,014 yards and 10 touchdowns. Just absurd numbers.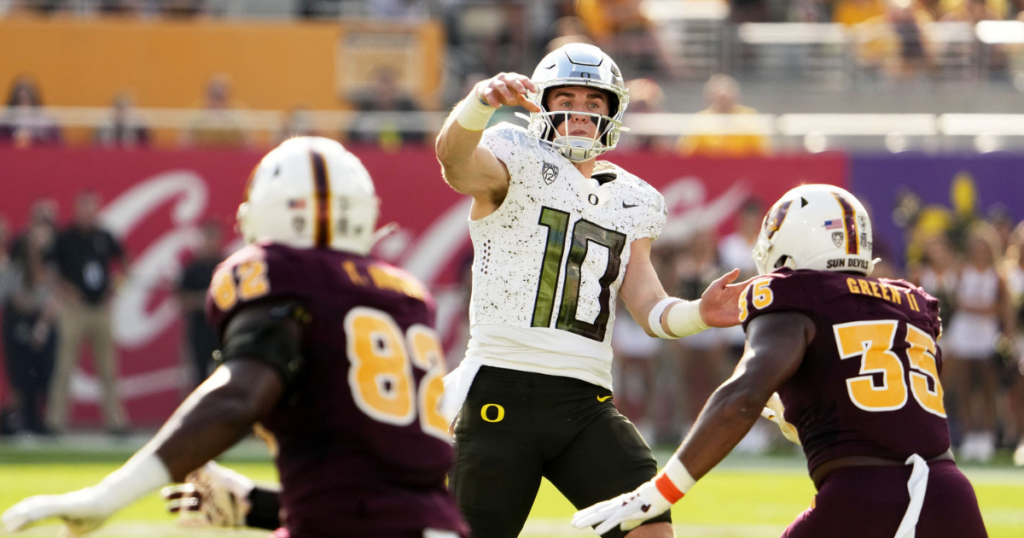 Not to be outdone, Nix threw for 404 yards and six touchdown passes in the first half of this week's game, and he has accounted for 16 touchdowns in total over the last three games. That is remarkable production.
Nix hasn't been the runner he was last year or he'd be right in the thick of things with Daniels. He still has that in his toolbox, he just hasn't leaned on it quite as much this year. Nix has logged 3,539 passing yards with 35 touchdowns and two interceptions, while rushing for 128 yards and five scores.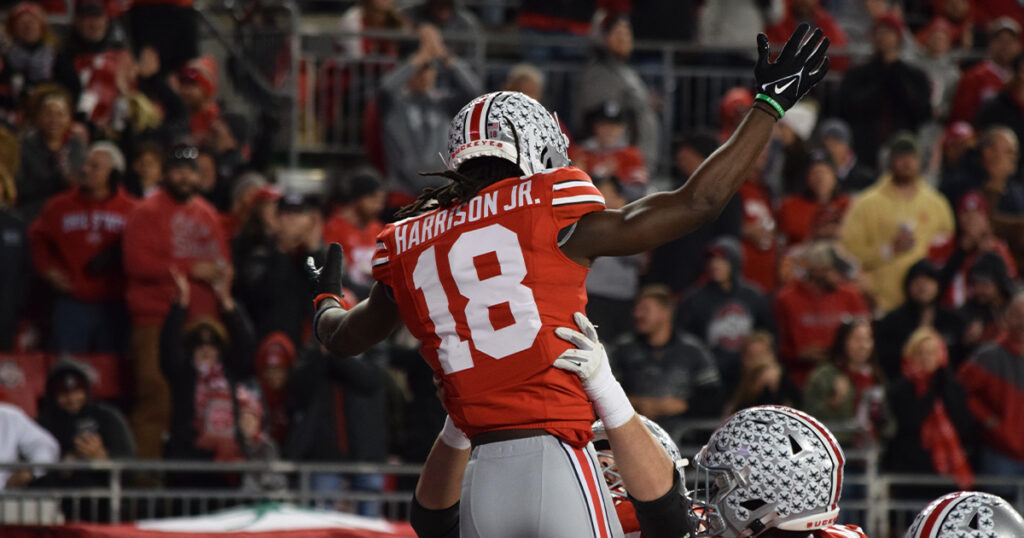 While it was a clean sweep at No. 1 and No. 2 for Daniels and Nix, Harrison didn't quite have the third spot uncontested. Still, he's a pretty commanding presence near the top of the board and could potentially still make a run at things with a big game against Michigan this weekend.
Harrison has a touchdown in each of his last seven games. He was held to just three catches for 30 yards this week but did rack up another touchdown catch. On the season he has 62 catches for 1,093 yards and 13 touchdowns. He's also run for a score.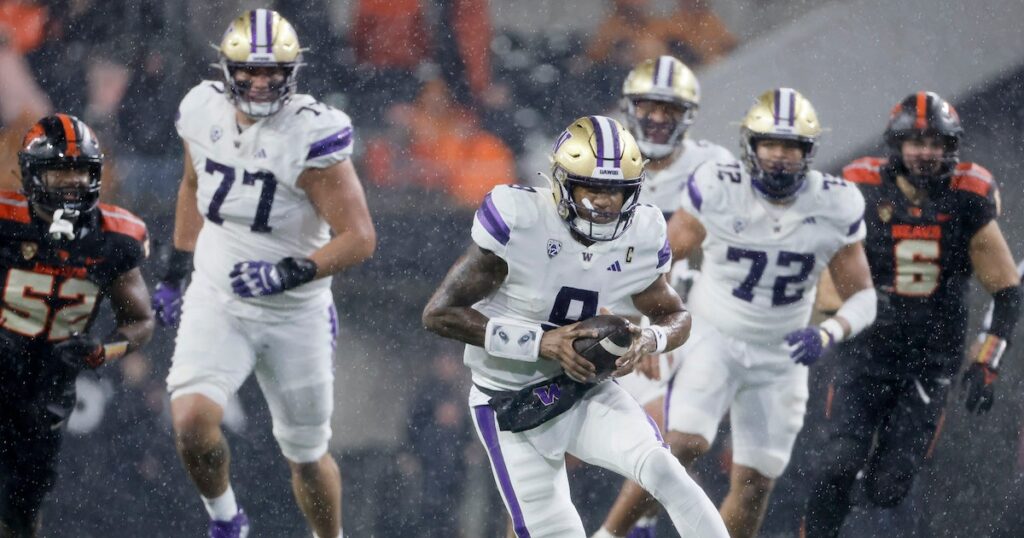 It was tough sledding for Penix this week in terms of putting up quality numbers, as Washington played in a deluge and catching the slick ball was a real challenge. Still, he did what he needed to do to will his team to the win, keeping Washington undefeated by throwing for 162 yards with two touchdowns. He also ran for a score.
On the season, Penix' passing total eclipses both Daniels and Nix narrowly. He's thrown for 3,695 yards and 30 touchdowns, against seven interceptions. He also has three rushing touchdowns. Penix's Heisman Trophy hopes might just come down to the Pac-12 Championship Game.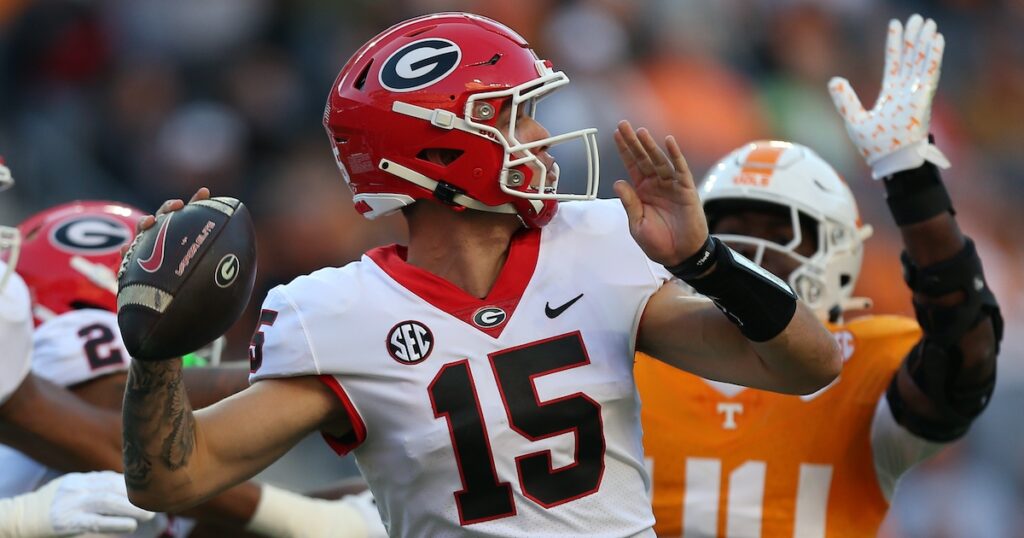 Beck doesn't have as many signature performances as some of the candidates on this list — particularly those at the top — but he's been steady as she goes. It was another ho-hum Georgia win on Saturday as Beck threw for 298 yards and three touchdowns.
The biggest case in Beck's favor is that he has stepped right in and kept the two-time defending national champions humming through a quarterback change. That's no small feat. And Beck's numbers are respectable enough, especially on a team that leans heavily on its ground game. He's got 3,320 yards passing with 21 touchdowns and five interceptions. He also has three rushing touchdowns.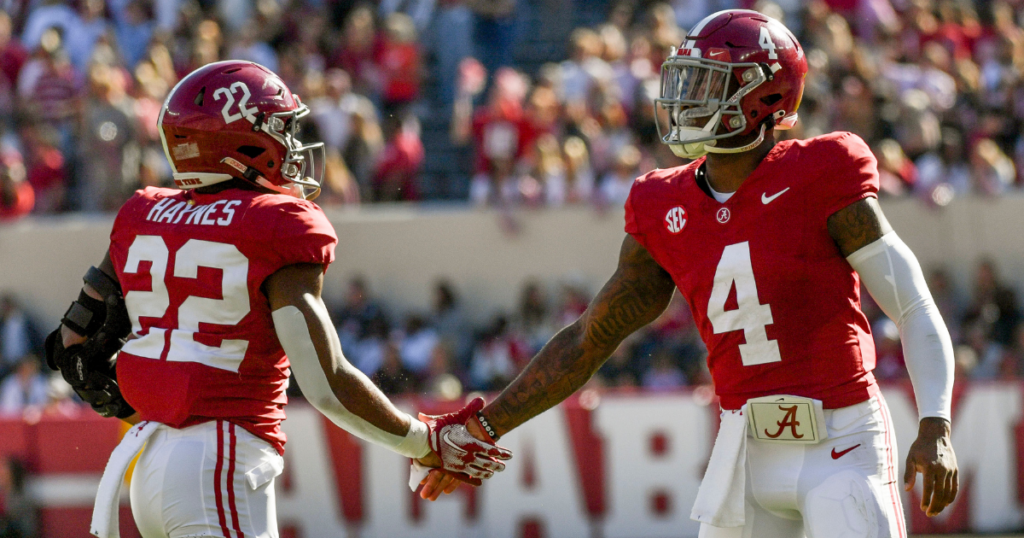 Milroe's day was done by halftime in a very lopsided win over Chattanooga, and he was perfectly efficient throughout the contest. He finished 13-of-16 passing for 197 yards and three touchdowns.
The argument with Milroe seems to be that he's an elite athlete and thus has incredible upside potential. Is that enough to justify him being ranked up here in the Heisman Trophy voting with some of the others? Our voters seem to think so. On the year, Milroe has 2,267 yards passing with 19 touchdowns and six interceptions, while he has also run for 332 yards and 12 scores.
7. WR Rome Odunze, Washington (10)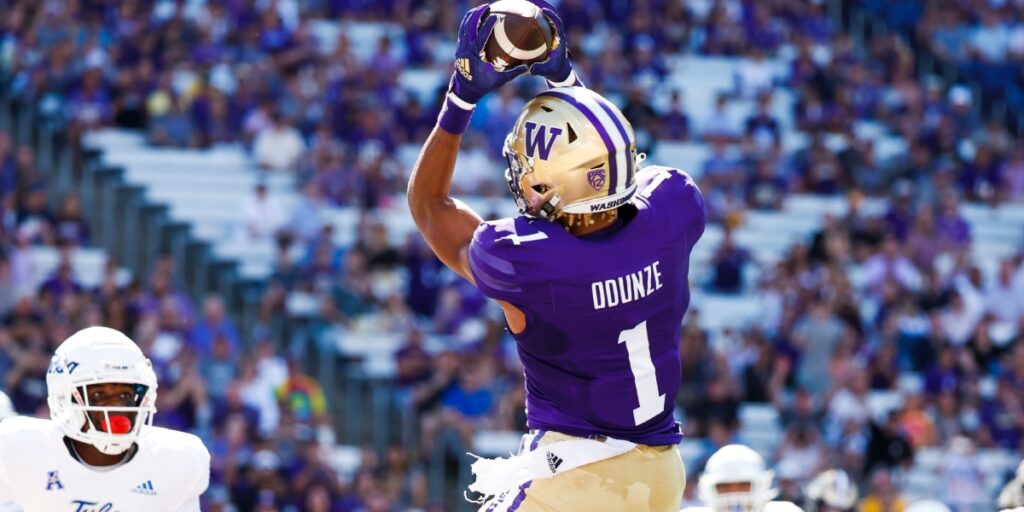 Odunze put together his second straight game and fourth this season with multiple touchdown catches. That's an incredible impressive feat given the aforementioned conditions Washington played in this weekend. Odunze finished with seven catches for 106 yards and the two scores.
On the season Odunze has been as consistent as they come. His season low is five catches for 64 yards, which is a respectable enough day. Put it all together and he now has 66 catches for 1,206 yards and 11 touchdowns, while also scoring once as a rusher.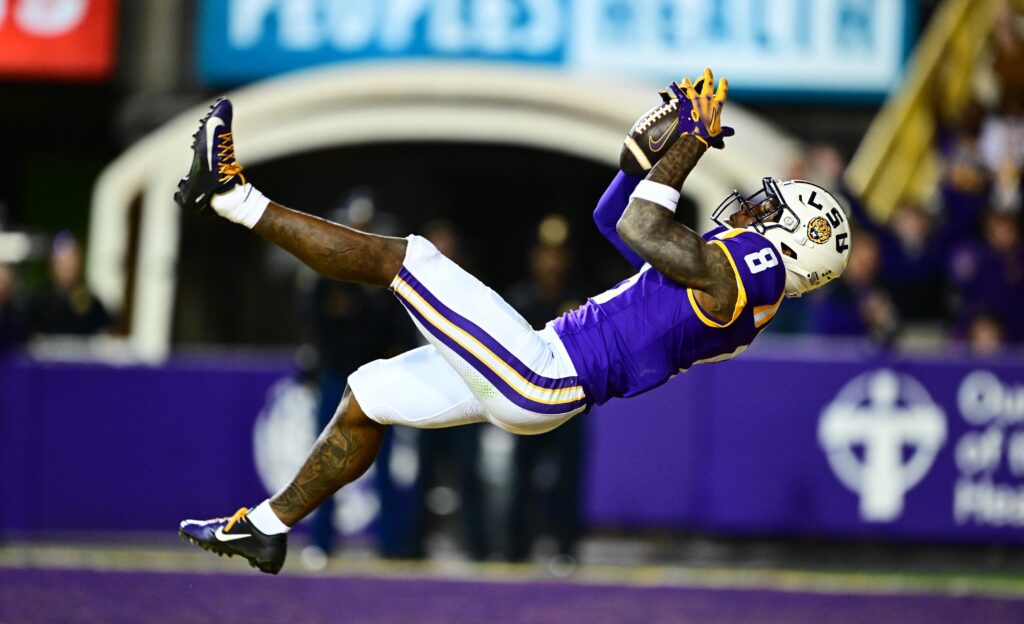 Speaking of multi-touchdown performances, Nabers also put one together this weekend. Coincidentally it was also his fourth game this year with multiple touchdown receptions. Nabers finished the game with eight catches for 140 yards and two touchdowns.
Nabers continues to lead the nation in receiving, putting up some awesome raw numbers in a potent LSU passing attack. Maybe enough to make him a Heisman Trophy candidate. He now has 80 catches for 1,424 yards and 12 touchdowns. All three figures are in the top six nationally.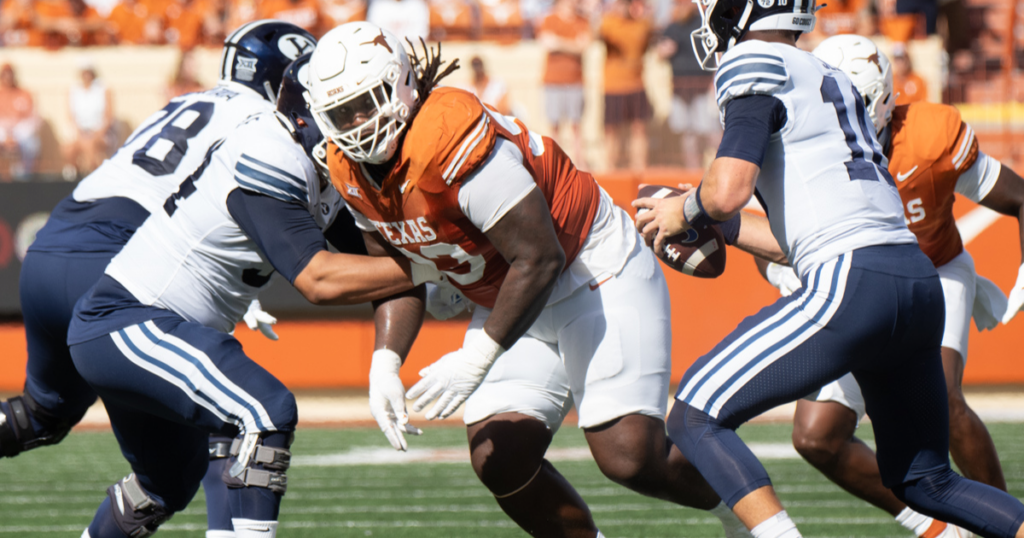 The mammoth Texas defensive tackle has been wildly effective on the interior this season, and he made his mark felt in a new way on Saturday in a game against Iowa State. In addition to logging a tackle and a pass breakup, Sweat also blocked a kick.
He's been a disruptive interior presence all year. Illustrating that, Sweat has 36 tackles, 7.5 tackles for a loss, 2.0 sacks, three pass breakups and six quarterback hurries.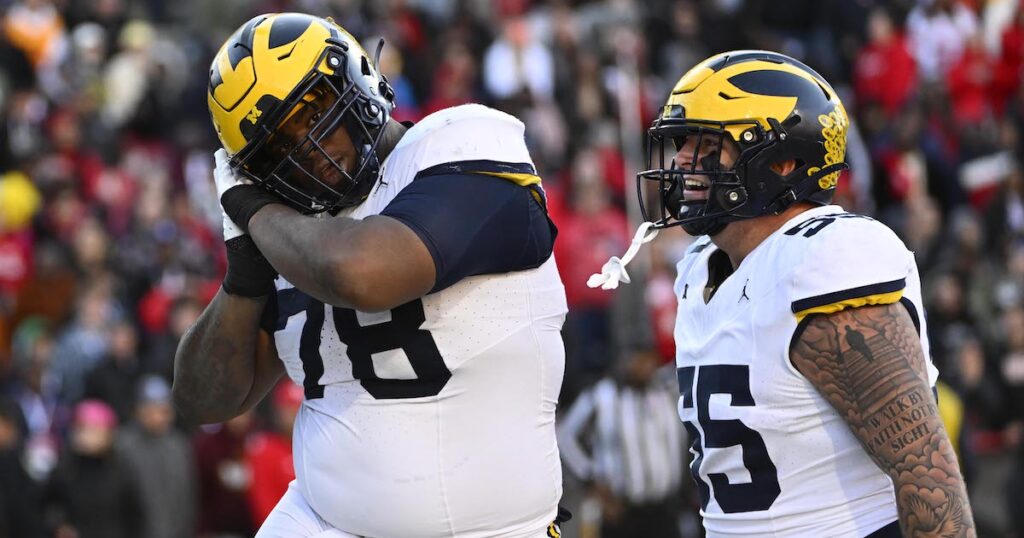 A younger interior presence for Michigan, Grant has been a menace for opponents to deal with inside. He won't put up the biggest numbers but impacts the game by taking on double teams and controlling his lanes to help allow teammates to make plays.
So far this season Grant has recorded 22 tackles, 2.5 tackles for a loss, 1.5 sacks, an interception, five pass breakups and five quarterback hurries. He is one of only two defenders to earn a Heisman Trophy submission by our national experts.
Honorable Mention
RB Blake Corum, Michigan (5)
TE Brock Bowers, Georgia (3)
QB Caleb Williams, USC (3)
RB Ollie Gordon, Oklahoma State (1)
QB Kaidon Salter, Liberty (1)
There are a smattering of others who received Heisman Trophy looks from our experts, though most appear far enough down the list that they're likely realistically out of the running. Still, the return of Bowers has been encouraging to see as one of the nation's toughest matchup problems. Corum can score seemingly at will from inside the 5-yard line. This is a solid group making the honorable mention.