NIL Deals of the Week: Stetson Bennett returns to Raising Cane's, Austin Volkswagen scoops up four Texas players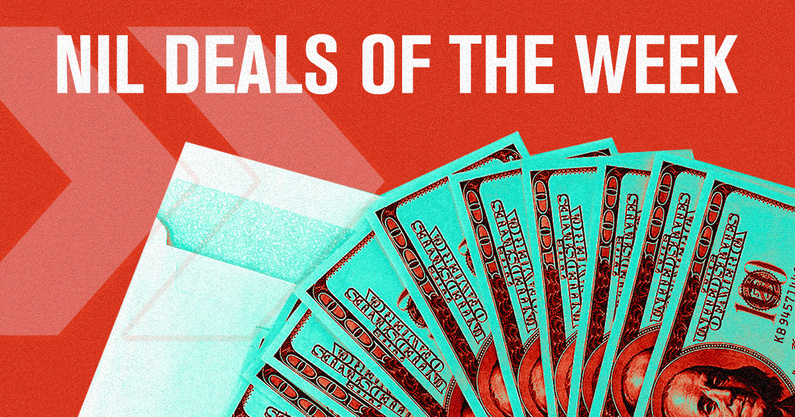 College football season officially came to a close last week.
But NIL still has the sport buzzing. Four-star quarterback Jaden Rashada officially filed for his national-letter-of-intent to be released this week. The move came after the Gator Collective reportedly sent a termination letter to Rashada in early December. Sources said the signed contract was valued at $13.85 million.
The fallout of the broken deal could reshape NIL. And it has college football programs rethinking how they approach NIL and recruiting.
As a reminder, feel free to submit info on your NIL deal to On3. You can send an email to [email protected] or reach out via DM or comment on Twitter to @On3NIL or @deals_nil. Direct messages are open, too, on the @On3NIL Instagram account.
Let's get to the deals that highlighted this week in NIL.
Stetson Bennett returns to Raising Cane's
After delivering Georgia its first national title since 1980 a year ago, Stetson Bennett signed a NIL deal with Raising Cane's.
He was back at the fast food chain this past week after winning his second consecutive championship. Helping serve Georgia students during the lunch hour, Bennett was assisting at the register and threw on a headset for the drive-through.
Joining him at the restaurant was Raising Cane's founder and CEO Todd Graves. As part of the appearance, Graves unveiled a custom-made portrait of the Georgia quarterback that will hang on the wall of the Athens restaurant.
"Round 2 as cashier going great!" the company said on Twitter. "At this point, he's a professional."
The appearance was facilitated by Everett Sports Marketing, which also serves as Bennett's chief NIL rep. Beating TCU in Los Angeles made Bennett just the fifth quarterback in the past 50 years to start for back-to-back national champions.
Since he won his first national title, he has signed endorsement deals with Fanatics, Georgia Power, AARP, Synovus Bank and Shuman Farms. The quarterback currently holds a $1.4 million On3 NIL Valuation. His social media accounts have seen massive growth, too, now sitting at more than 182,000 followers.
Crimson and Cream announces teamwide NIL deal for football roster
Soon after its launch in September, the Oklahoma-focused NIL collective Crimson and Cream launched its fundraising campaign. The effort generated $1.6 million in annual donations.
And now those funds are being put to work. The collective has signed or has offered a NIL deal to the entire 115-member football roster. Teamwide NIL deals have become a growing trend across the collective landscape, with The Matador Club at Texas Tech distributing $25,000 annually. SMU's Boulevard Collective announced partnerships in both football and basketball for $36,000, too.
While the exact specifics of the deal were not shared, the deal makes it known Oklahoma's collective is taking care of the Sooners' roster.
"Every single student-athlete – scholarship or non-scholarship walk-on – are getting this opportunity," Crimson and Cream and CEO Jason Belzer told On3.
"Everybody. All the portal kids. All the mid-year freshmen that are enrolling early. I don't know what other schools have done. But I think we're the first – if not one of the first – school to have everybody on an FBS roster fully signed to what is a multi, multi-million-dollar payroll."
Belzer said more than half the team has already officially signed NIL agreements with Crimson and Cream.
Casey Thompson, Jeff Sims sign with Nebraska's 1890 Initiative
The 1890 Initiative is making sure to take care of Nebraska's quarterback room.
The collective, founded by former Husker great Matt Davison and Nebraska businessman Tom Peed and Shawn Peed, agreed to NIL partnerships with Casey Thompson and Jeff Sims this week. The terms of the two deals were not released.
Thompson battled through injuries to start 10 of 12 games at quarterback this past season, his first at Nebraska. He missed the Minnesota and Michigan games because of an injury. He threw for 2,407 yards and 17 touchdowns while adding five rushing touchdowns.
With the arrival of Matt Rhule in Lincoln, Nebraska added Sims through the Transfer Portal. The former Georgia Tech starter played in seven games in 2022, throwing for 1,115 yards with five touchdowns and three interceptions. Thompson's father recently told On3's HuskerOnline's Steven Sipple his son plans to be the starter in 2023.
Thompson has an On3 NIL Valuation of $312,000, which ranks second on the Huskers' roster. Sim's On3 NIL Valuation sits at $75,000.
For The 1890 Initiative, activity has only ramped up in recent weeks. It has now signed more than 10 football players. The collective is also helping support roster retention with the nationally respected Nebraska volleyball program.
Austin Volkswagen scoops up four Texas players through NIL
Austin's Vanguard Volkswagen was not wasting any time.
The car dealership signed NIL deals with Texas football players Johntay Cook II, Justice Finkley, Anthony Hill and Kelvin Banks this past Friday. The dealership announced Finkley's deal, while Hill, Cook and Banks posted pictures on their social media accounts.
"We had a special delivery to Justice Finkley, a first-year defensive lineman for the UT Longhorns," Vanguard Volkswagen said in the post. "Congratulations and welcome to the Vanguard Volkswagen family!"
Texas football players have not struggled to find lucrative car deals in the Austin market. Bijan Robinson landed one of the most eye-catching deals of 2022 back in the spring, signing with Lamborghini Austin. As part of the agreement, he was allowed to drive a Lamborghini off the lot.
Now another crop of Texas talent will be driving around in cars provided by Vanguard Volkswagen. The company's principal owner, Chris Late, told On3 in an email a few more deals will be announced in the coming days.
Honorable Mention