Good Morning CaneSport 12.9.22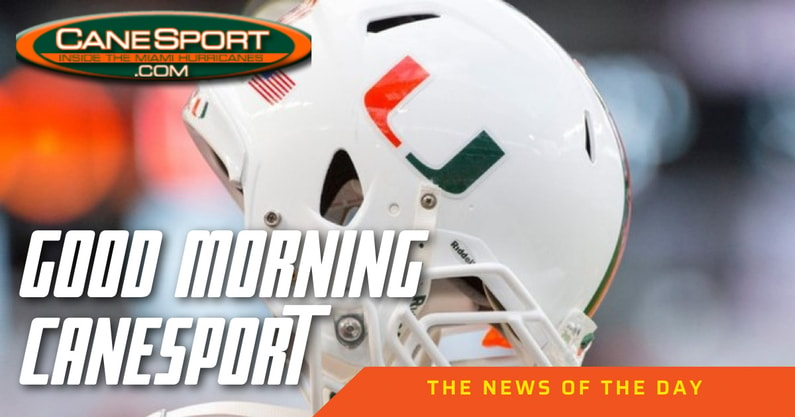 FOLLOW BREAKING MIAMI HURRICANES NEWS: SIGN UP FOR THE CANESPORT NEWSLETTER
WHAT'S UP TODAY
First up this morning in your Miami Hurricanes news?
Well, we continue to update our portal tracker daily as the Miami Hurricanes continue to look to upgrade their roster not just through recruiting but also by adding transfers.
And we have some new recruiting updates for you this morning.
First up we catch up with Kelly Gillis talking about his star QB commit, Emory Williams. Don't miss his take on why Williams was perhaps a bit underrated and his upside.
We also have updates on two more commits, Jackson Carver and Frankie Tinilau. What do they bring to the table as Miami Hurricanes and what are their coaches saying about their progress? Be sure to check that out.
Plus from last night we had an update previewing a big official visit this weekend from Francisco Mauigoa, the older brother of commit Francis. Francisco is a priority transfer portal LB target, and Miami appears to be in good shape to land him.
Also yesterday we had an update with key Miami RB target Christopher Johnson Jr. looking ahead to his weekend official visit … including his announcement date and a school that's taken the lead. So don't miss that.
There also was a closer look at six key portal targets for Miami and what they can bring to the program.
And, as always, stay tuned today for any news that may come up.
TODAY'S MIAMI HURRICANES TOP HEADLINES
Miami QB commit Emory Williams: Reasons he was a bit under the radar, and inside look at why he has bigtime upside in the future
Tinilau may be a developmental prospect but nobody will question his toughness after 2022 season
Coach's take: Despite injury that derailed Miami commit Jackson Carver's season, athletic upside tremendous for early enrollee
Francisco Mauigoa visit has feel of slam dunk for Miami
Key RB target Christopher Johnson, Jr. taking Miami OV this weekend, sets announcement date, says "no secret" that one school leads
A six-pack of transfer portal targets that the Miami Hurricanes have begun targeting
Miami Hurricanes Portal Tracker

MESSAGE BOARD POST OF THE DAY
I think The Ruiz Town Hall shed some light on NIL-Miami (watch Ruiz Town Hall here) … Posted by swaggerforlife
1. Pay for Play is not what Ruiz is offering to these recruits though other schools may be..
2. Team's On Field Performance has no bearing on Potential NIL contracts for offered Miami recruits…
3. Ruiz has a Niche Product that happens to benefit from NIL athletes Participation..and that is Not Exclusive to Miami.
Very enlightening Town Hall with Mr. Ruiz. Fortunate that he has a Product that happens to Fall in Line with what NIL at the College level was designed for..
MIAMI HURRICANES QUOTE OF THE DAY
"I think if he needed to play right away at Miami he could, yes. He'll do the prep it takes from a mental side and the physical, too."

QB commit Emory Williams' coach Kelly Gillis, on his star player
• Click here for a limited time, register and get 12 months for only $10.00
• Talk about stuff inside Gary Ferman's War Room
• Watch our videos and subscribe to our You Tube Channel
• Listen to our podcasts at Apple Podcasts
• Follow us on Twitter @CaneSport
Advertise with us. Email [email protected]
Lastly, Have a great day!