On300 EDGE Enow Etta goes in-depth on recent Michigan official visit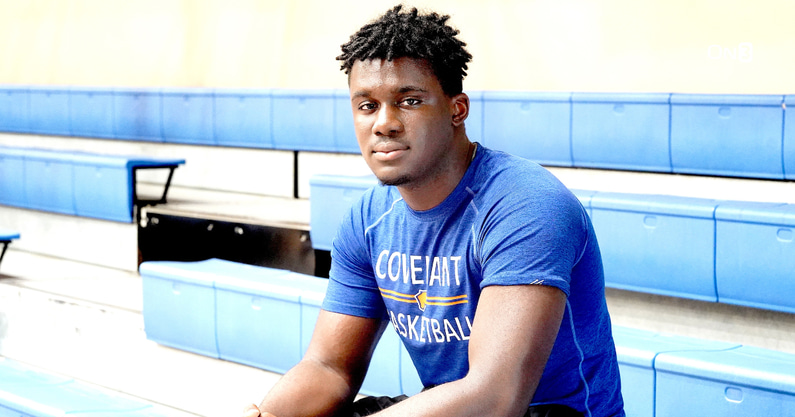 The Wolverine's EJ Holland caught up with On300 EDGE Enow Etta to get his thoughts on his Michigan official visit and more.
Here is their full Q&A.
EJ: How did the Michigan visit go overall?
EE: It was great. I got to meet a lot of guys like Semaj (Morgan), Brooks Bahr and Cole (Cabana). I got to chill with those guys, which is my favorite part about official visits. Your official visits are your top schools, so you've probably been there before. Hanging out with the guys you could be around and the staff you could be around for the next four years really makes the visit. It's a big factor. It can be the best school in the world, but if you don't want to be around the people, you would never go there. It was a really good feeling at Michigan. I got to see (Jim) Harbaugh way more than I expected. I thought he was just going to do the introduction, and that was going to be the last time I saw him until the meeting. But I got to be around him a lot. That was really cool.
EJ: What was your meeting like with Michigan head coach Jim Harbaugh?
EE: I can't say too much about it. I asked some big questions. What are your plans for the program? What are your plans for developing guys and keeping them in shape? What's your plan for also keeping guys in great shape mentally and academically? As the leader of the program, I wanted to ask questions like that to get a feel for how he runs things.
EJ: Did he give you the answers you were looking for?
EE: Definitely. I didn't really have doubts. It was confirming what I thought. I like to ask those questions because other schools will call and they'll say negative stuff about other schools. I just want confirmation when I ask those types of questions.
EJ: What about the rest of the staff?
EE: My talks with them were great. I had a big meeting with Coach (Mike) Elston and Coach (Jesse) Minter about how they, along with Coach (Dylan) Roney, plan on developing me. It was good to see the plan. Even now, I can start working on some of the things they told me, so I can be ready by the time college comes around.
EJ: What did you think about the scheme and the way you would fit in?
EE: I don't want to say too much, but what I will say is I really liked it. They were 100 percent clear about it. They told me what they wanted me to play and what I wasn't going to play. I was really happy to hear it. I've been playing defensive end my whole career. They kind of see me as an EDGE/defensive end that can rusher the passer and play the run since I have a bigger frame. I guess like (Aidan) Hutchinson if you want to put a name on it.
EJ: I know you had a chance to meet both Aidan Hutchinson and David Ojabo at the ring ceremony. What was that experience like?
EE: It was really cool. I don't look up to them, but they are in the position you want to be in — Big Ten champions and high round NFL Draft picks. I've been studying their games and watching their films for more than a year now. I try to take some of their game and implement it into mine. You want to be in their position. It motivated me to see them get their rings. I want one of those two. I was watching the draft and waiting for their names to be called. That's where I could see myself at if I work hard enough.
EJ: Did any of the presentations or activities really catch your attention on this visit?
EE: The academic director, Claiborne Green. It was really cool to talk to him. Usually, they just get right into football, but that was one of the first things we did. Academics can be an afterthought at other schools, but that was one of the first things we talked about at Michigan. That's really important. A lot of guys in my position think NFL or bust. It's great to have your academics first. They told me everything I wanted to hear and even things I didn't want to hear like if you start slipping, they will hound you. But that's what you need, so I was happy with it.
EJ: I know you mentioned hanging out with some of the commits. What about the players on Michigan's roster?
EE: I was with Mike Morris a lot. He's a really cool guy. I got to go to his dorm and just play some games. That's someone who plays defensive end, so we talked football and video games. The only thing that sucks is he'll be in the draft by the time I would get up there if I were to go to Michigan. We created a bond in two days. Based on talking to him and some of the other guys, that's a place I want to be for four years.
EJ: Where does Michigan stand coming out of the official visit?
EE: Top 4. Michigan is a very serious contender. It's the best of both worlds. You can argue there are better places for football like Alabama, maybe. But you can't argue there are better places for football, development and academics, especially for what I want to do — computer science and engineering. That's really given me something to think about. It's hard to pass up.
EJ: What's next in your recruitment?
EE: I'll probably go to Alabama this weekend. That's probably my final official visit before I make a decision. I don't have an exact timetable. When I know where I want to go, you'll see the edit.