Spaces: Official visitors, fan questions and the latest on Michigan recruiting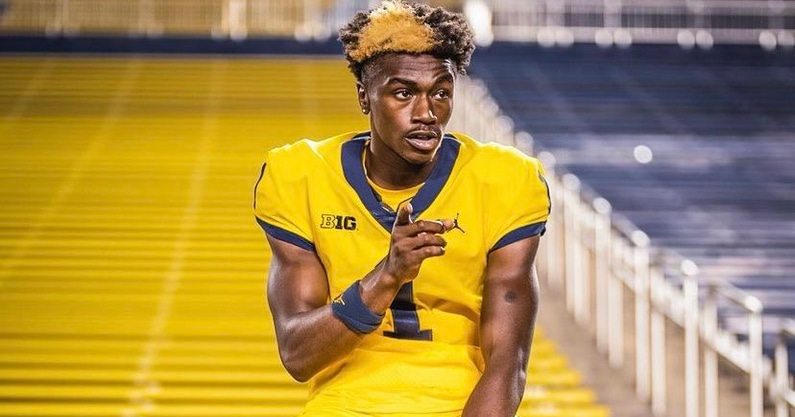 With official visitors rolling in and out of Ann Arbor, Michigan recruiting insider EJ Holland recaps the highest-ranked prospects from this week and addresses takes from our followers via @TheWolverineOn3 on Twitter. 
Is Michigan doing enough on the WR front?
Are things too quiet with five-star QB Dante Moore?
Can Michigan land No. 1 ATH Jacobe Johnson?
Will the DB board change in response to OSU's WR class?
What actually happens on Michigan official visits?
Holland on Michigan ATH target Jacobe Johnson 
Holland: "Johnson is such a tremendous athlete that he can play on both sides of the ball. He can be a wide receiver. I like him as a defensive back, which is where I think he'll primarily play whether it's safety or a bigger corner. I think he can play basically every spot in the secondary. He's also a high-level basketball player. He actually got recruiting looks as a basketball player before he got looks as a football player. […] I know Michigan's academic presentations made a big impression on him. He had a chance to meet Charles Woodson, who's played both ways at Michigan and is obviously an all-time great. So, that made another big impression on Johnson. I think Michigan knocked it out of the park on the visit. I really do, and I also feel like Michigan is a dark horse to land him."
Holland: "He's really just focused on track. It's not really that Nyck's necessarily quiet; it's just that there's not a lot to talk about with Nyck right now because recruiting has taken a back seat to what he's doing on the track. He's fully focused on that. Even when I went out and visited him in May, he told me the summer wasn't really going to be filled with much of any visits. It was just solely going to be track, and the thing about Nyck is — he takes track so seriously. He cares as much about track as he does football. He wants to do both at the next level. That's extremely important to him."
Subscribe to our YouTube
The Wolverine, $1 for 1 year
This subscription will give you access to premium Michigan football, basketball and recruiting content. Our team of recruiting insider EJ Holland, team insider Chris Balas, columnist John Borton, staff writers Anthony Broome and Clayton Sayfie, and contributors Trevor Ritchie and Marshall Levenson make up the best team in the Michigan market.
You can also subscribe to The Wolverine magazine, which is published monthly for a total of 11 full-color issues annually. The Wolverine Football Preview Magazine, a full-color, 164-page magazine packed with great information about the upcoming season, will be available in July for individual purchase.
Follow The Wolverine on various social media channels, including Facebook, Twitter, Instagram, YouTube and TikTok. The Wolverine podcast shows are available on iTunes and Spotify and are released on an almost daily basis. Video versions of every podcast can also be found on our YouTube channel.