Flyover Recruiting Notebook: Vasek, Peterson, Parker, Dubose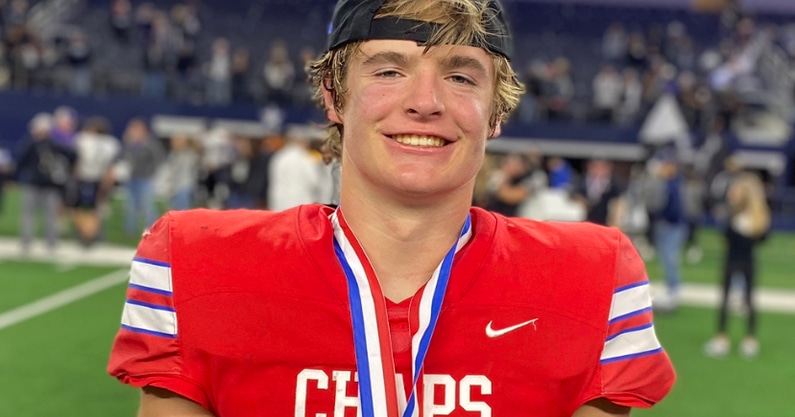 One of the staples of Inside Texas is the "Recruiting Notebook" where staff members break down priority targets and how they will specifically fit in the Texas Longhorn system.
I use a similar format to break down some of my favorite Texas high school football players who may not be household names to more casual followers of recruiting, but merit evaluation.
Get a detailed look at up and coming prospects 2023 Austin Westlake EDGE Colton Vasek, 2023 Wichita Falls Hirschi ATH A'Marion Peterson, 2023 Lucas Lovejoy WR Kyle Parker, and 2024 Schertz Clemens WR Freddie Dubose Jr.
Colton Vasek, EDGE, Austin Westlake 6-foot-6, 225 (2023)
HUDL
Outlook- Inside Texas members that follow the prospect board and TXHSFB game threads know how highly I view Westlake EDGE Colton Vasek. The 6-foot-6 pass-rusher was one of the best players on a Westlake Chaps squad that cemented their place as one of the greatest Texas high school football teams of all time after completing a state title three-peat with a 16-0 record.
How he fits at the next level- I think Vasek's best spot is as a Strongside EDGE in an even front. I could also see him putting on good weight and playing 5-tech at the next level.
Strengths- Extremely technical and disciplined player against the run and the pass, well-coached and stays assignment sound for one of the best high school defenses in the nation. 6-foot-6 frame and plus wingspan give Vasek an advantage over most high school tackles, but his violent hands allow him to ragdoll the majority of offensive linemen he faced. Vasek has a deep bag of pass-rushing moves that allow him to create pressure whether rushing inside or outside.
Areas for Improvement / Concern- Vasek feasted in one of the nation's best defenses, I'm curious if he will be able to translate the same level of dominance on the camp setting isolated against the best OT prospects in the nation. If so, the consensus four-star will see another massive ranking bump.
Comparison- New Orleans Saints DE Marcus Davenport
A'Marion Peterson, ATH, Wichita Falls Hirschi 6-foot-1, 205 (2023) HUDL
Outlook- Two-way athlete that featured at running back and linebacker for a WF Hirschi squad that made a run to the 4AD1 state semifinals. Peterson picked up offers from TCU, Texas Tech, and Baylor after a junior campaign where he rushed for 1,817 yards and 28 touchdowns on 238 carries.
How he fits at the next level- Has the ability to stick at running back or linebacker. More than likely a big body RB at the power five level.
Strengths- Freaky speed at his height and weight, consistently erases angles on film. Fantastic contact balance, hardly ever goes down on first contact. Shows the ability to stack cuts at the line of scrimmage and in the open field. Good vision and finishes the majority of his runs violently.
Areas for Improvement / Concern- Going to leave high school with a high carry count in addition to getting snaps on both sides of the ball.
Comparison- Former Buffalo Bills/Florida State RB Karlos Williams
Kyle Parker, WR, Lucas Lovejoy 5-foot-11, 175 (2023)
HUDL
Outlook- Broke out on the Texas high school football scene this year catching 48 receptions for 775 yards and 13 touchdowns, along with over 1,400 all-purpose yards for the 5AD2 region two finalists Lovejoy Leopards. Parker has a great relationship with Texas WR coach Brennan Marion from his time at Pitt.
How he fits at the next level- Parker has the tools to move inside or outside to hunt matchups.
Strengths- Verified speed and yards after catch ability are the two attributes that immediately grab your attention. Parker works with DFW WR trainer Margin Hooks and it shows with how polished of a route runner he already is. Also has the ability to return kicks and punts at the next level.
Areas for Improvement / Concern- Most of the concerns with Parker are more nitpicks than genuine concerns, would like to see more receptions for Lovejoy next year but he is in a loaded WR room with SMU commit Jaxson Lavender and 2024 WR/TE Parker Livingstone.
Comparison- Former Oklahoma All-American WR Ryan Broyles
Freddie Dubose Jr., WR, Schertz Clemens 6-foot-2, 175 (2024)
HUDL
Outlook- One of the freakiest athletes in the state of Texas, Dubose won the 6A Region IV triple jump as a freshman with a 46-9 jump and since then has posted a 48-5 triple jump along with a verified 47.4 400m time with the San Antonio Swift select track club.
How he fits at the next level- Outside wide receiver with the ability to take the top off the defense and win contested catches
Strengths- Elite long stride speed shows up in the kick return game along with vertical routes. Dubose does a great job extending his arms and making contested catches. Verified explosiveness also shows up in the jet sweep and screen game.
Areas for Improvement / Concern-  A bit limited as a route runner, doesn't show a diverse route tree on tape but has the athletic tools/physical gifts to improve significantly over the next two seasons.
Comparison- Cleveland Browns WR Donovan Peoples-Jones