GIF Analysis: Texas versus Louisiana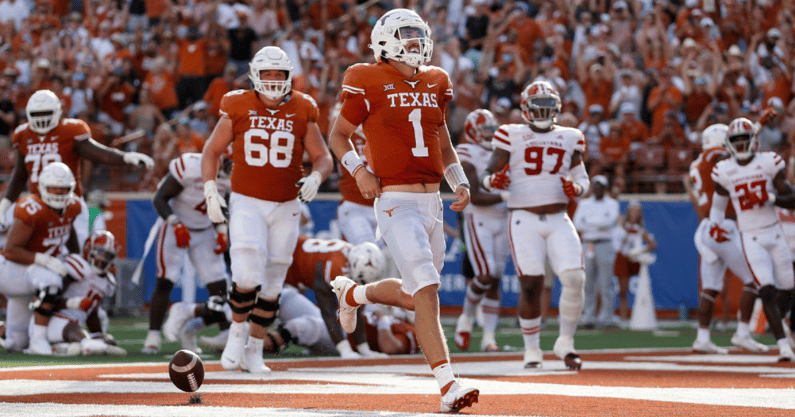 GIF Analysis is back for the 2021 season and will be a regular feature on On3.com. Let's take a look at some of the top plays from the Texas Longhorns' 38-18 win over the Louisiana Ragin' Cajuns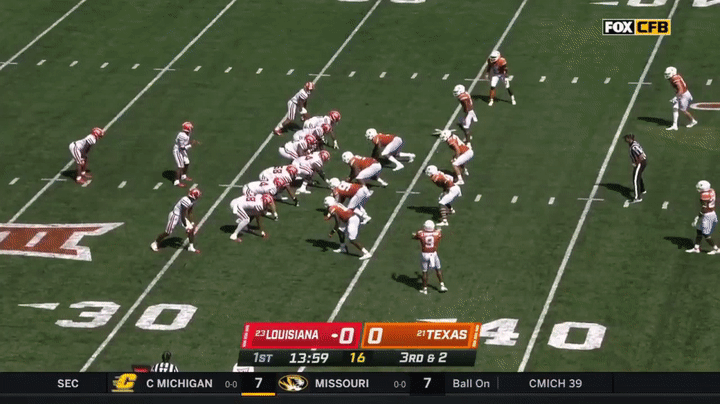 The Longhorn defense forces a third down on the first Louisiana drive after two rushes for eight yards. Most defenders are anticipating a run, but Jacoby Jones (3) is able to make life tougher on quarterback Levi Lewis as he rolls to his left.
Anthony Cook (11) doesn't follow the run fake and stays with the player who entered into his area. Jones pursues, and Cook stays with the receiver until Lewis starts to get the corner on Jones.
But thanks to Cook and Jones, Lewis runs out of room and can't get the ball to his receiver in-bounds. Credit also to D'Shawn Jamison (5) for taking away the deep threat while Brenden Schooler (14) recognizes the tight end running across the formation and takes that option away. A three-and-out to start things off.
---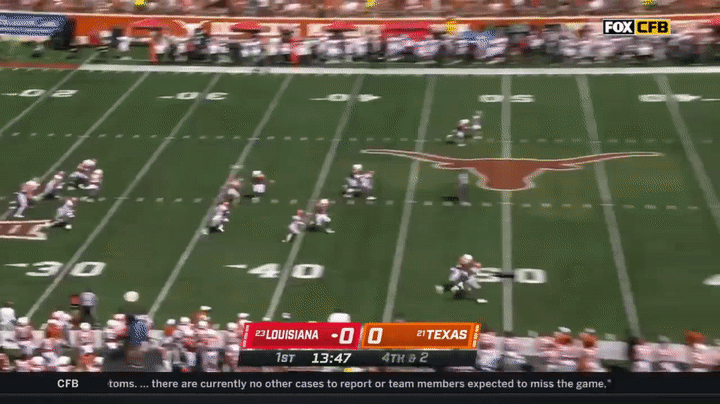 It was almost an electrifying start to the Steve Sarkisian era, but Keilan Robinson (7) could not get on the other side of his man's pads during Jamison's return. A good wall is built along the right side, but Robinson and Kitan Crawford (21) built that barrier with illegal blocks.
---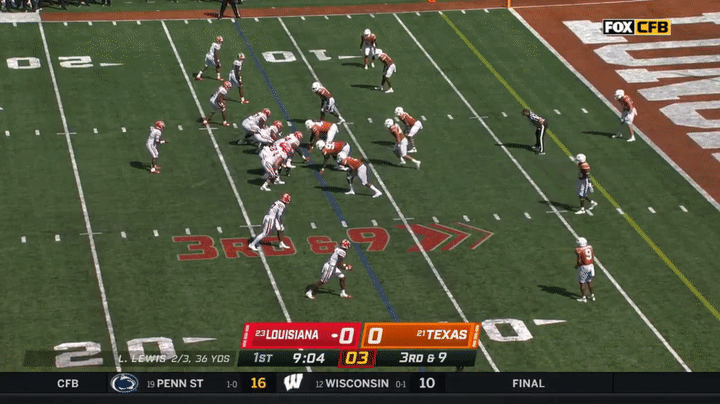 Texas surrendered chunk plays of 20, 16, and 10 yards on Louisiana's second drive, but a stuff and a sack in the red zone forced 3rd-and-9 for UL.
It may look like Texas blitzed, but they actually are only bringing four. Ovie Oghoufo (18) and Jones (3) drop into coverage from the ends, while DeMarvion Overshown (0) and Luke Brockermeyer (47) come up the middle, eventually splitting a sack of Lewis.
Vernon Broughton (45) and T'Vondre Sweat (93) help the linebackers out by getting to the outside and making sure Lewis can't escape the pocket. UL settles for a field goal.
---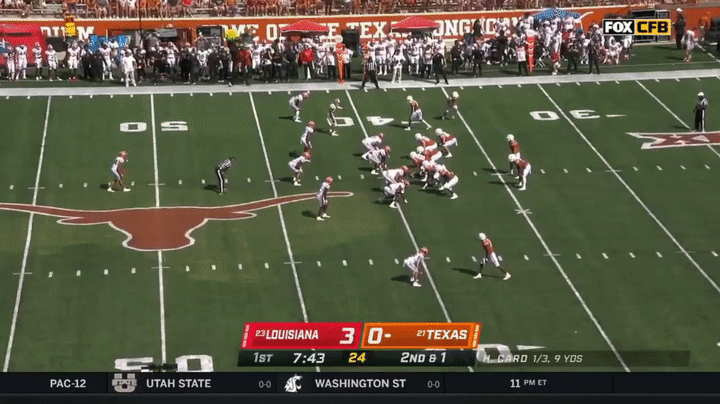 Denzel Okafor (78) and Junior Angilau (75) immediately find work at the second level. Jake Majors (65) seals off the defensive tackle as Bijan Robinson (5) makes his way outside. Christian Jones (70), Derek Kerstetter (68), and Cade Brewer (80) all make blocks.
Robinson plants and turns upfield to put Texas into plus territory.
---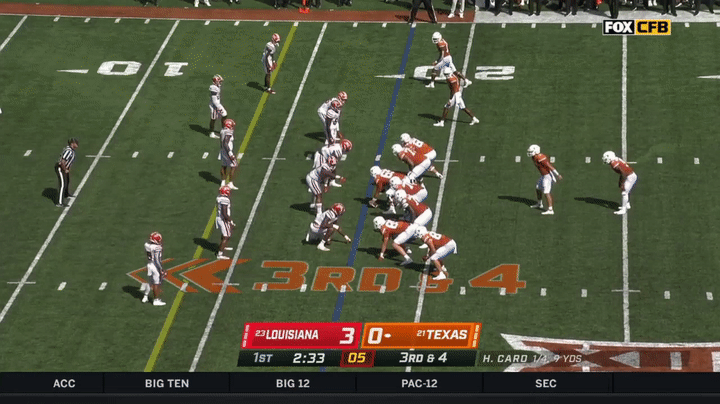 The two tight ends on the left side of the formation, Brewer (80) and Gunnar Helm (85), carry the two defenders responsible for an entire side of the field.
Texas is running mesh. In Sarkisian's version, the running back is the primary passing option. An uncovered primary passing option makes for an easy toss for Hudson Card (1) to Robinson (5).
---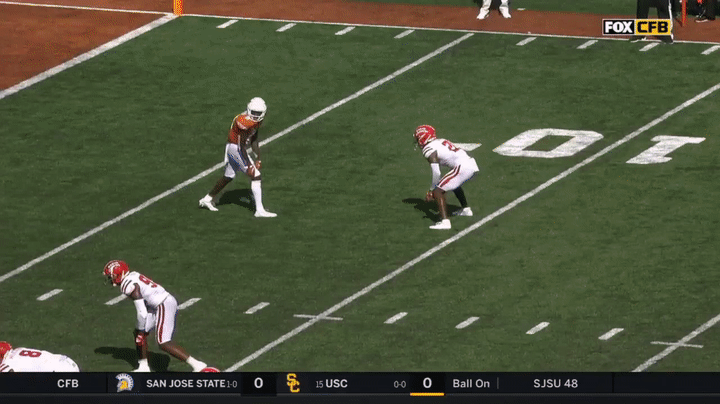 This was the only catch of the game for Xavier Worthy (8), but it offered a glimpse at his skill and speed. He gets a one-on-one matchup on the outside and the only protection the corner has is a single-high safety, so not much protection at all.
Worthy puts a move on the corner, and Card delivers an accurate throw for a 34-yard gain.
---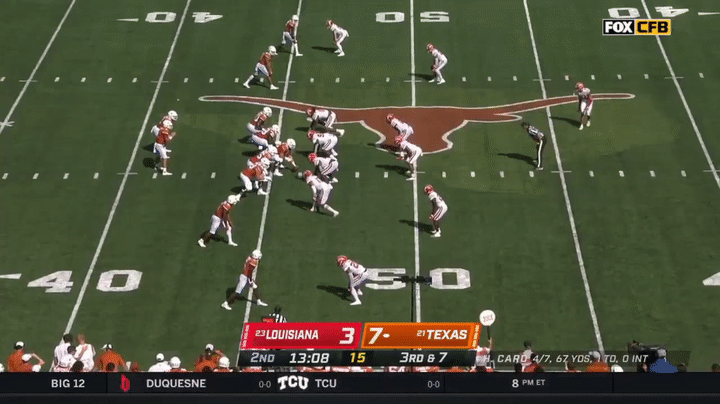 Robinson gets matched up with a safety, zooms by him with a stutter-step, and picks up 28 yards on the reception.
---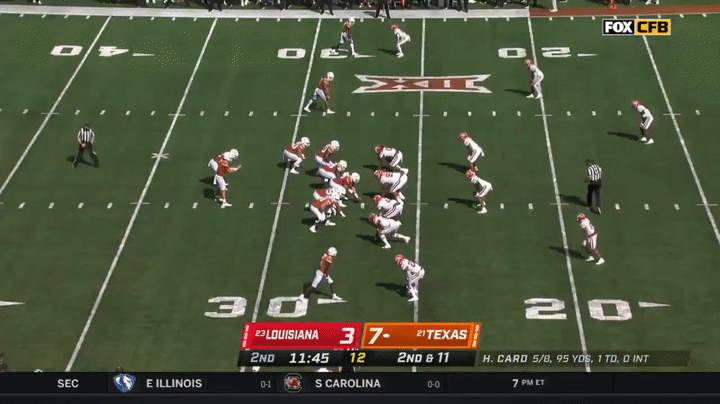 Texas almost snuck one past the Cajuns. Watch all the skill players, including Card at QB. This one would have helped Texas' cause as Cameron Dicker missed a field goal a few plays later.
---
The combo of Jamison (5), Jerrin Thompson (28), and Anthony Cook (11) cover the trips receiver look. Jamison's man runs a juke route, but Jamison stays with him and brings him down in the open field.
---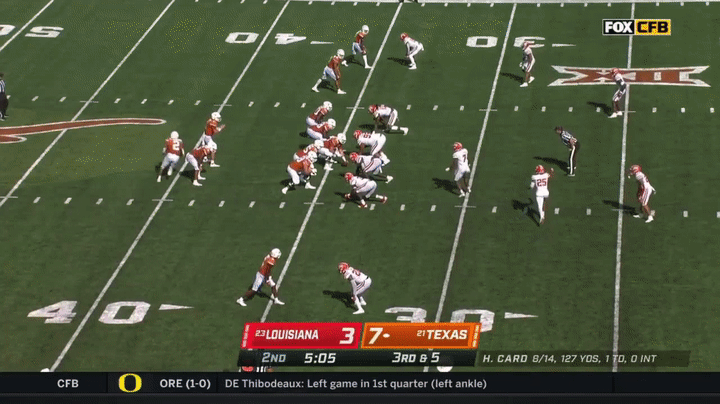 Jones (70) whiffs on his block, forcing Card to get the ball out quickly. Johnson (2) hurdles the tackler then uses a block from Worthy (8) to get up the field.
---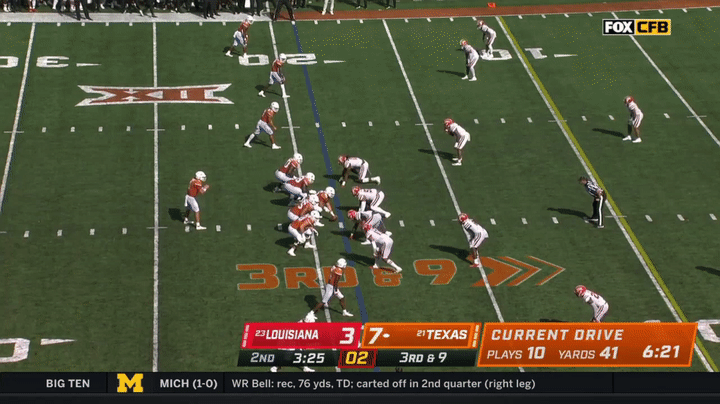 Whittington (4) matched up on a linebacker turns out very poorly for the linebacker. There appears to be a path to the end zone, but Whittington goes outside instead. Texas still gets into the end zone a few plays later.
---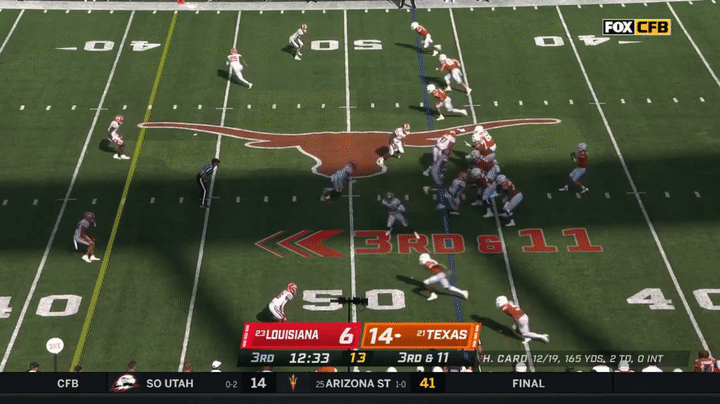 It looks like there is some sort of miscommunication on the Louisiana side that lets Whittington (4) settle into an open area, but the play doesn't become explosive without a tremendous effort from Whittington to pick up 41 yards.
Card consistently found Whittington on 3rd-and-long and helped Texas overcome several penalties or losses on early downs, but none went for as big a gain as this connection.
---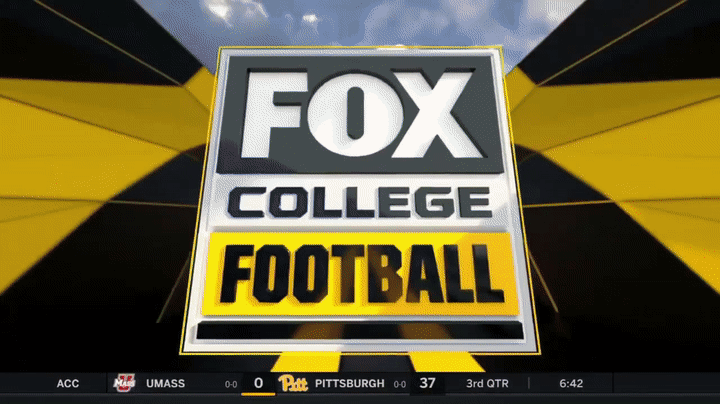 Texas ran this exact play the snap prior on 1st-and-10 and picked up five yards. Cade Brewer can be seen signaling "hey, let's run this again" to the sideline after Robinson is tackled, and the coaches oblige.
They run the zone play again, but Derek Kerstetter (68) gets beat and Brewer (80) has to block Kerstetter's man instead of kicking out the edge defender. It's no issue for Robinson, who puts a move on the defender trying to square him up, gets past him, and walks in to the end zone. A couple of good blocks from Junior Angilau (75) on the score.
---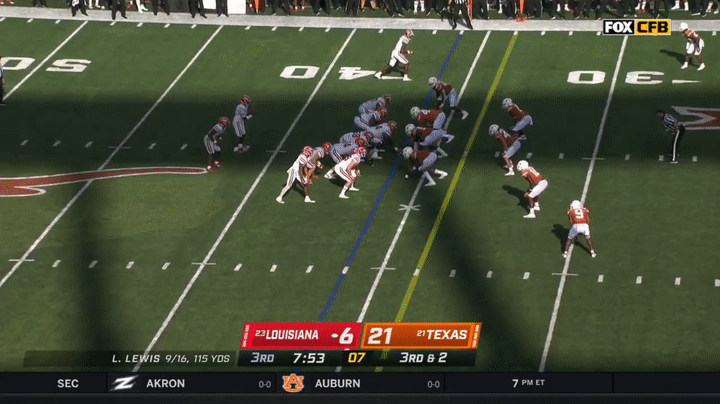 The above play was Louisiana's first successful third down conversion attempt of the game.
---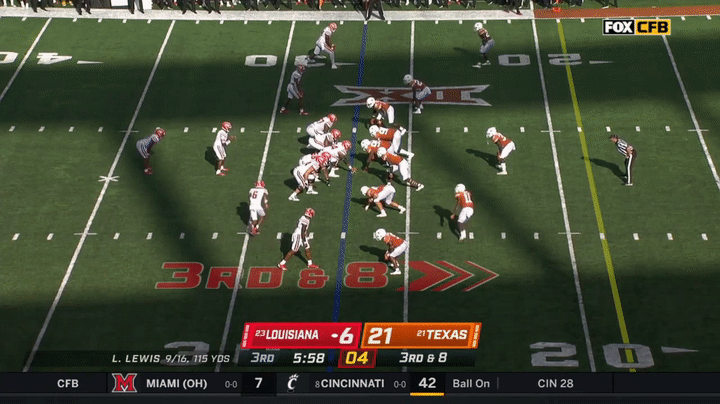 Jett Bush (43) goes too far upfield, Josh Thompson (9) turns and runs with his man, and the running back beats David Gbenda (33) to the edge to make it to the end zone for Louisiana's first score.
A bold call on 3rd-and-8 to run, but one that caught Texas by surprise and paid off for Billy Napier
The Ragin' Cajuns had three blockers for the three defenders on the short side of the field. Gbenda doesn't false step, but he simply doesn't get to the running back before he gets the corner. Keondre Coburn slightly made up for the lapse on the ensuing PAT, blocking it to keep Louisiana at 12 points. BJ Foster then recovered the ensuing onside kick, marking back-to-back heads-up plays.
---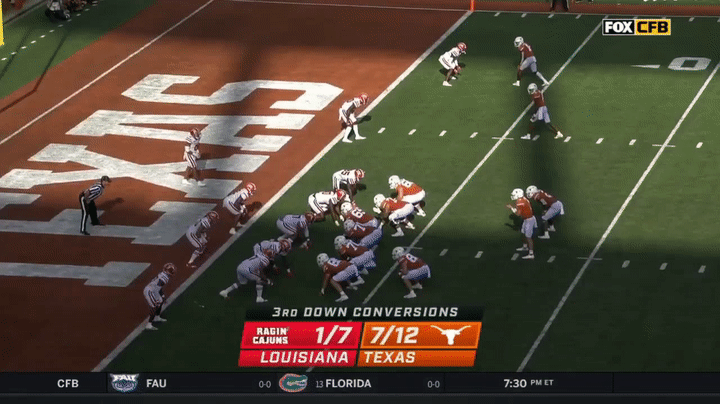 Card pulls the ball once he sees No. 95 crash to the running back. Brewer (80) provides a nice block for Card to reach the end zone with ease.
Kerstetter (68) blocks just enough to make sure Card has a clear lane with no defenders to worry about.
---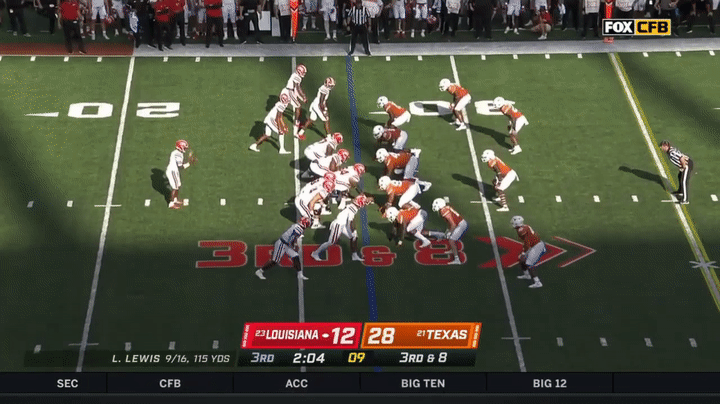 Not much to this one except for Ovie Oghoufo (18) beat his assignment thanks to an excellent use of his hands.
---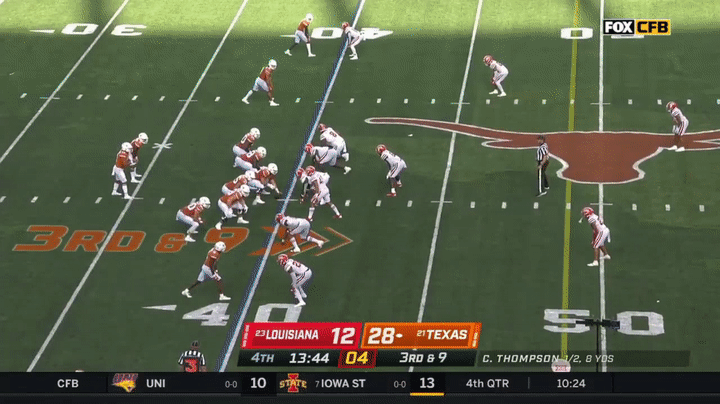 Casey Thompson (11) entered the game for this drive, which began in the fourth quarter. Facing 3rd-and-long, Thompson drifts backward a hair in the pocket before stepping up. Whittington (4) runs the scramble drill and Thompson finds him on the run.
A solid throw and catch for a third down conversion. Though it's a two-possession game, the outcome was by no means fully determined. Thompson stepped up and made a solid throw to continue what would become a scoring drive.
---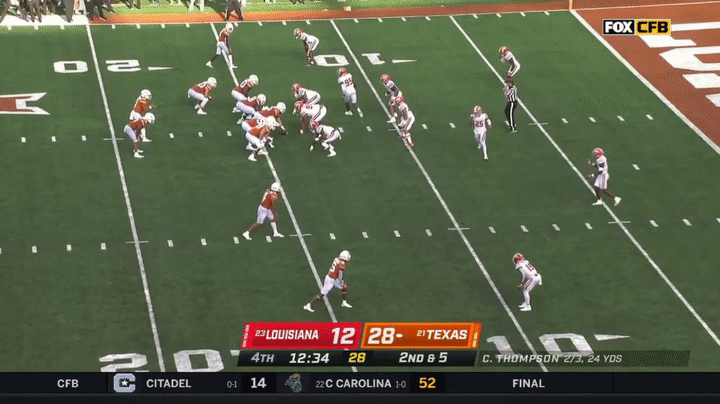 A quick bubble screen where Whittington is asked to follow a block from Marcus Washington (15) and get into the end zone. Washington does his job, then Whittington makes two defenders miss to reach the end zone for the first time in his career at DKR.
Thompson likely makes this throw because of some shuffling by the Louisiana defense. They eventually get into a semblance of a position to where it's no longer two Longhorns versus two defenders. Whittington is able to use his athleticism to defeat the two arriving tacklers, while Washington clears a path for No. 4.
---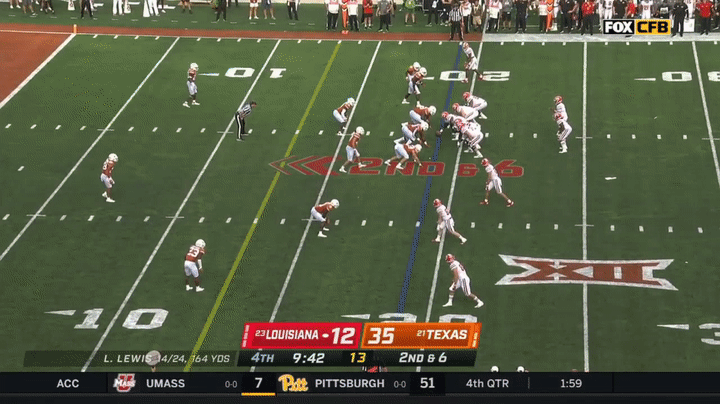 Texas brings a corner blitz with Thompson (9), which means Oghoufo (18) is responsible for the flat. Lewis' throw gets to Kyren Lacy before Oghoufo completes his drop, and Lacy avoids a handful of bad tackle efforts from several Longhorns on his way to the end zone.
---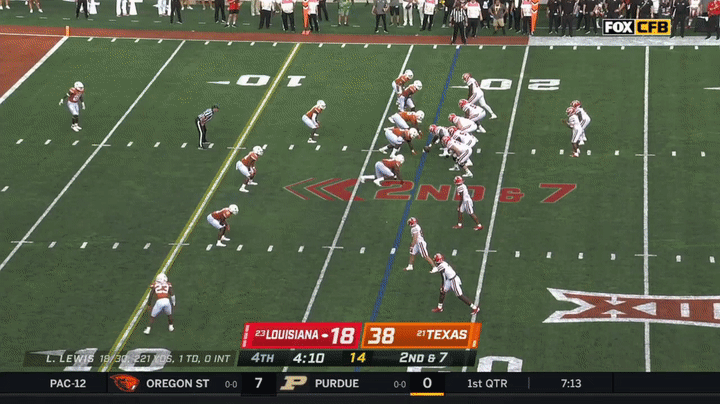 Darion Dunn (4) starts to backpedal to carry the tight end's route up the field, and Lewis recognizes the checkdown available in the flat. Dunn squares up the ball-carrier, puts helmet on football, and forces a fumble.
Thompson (28) is credited with the recovery that seals the game.
Discuss this and other Texas Longhorn topics on the Inside Texas Members Only board