Healthy for spring, DeMarvion Overshown has important practices upcoming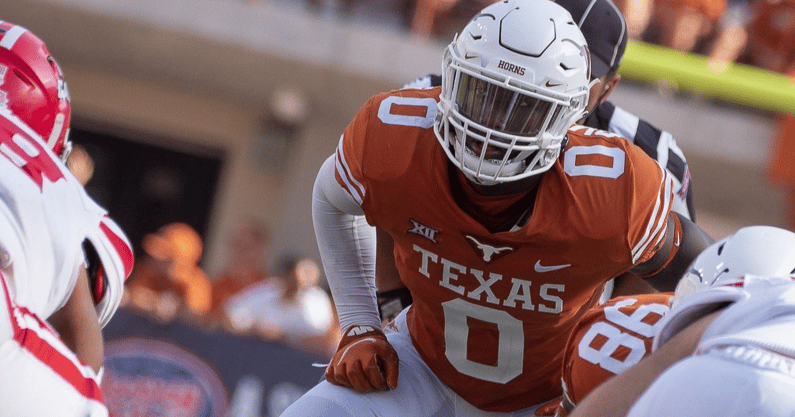 Since DeMarvion Overshown changed positions to linebacker after the 2019 season, he is yet to participate in spring practices. His 2020 spring was lost due to the COVID-19 pandemic. A shoulder injury kept him out of drills in Steve Sarkisian's first spring as Texas head coach in 2021. After electing to return for his super senior year, Overshown has plenty to gain from 15 practices he's never been able to complete as the Longhorns' Will linebacker.
[Subscribe to Inside Texas today and get a FREE 7-day Plus trial!]
Overshown, who recorded a team-leading 74 tackles in 2021 with 5.5 for loss and 2.0 sacks, had a hit or miss senior season. In some early season games, he was a factor, like versus Louisiana (13 total tackles) and TCU (10 total tackles). Other games, specifically down the stretch, his effectiveness was limited. He recorded six or more tackles just once in Texas' final six games before missing the season finale against Kansas State.
The Arp native announced his return to the Forty Acres in early December, setting up a "contract year" for him and other members of Texas' class of 2018 like D'Shawn Jamison and Anthony Cook.
Overshown was a member of the highly-touted 2018 defensive back class, but a move to linebacker always seemed like a possibility. He cross-trained at the "rover" position in Todd Orlando's defense ahead of his freshman season but stayed at defensive back for his freshman and sophomore years.
Ahead of his junior year, he finally made the move to linebacker in Chris Ash's defense. He was set to go through 15 practices learning the ins and outs of the position under then-linebackers coach Coleman Hutzler, but the pandemic hit and wiped out opportunities for valuable reps. He also missed the 2021 spring under Sarkisian and defensive coordinator Pete Kwiatkowski due to a shoulder injury, losing the opportunity to learn how to play the position in a new defensive system.
Even without those practices, Overshown had plenty of bright moments in the 2021 season. But Texas finished ranked No. 100 in total defense, No. 114 in rushing defense, No. 62 in passing yards allowed, and No. 99 in scoring defense, and Overshown was responsible for some of the lapses on that side of the ball.
Most of that 2021 defense returns alongside Overshown. Fellow middle linebacker Luke Brockermeyer will be out due to a knee injury suffered in practice late in the season, but Jaylan Ford, who surged at the end of the year to take the team lead in tackles for loss, will be on the field.
No matter who lines up next to Overshown as an off-ball linebacker, this offseason is an important one for Agent Zero. The fact he should be able to go through spring practices and the Orange-White Game will only give him more opportunities to develop his skills behind the line of scrimmage, and those are opportunities he's yet to take advantage of at Texas.