Inside Texas Answers: Texas versus Arkansas predictions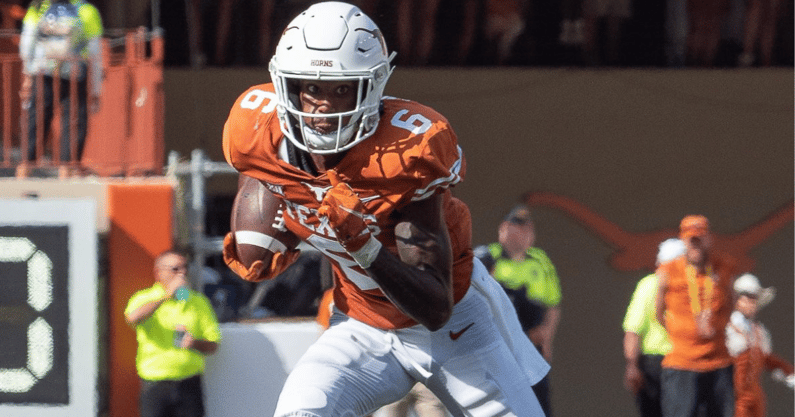 For just the fifth time in 40 years, the Texas Longhorns trek to Donald W. Reynolds Razorback Stadium in Fayetteville, Ark. to take on a former Southwest Conference mate in the Arkansas Razorbacks.
What will be the final result of Texas versus Arkansas? The Inside Texas staff offers predictions for the Saturday night contest.
Justin Wells – 30-20, Texas. The crowd will be rabid, quite literally, and I expect the atmosphere to be hostile until the Horns can pull away. Arkansas is pretty limited on offense outside of Treylon Burks, but they have size up front on defense, decent linebackers, and super safety Jalen Catalon. If Hudson Card can keep the ball away from Catalon, I like the Horns in this old-fashioned rivalry.
Eric Nahlin – 27-17, Texas. I'm not so much worried about Hudson Card starting his first road game in a hostile environment as I am in him dissecting the Barry Odom three-deep defense if Texas can't get the run game going early and often. After getting a few looks at the defense, I do think Card will figure it out with Steve Sarkisian's help. For the second week in a row, the Texas defense keeps the QB in the pocket and renders the passing game inefficient. 
Ian Boyd – 31-17, Texas. I see two advantages in this game for Texas and one for Arkansas. The Razorback advantage is in playing this game at Fayetteville. Texas has advantages on special teams and in the crucial battle between Sark/Card and Briles/Jefferson.
Gerry Hamilton – 37-23, Texas. This is a run the ball, stop the run game. With Texas' experience in the secondary, the Longhorns should be able to stack the box and take some minimal risks in the back end. Arkansas' receivers are more talented than Louisiana's, and that is compliment. Keeping Card out of 3rd-and-Jalen Catalon is going to be huge for the Texas offense. Texas is better at quarterback and running back, and that will matter in the second half. The interior of the Texas defense has to be more disruptive this week.
Bobby Burton – 23-20, Texas. The Longhorns showed signs of being a "complete" team last Saturday, while Arkansas looked like two completely different teams in each half against Rice. One game is never enough to know exactly what you're going to get. I don't expect Texas to be as successful running the ball or on third-and-long this week, which will put more pressure on the Texas D. The Horns' D will be pressed in the run game. I don't like that it's a night game and in Fayetteville, either. Cameron Dicker needs to come up big.
Joe Cook – 27-14, Texas. The key to the game will be No. 1. No. 1, as in Texas quarterback Hudson Card. He needs to maintain the efficiency he showcased in the first game, just in a difficult road environment. No. 1, as in Arkansas quarterback KJ Jefferson. Pete Kwiatkowski should force the 6-foot-3, 245-pounder to beat the Longhorns with his arm. No. 1, as in Jalen Catalon. Avoid the middle of the field, and therefore Catalon, at all costs.
Scipio Tex – 34-22, Texas. My analysis of the matchup is here. Quick summary: On defense, Texas needs smart pressure to contain KJ Jefferson's legs and a creative Briles running game. Shade coverage to Burks. On offense, the Horns just need to communicate and play with composure in a tough road environment against a confusing defense. Opportunities will present themselves.  Texas is the better football team and that should win out over time if they keep their cool. 
Hudson Standish – 38-16, Texas. Arkansas is dangerous in the same way that a heel hook or toe hold is dangerous in an MMA fight. Yes the action can submit you, but if you're prepared, remain calm, and stick to what you've been taught more than likely you're going to wind up in top position beating the other guy's face in. I think Texas will have to play Arkansas' game for about a quarter and a half before separating by a couple of possessions and putting the game on cruise control. I'd be a lot more worried about Saturday's game if I wasn't confident that the Horns hold the headset advantage with both coordinators.