Tale of the tape: Texas vs. Iowa State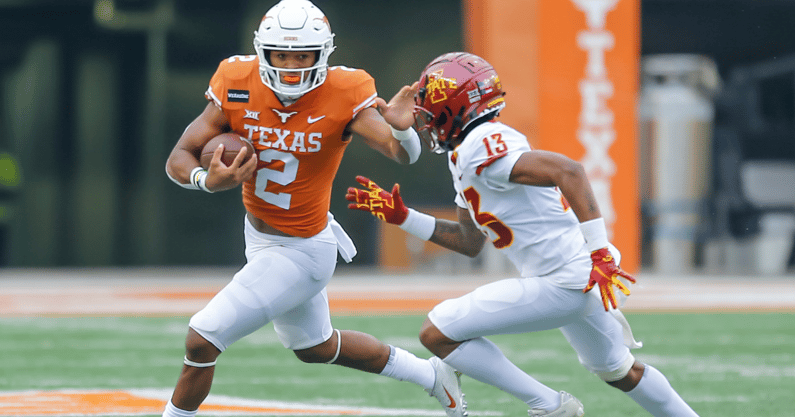 Texas begins the second half of its season on Saturday against the Iowa State Cyclones. Matt Campbell's squad heads to Austin with a 3-3 record, but they've yet to take a Big 12 conference game. Meanwhile, Steve Sarkisian's Longhorns are 4-2 and look to improve their 2-1 Big 12 record.
[Get FOUR MONTHS of Inside Texas Plus for $1!]
How do the Longhorns and Cyclones compare at each position? A look in the tale of the tape.
Quarterback
Hunter Dekkers is having an okay season, but he hasn't been what Brock Purdy was at the position for the Cyclones in recent years. Plus, Quinn Ewers is coming off a massive performance in his return to the field versus Oklahoma. With Ewers in burnt orange, this one isn't much of a contest.
Tale of the tape: Major advantage Texas
Running back
Jirehl Brock is putting together a decent year in an offense that features running backs. But after all four of Bijan Robinson, Roschon Johnson, Keilan Robinson, and Jonathon Brooks played roles in the Texas win last week, it's easy to see who has the better running back stable.
Tale of the tape: Major advantage Texas
Wide receiver
The Longhorns will need to make sure they track where Xavier Hutchinson is at all times, but he's the only major downfield threat on the ISU offense considering Tarique Milton now suits up for the Longhorns. Plus, Xavier Worthy and Jordan Whittington are coming off of big games, and have shown no signs of slowing down.
Tale of the tape: Advantage Texas
Tight end
What used to be a strength of the Cyclones is anything but this year. The years of Charlie Kolar have ended. It's Ja'Tavion Sanders' time now.
Tale of the tape: Major advantage Texas
Offensive line
Kelvin Banks and Christian Jones have provided strong protection at tackle. There has been steady improvement from the interior, but they will face one of their biggest challenges this week. The ISU O-line is one of the contributing factors to Iowa State's poor play on offense this year.
Tale of the tape: Advantage Texas
Defensive line
Texas' defensive line has been playing well in recent weeks, but the Cyclones are strong in the defensive trenches. They are key to the success of the 3-3-5 flyover defense that ranks top in the conference at this juncture. Plus, Will McDonald may be one of the top pass rushers in the nation.
Tale of the tape: Even
Linebacker
While Texas has received quality play at the position, Iowa State has some maulers in its linebacker corps. O'Rien Vance is a player to watch. DeMarvion Overshown and Jaylan Ford have played well for the Longhorns, but they still have missed some plays at times to where the Cyclones may have the better bunch.
Tale of the tape: Advantage Iowa State
Secondary
The three-deep safety defense is tough to top, but Texas' defensive backfield has been almost impossible to get past this year. Anthony Cook and Jerrin Thompson have communicated well, and Texas is getting good corner play from D'Shawn Jamison and Ryan Watts.
Tale of the tape: Advantage Texas
Specialists
ISU may have an advantage at punter, but Bert Auburn has been the more reliable kicker this year.
Tale of the tape: Even