College Football Rankings: Predicting the AP Poll Top 25 after Week 3
Florida 29 Tennessee 16 Instant Reaction
While everyone excitedly waits for next weekend's loaded slate of Top 25 matchups, Week 3 delivered plenty of intrigue — despite zero in ranked affairs.
Georgia, Florida State, Texas and Colorado all survived scares, while Tennessee and Kansas State got exposed in hostile road environments.
Here's how I think the new AP Top 25 will look come Sunday:
1. Georgia (Last week: 1)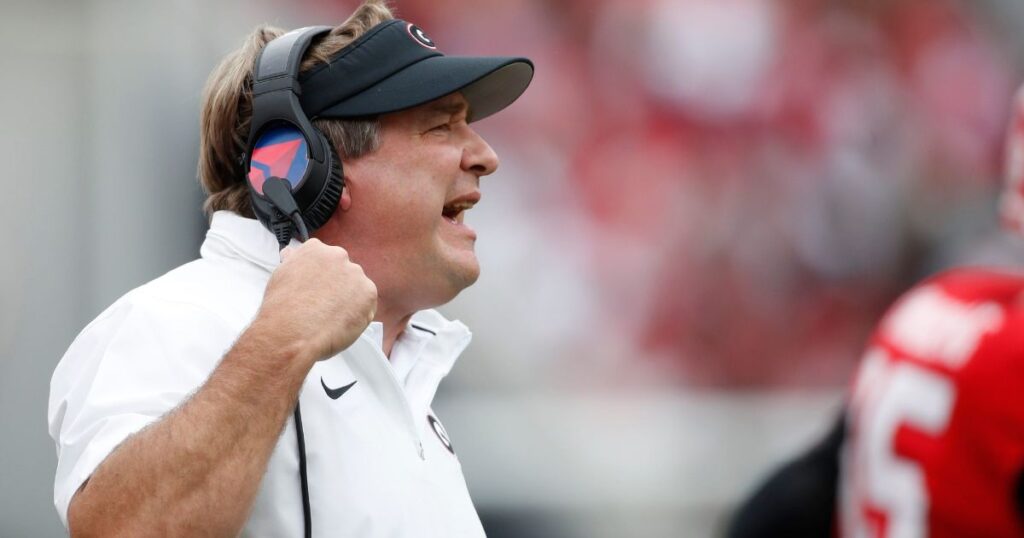 Georgia bounced back from an abysmal first half against South Carolina, rallying from an 11-point deficit at halftime (their biggest in three years) to win 24-14. 
The Bulldogs won their 20th straight game, but was an uninspiring performance thanks to a litany of special teams mistakes (two missed field goals, KO out of bounds) and poor red zone offense. UGA's run game was more effective with the return of senior Daijun Edwards (20 carries for 118 yards and a touchdown), and its defense had too many horses for Spencer Rattler to avoid for four quarters (three sacks, double-digit hurries, two picks).  Georgia will get some benefit of the doubt as the reigning two-time champs, so while the 'Dawgs could stay at No. 1 they definitely aren't the unquestioned top team in the country. 
2. Michigan (Last week: 2)
J.J. McCarthy had been one of the most efficient quarterbacks in the country the first two weeks, but the junior had a night he'd like to forget against Bowling Green, throwing three interceptions in a less-than 31-6 win by the Wolverines. 
The tune-up for Big Ten play was anything but for Michigan, which needed 17 points in the third quarter to pull away from the middling MAC team down to their third-string quarterback. Blake Corum rushed for 104 yards and a touchdown, including a 54-yard scamper on his very first carry.  The Wolverines will look to flush this game against  3-0 Rutgers next weekend.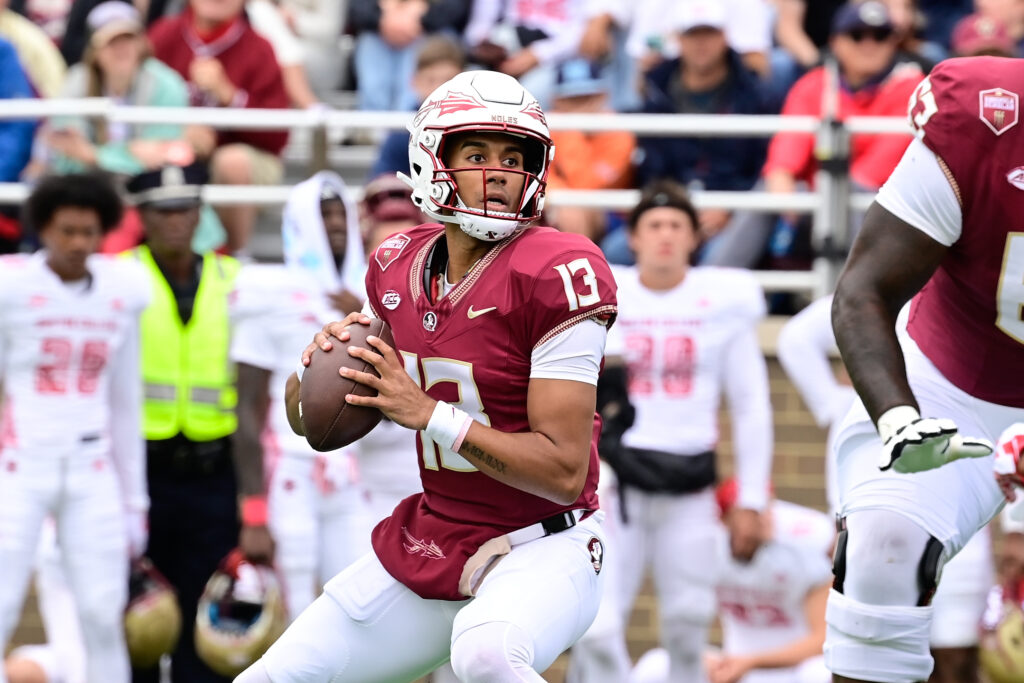 With a monster date with Clemson looming, the Seminoles survived an injury scare to quarterback Jordan Travis and a flat performance by the entire team, escaping Boston College with a 31-29 win in the Red Bandanna Game. 
Florida State was just 1 of 9 on third down and had just 340 total yards. The 'Noles benefitted from a litany of self-inflicted mistakes by the Golden Eagles, who set a school-record 18 penalties for 131 yards, missed an extra-point and two-point conversion spoiling their upset opportunity.
4. Texas (Last week: 4)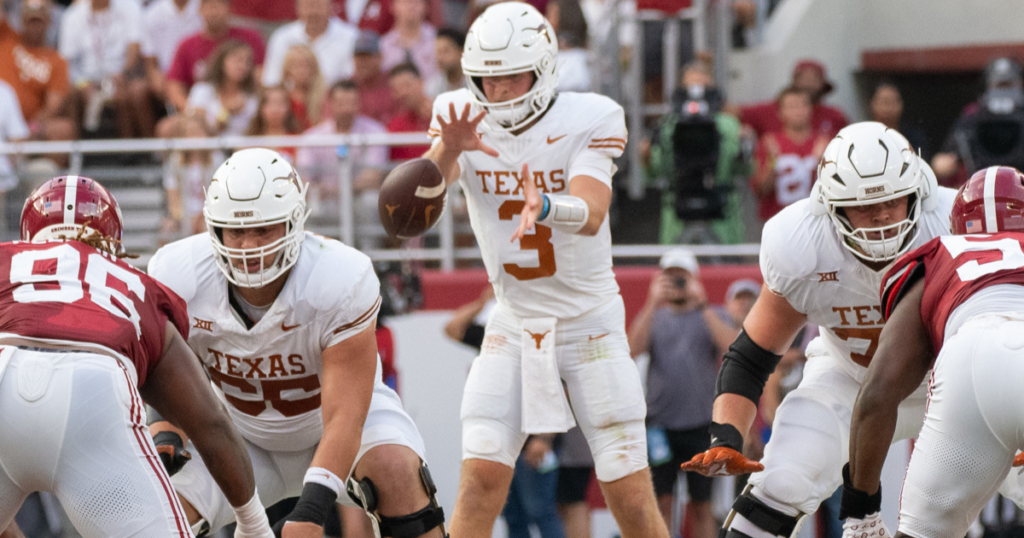 Let's put a pause on the emphatic "Texas is back" meme after the Longhorns needed 21 points in the fourth quarter to turn a 10-10 game against a Wyoming squad playing with a backup QB into a 31-10 "easy" win. 
A week after thumping Alabama, the Longhorns sleepwalked through most of the game, struggling to produce explosive plays, failing to convert on third down and committing ill-advised penalties.
Quinn Ewers (just 11 of 21 for 131 yards and three total touchdowns) never really had it, but a 44-yard score to Xavier Worthy, who turned a short throw that looked like nothing into a majestic, tight-roping run down the sidelines for a long touchdown, seemed to wake up Texas. UT would add an Ewers TD run and a pick-six to beat a solid Wyoming team, avoiding a massive letdown after last weekend's monster upset. 
5. USC (Last week: 5)
After playing in Week 0, the Trojans were idle Saturday. They start Pac-12 play next week against Arizona State.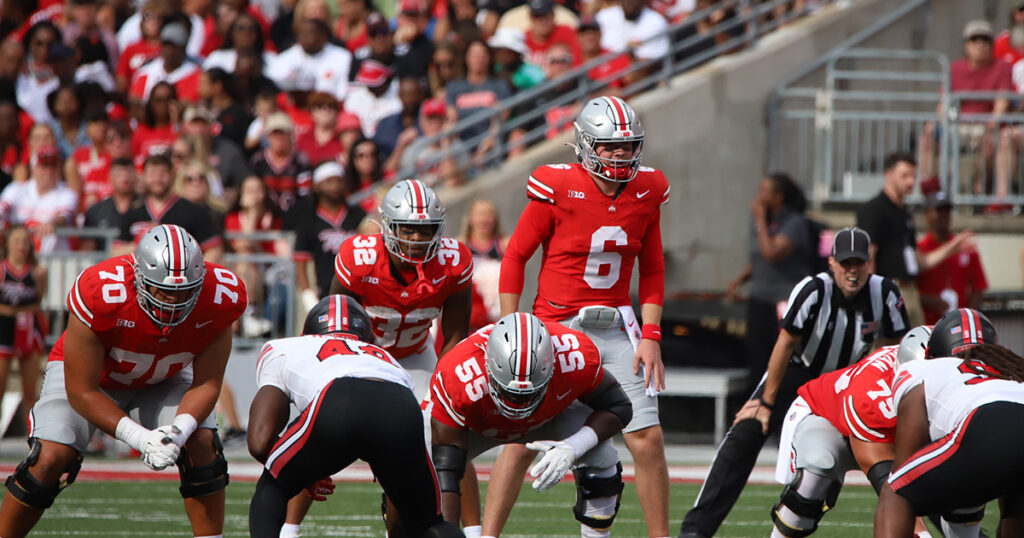 Behind a 35-point second-quarter explosion, Ohio State's offense looked like an Ohio State offense for the first time of the 2023 season — rolling past Western Kentucky 63-10. Recently-named QB Kyle McCord had his first 300-yard passing game of his career, going 19 of 23 with three scores — one to Marvin Harrison Jr. and two to Emeka Egbuka. The Buckeyes got the ground game humming, too, with 204 yards including explosive touchdown runs by TreVeyon Henderson and Chip Trayanum. 
Ohio State's defense continues to flex as one of the better units in the country this fall, too. The Buckeyes held Austin Reed, the FBS' active career leader in passing yards per game, to just 207 yards on 21 of 37 passing. They sacked four times and saw blue-chip freshman corner Jermaine Mathews Jr. record a pick-six. Now a monster showdown at Notre Dame is on deck.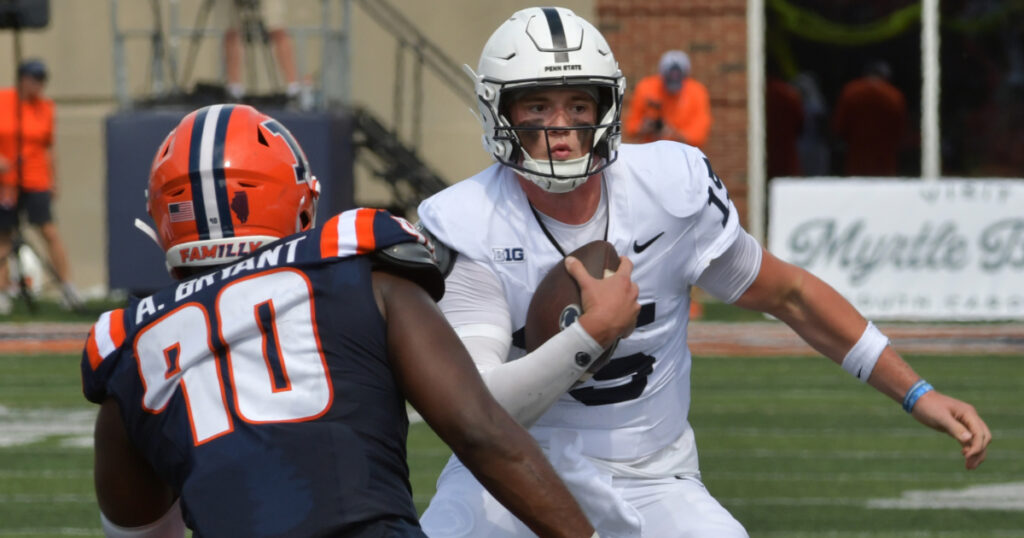 The Nittany Lions took advantage of five turnovers (including four picks) to win at Illinois in Drew Allar's first-career road start. Their defense, which also added three sacks, seven tackles for loss and four PBUs, really carried the day on an afternoon when the offense had very little rhythm. 
Allar was just 16 of 33 for 208 yards, averaging just 6.3 yards per attempt with no touchdowns. Penn State's lone passing score was off a trick play from tailback Trey Potts. A week after Kansas gashed Illinois on the ground, Penn State's tailbacks Kaytron Allen and Nick Singleton didn't have much room to operate, averaging just 4.1 yards per carry with a long run of 18 yards.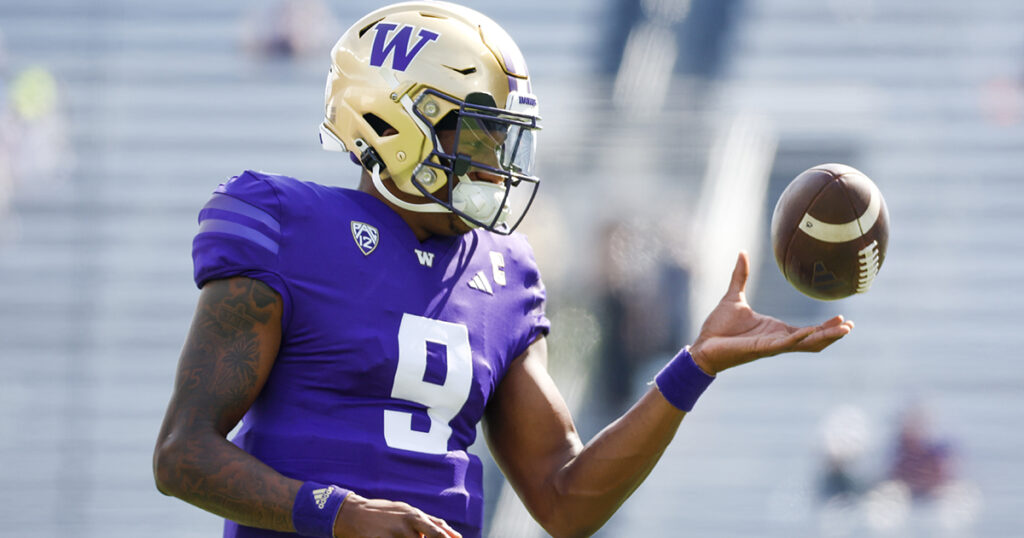 Michael Penix Jr. is throwing fireballs so far this season, recording his third straight 400+ yard performance with a 473-yard, four-touchdown afternoon in Washington's 41-7 splattering of the Michigan State Spartans. 
The Huskies had 713 total yards — a historically awful performance by MSU's defense. They had nine plays go for at least 30 yards and were up 35-zip at halftime, effectively running out the clock the last 30 minutes of the game. With a schedule that doesn't provide much resistance over the next few weeks, Penix Jr. should continue to put up monster numbers as WSU climbs the rankings.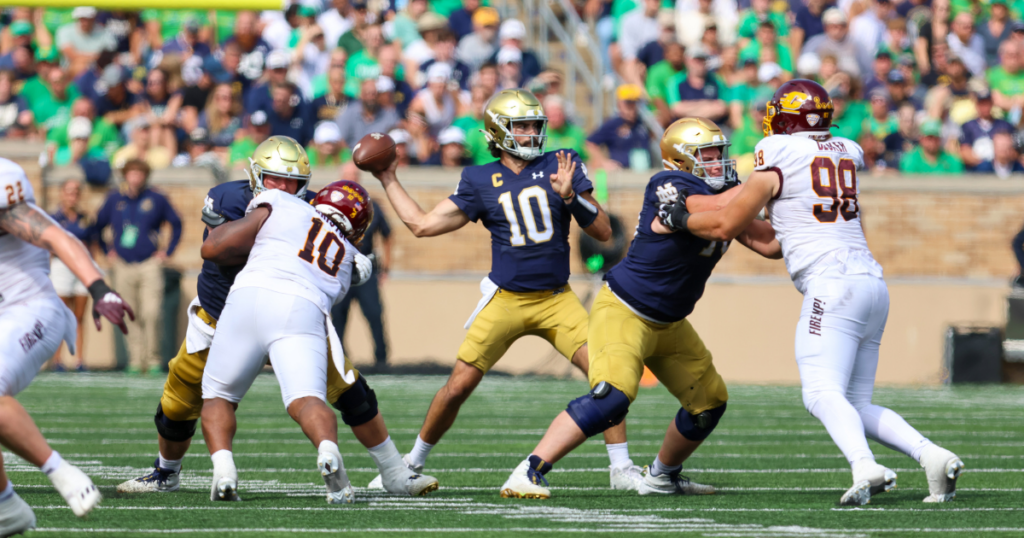 On to Ohio State. The Irish moved to 4-0 with a perfunctory 41-17 routing over Central Michigan. Sam Hartman tossed three touchdowns on 330 yards — two of which were 75-yard strikes on deep balls — while Audric Estime rushed for a career-high 176 and still left some yards on the field. 
The Irish were sloppy at times Saturday, not tackling particularly well and getting flagged eight times for 72 yards — one of which negated another 70-yard touchdown run by Estime. Notre Dame was down several starters defensively but it still held down a CMU offense led by a backup quarterback to just 268 total yards. 
10. Oregon (Last week: 13)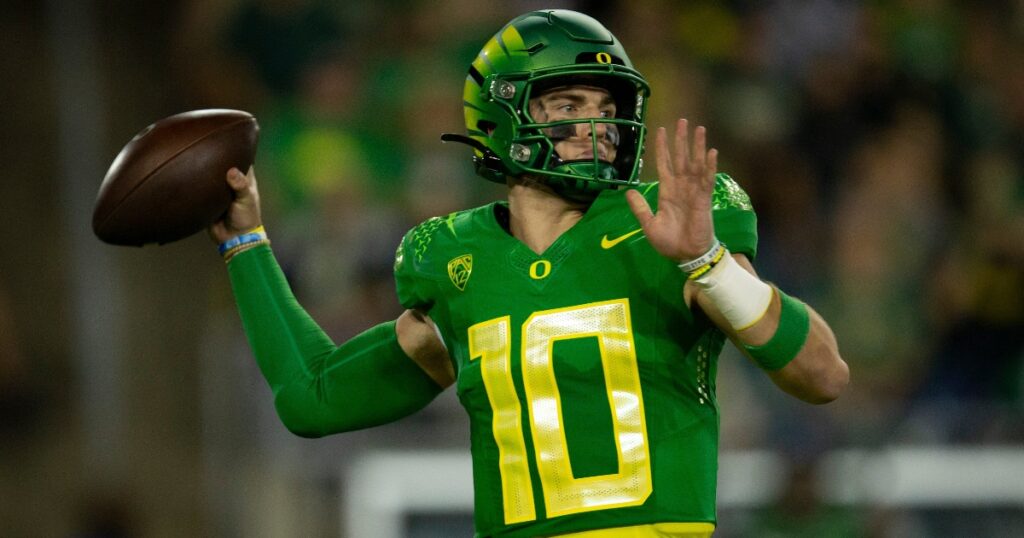 In their final tuneup before Pac-12 play, the Ducks cooly dispatched Hawaii 55-10, jumping out to a 34-3 lead at halftime before emptying the bench. Bo Nix accounted for over 250 total yards and three scores, while Oregon rushed for 210 yards at a-that'll-do 7.0 per carry. 
Oregon's new-look defense held a decent Rainbow Warriors' offense to just 200 total yards and 2 of 14 on 3rd downs. Their secondary was especially nasty, limiting prolific Hawaii QB Brayden Schager to just 3.0 yards per attempt and an interception. That group will face a tougher test next weekend against Shedeur Sanders and Colorado.
The rest of the projected AP Top 25:
11. Utah (Last week: 12)
Playing without star quarterback Cam Rising for the third-straight game, the Utes turned to Nate Johnson for a start against FCS Weber State, and the dual-threat talent had nearly 270 total yards and two scores in a 31-7 win. With UCLA on deck, Kyle Whittingham was just trying to Pac-12 play healthy, dialing up over 50 runs and holding the ball for over 40 minutes. The Utes held the Wildcats to just 127 total yards at a measly 2.9 per play. 
12. LSU (Last week: 14)
The Tigers impressively whipped a veteran Mississippi State team in Starkville, cruising to a 41-14 win behind over 400 total yards and four touchdowns from Jayden Daniels. The senior quarterback was sensational, throwing just a single incompletion in the first half before finishing the day 30 of 34 for 361 yards — completing all 13 targets to Malik Nabers, who had 239 receiving yards and out-gained Mississippi State'e entire offense by himself by 38 yards.
The Beavers struggled to put away San Diego State, keeping the Aztecs at arm's length in a 26-9 victory. They overcame a poor game from DJ Uiagalelei, whose accuracy issues bubbled up with just 14 completions on 30 attempts and two interceptions. He did throw for 284 yards and a score, and as a team, Oregon State rushed for 191 at 6.0 per clip. Defensively, they harassed Aztecs QB Jaylon Armstead for six sacks and an interception, holding SDSU out of the end zone until the fourth quarter.
14. Oklahoma (Last week: 18)
Despite continued calls for 5-star freshman Jackson Arnold to take over at quarterback, all Dillon Gabriel does is keep throwing touchdowns. The ex-UCF transfer tossed five scores for 421 yards in Oklahoma's 66-17 romp at Tulsa. Led by Nic Anderson, the Sooners had a trio receivers go over 100 yards and the offense had nearly 600 yards total — including 10 plays over 20 yards. 
Oklahoma's defense is suddenly a ball-hawking unit, as star linebacker Danny Stutsman led the way with a pick-six — one of five interceptions by the Sooners. They also racked up 15 tackles for loss and three sacks. 
The Tar Heels handled business at home against Minnesota, notching their second non-conference victory over a Power 5 team in three weeks with a 31-13 W. Drake Maye shook off a pair of picks to throw for 414 yards and two scores — 15 completions and 165 of which went to Georgia Tech transfer Nate McCollum, who nearly set a school record. 
Like their performance against South Carolina, UNC's defense displayed improved firepower with all their new parts, allowing just 303 total yards and holding the Gophers to just 3 of 12 on third down. The Tar Heels didn't go sack-happy like they did against South Carolina, but they held Athan Kaliakmanis to just 11 of 29 passing (4.6 per attempt) and had two picks.
16. Ole Miss (Last week: 17)
Down top wideout Tre Harris and playing with a hobbled star tailback Quinshon Judkins, the Rebels were hard-pressed to find their offensive mojo against a porous Georgia Tech before a 4th quarter offensive explosion in a 48-23 win. The scoreboard doesn't reflect the competitiveness of the game for much of the night, as Lane Kiffin's team was locked in a one-score affair before running away with a blowout win. Quarterback Jaxson Dart accounted for nearly 400 total yards, including 136 and two scores as a runner. Perhaps the Rebels were looking ahead to their Top 25 game against Alabama next weekend.
17. Alabama (Last week: 10)
The Tide escaped South Florida with an ugly 17-3 win, but they have a serious problem at quarterback. Like bigly, bad. Nick Saban turned to Tyler Buchner to start against lowly USF, only to watch the Notre Dame transfer go 5 of 14 for 34 yards, with five fruitless drives. He then handed the keys to Ty Simpson, who was mildly better (5 of 9 for 73 yards) — though 45 yards came on a single wide-open pass to the tight end. 
Alabama rushed for 200 yards but the final stats weren't indicative of the offensive line's performance, which allowed five sacks and was completely reliant on explosive runs (84% of yardage). The Tide remains elite defensively, with the Bulls' lone points coming off a muffed punt by Kool-Aid McKinstry. Dallas Turner had 2.5 of the team's five sacks, with the defense adding another 13 havoc plays.
18. Colorado (Last week: 18)
Deion Sanders talked all sorts of "It's personal" smoke this week, but the Buffs — as a 23-point favorite — needed a double-overtime to rally to beat in-state Colorado State 43-35 as quarterback Shedeur Sanders overcame a second-straight slow start to lead a 98-yard tying TD drive in regulation before two touchdown tosses in overtime.
The Buffs were fortunate to leave with W, but they escaped the late-night affairs 3-0 and unscathed before starting conference play with a huge showdown at Oregon next weekend.
19. Duke (Last week: 21)
The Blue Devils continue to slowly and efficiently grind teams to dust, as Duke pounded Northwestern for 268 rushing yards (6.8 per carry) in a 38-14 win. Mike Elko's team is now 3-0 for the second straight season, and with a likely win against UConn next weekend, they should be undefeated when they play Notre Dame at the end of the month.  Duke's triumvirate of runners — QB Riley Leonard and tailbacks Jordan Waters and Jarquez Moore — each had over 60 yards and combined for five rushing scores. 
20. Miami (Last week: 22)
A week after emphatically upsetting then-No. 23 Texas A&M 48-33, the Hurricanes avoided a letdown on a short week, jumping out to a 34-0 lead at halftime Thursday en route to a 48-7 win over Bethune-Cookman. 
The Hurricanes were without four starters on defense, so quarterback Tyler Van Dyke made sure to make quick work of the Wildcats, throwing for 247 yards with three total touchdowns before watching from the sidelines the entire second half. 
Behind five first-half touchdowns from Cameron Ward, the Cougars cruised past Northern Colorado 64-21. Wazzu's quarterback completed his first 12 passes and threw for over 300 yards in the first half before giving way to two backups. The Cougs' 43 points before halftime were their most in five years. Coming off last weekend's upset over Wisconsin, it was a dominating and focused effort in advance of a Top 25 matchup against Oregon State next weekend.
22. UCLA (Last week: 24)
Five-star freshman Dante Moore started at quarterback for the Bruins, and while Chip Kelly's prized recruit played very well against FCS North Carolina Central by throwing a 67-yard touchdown 15 seconds into the game, it was UCLA's locomotive rushing attack that paved the way for a 59-7 victory. The Bruins just for an absurd 404 yards at 10.4 per carry. They had six touchdowns on the ground from five different guys. They'll face a stiffer defense next week with a date vs. Utah. 
23. Tennessee (Last week: 11)
The Vols' voodoo in the Swamp proved real again, as a more talented Tennessee team went to Florida and lost again — their 10th straight road L in the series. Tennessee was completely out of sync offensively, losing 29-16 with just two touchdowns. The Vols were never able to get their tempo going, committing all sorts of unforced errors via penalties. Quarterback Joe Milton didn't look right until the fourth quarter and the Vols were gashed on the ground. Gators sophomore Trevor Etienne rushed for a career-high 172 yards — including a 62-yard touchdown run where he bounced off two UT defenders and outran the rest of the defense for a score. 
Tennessee's tackling was terrible and it committed 10 penalties (many of which were false starts due to Florida's crowd), both of which contributed to a bad loss to start SEC play.
23. Missouri (Last week: Unranked)
The Tigers stunned then-No. 15 Kansas State with an SEC-record 61-yard field goal from Thicker Kicker Harrison Mevis as time expired, upsetting the Wildcats 30-27 in the biggest win of his career for Eli Drinkwitz. Quarterback Brady Cook was booed in pregame warmups only to respond with the best game of his collegiate career, overcoming a sprained knee to throw for 356 yards and two touchdowns. 
25. Iowa (Last week: 25)
The Hawkeyes were locked in a 14-10 game against Western Michigan at halftime before Cade McNamara & Co., found a little something to win 41-10. 
McNamara tossed a pair of picks, and was just 9 of 19 for 103, really struggling without tight end Luke Lachey, who was lost to injury. Iowa leaned on tailbacks Leshon Williams (12 carries for 145 yards) and Kamari Moulton (eight carries for 50 yards), as the duo combined for three scores and over 217 total yards. The Hawkeyes defense chipped in a safety and held the Broncos to just a 5 of 17 on third and fourth down.
Projected to drop out: No. 15 Kansas State