Vegas View: Odds related to the Texas Longhorns, college football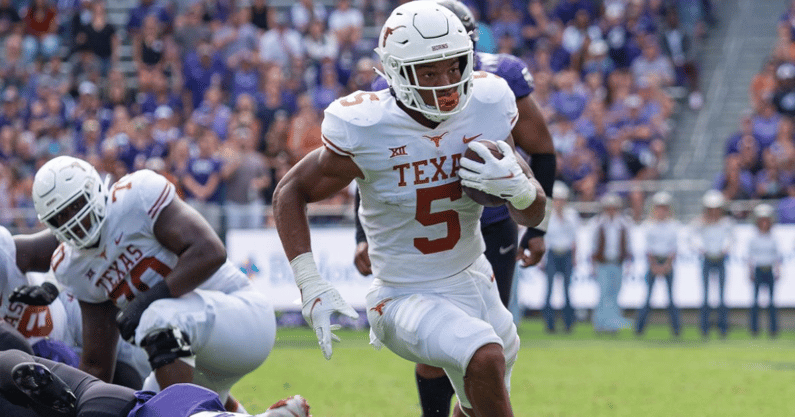 Citizens of the state of Texas will someday be able to legally wager on Texas Longhorns football and college football prop bets in their home state. Until then, they'll have to call their "cousins" in the desert, send money overseas, etc.
[Get a FREE 7-day trial of InsideTexas Plus!]
That said, The Strip and overseas books have odds related to college football even as over two months remain until kickoff.
Considering the active offseason Texas had in the portal, personnel changes at various schools, and who is on the Texas roster, it's time to take a look at what Las Vegas, specifically BetMGM, thinks of the Longhorns and other college football storylines.
Top 10 odds to win the national championship
The Longhorns being anywhere near the top is amusing but remember, Vegas wants to drive wagers and the Longhorns drive wagers with ease.
There is a clear line of demarcation after the Crimson Tide, Bulldogs, and Buckeyes. Clemson's odds are related to the overall lack of strength in the ACC. That may bring up the question, what about Notre Dame considering their loose affiliation with the ACC and recent playoff appearances? Well, the Irish have trips to Ohio State, North Carolina, and USC on the schedule, plus neutral site games with BYU and the always tricky Navy Midshipmen. Their path to the playoff isn't as easy as it has been.
The Aggies are talented enough to win a national title, but are they as a program in a position to beat all of LSU, Auburn, Alabama, Arkansas, Ole Miss, Florida, and Miami?
The odds may not be generous, but Alabama seems like a safe investment.
Joe's pick: Alabama +200
Joe's flier: Utah +5000
Big 12 conference champion odds
Oklahoma's standing is precarious if anything happens at the quarterback position. There is a good infrastructure there for Brent Venables even after Lincoln Riley left and took Caleb Williams and a few others with him. However, it is not as strong as in years past.
The conference appears to be an open race between the top four teams and… Kansas State. Much is unknown between Texas and Oklahoma to pick them to win, though one of those two teams have strong chances of being in Arlington.
Oklahoma State has too many knowns like Spencer Sanders and a lack of Jim Knowles for me to put them in the title game again. K-State is an intriguing team. If Adrian Martinez has a great year to pair with Deuce Vaughn, it could bode well for them, but that's still a big "if."
Baylor has the advantage of having championship experience on its roster despite making a change at quarterback. Their system is friendly no matter who is under center, and there's plenty of reason to be a believer in their offensive, defensive, and cultural brain-trust.
Joe's pick: Baylor +700
Joe's flier: K-State +1500
Texas win total
8.5.
Even eight wins is an improvement over last year's 5-7. This article ignores what the implications for Steve Sarkisian would be if he wins eight this year. It's just dealing with, can he surpass that?
It's probably safe to bake in one loss with Alabama visiting in week two. Though many may fear UTSA and Jeff Traylor, this is not the same Roadrunner team as last year. Louisiana-Monroe is the cupcake game.
The question therefore becomes, can Texas go 7-2 in its Big 12 schedule?
Joe's pick: Under
Heisman Trophy Winner
The top two make plenty of sense, considering they were the top two in Heisman voting last year. Repeating is tough, it has only been done once, and if both are at the top again the voters may go with a "well, Young already won it" approach.
As it relates to Texas, it's no surprise to see Bijan Robinson near the top. Quinn Ewers having good odds isn't too much of a shock, but I didn't think they'd be that good considering he hasn't been named the starter yet.
An emotional bet by Texas fans on Robinson isn't a bad bet, but there are likely better bets.
Joe's pick: CJ Stroud
Joe's flier: TreVeyon Henderson
Joe's longshot: Will Anderson +3000