Top 100 Players in College Football for the 2023 Season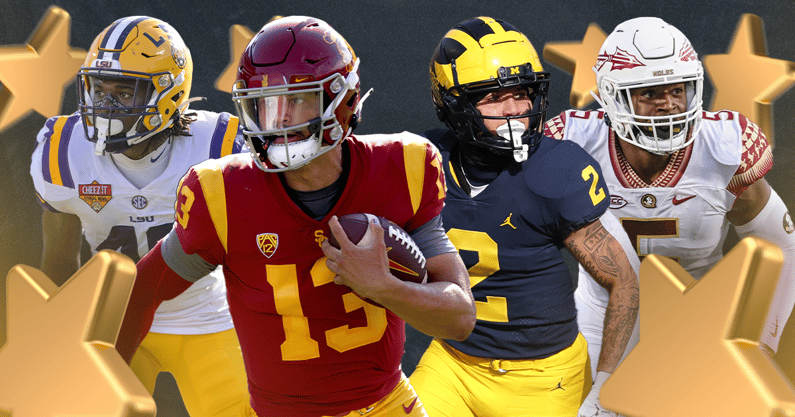 The countdown is officially on as the 2023 college football season is 100 days away. To honor the occasion, On3's Charles Power and Clark Brooks have broken down the top 100 players in college football for the 2023 season.
The top of the list — unsurprisingly — is the reigning Heisman Trophy winner. Caleb Williams sits at No. 1, closely followed by North Carolina signal-caller Drake Maye at No. 2. They're seen as the two top quarterbacks in college football this season, and according to On3, are also the two best players to take the field in 2023.
With 100 days to go until Week 0, highlighted by Notre Dame vs. Navy in Dublin, these are the top 100 players in college football this year.
Top 100 Players in College Football 1-20
Charles Power
I think you have to start at the top with Caleb Williams and Drake Maye, with the reigning Heisman Trophy winner getting the nod at No. 1. Both elevated their teams supporting casts in 2022 and look to be one of the stronger pairs of draft-eligible starting quarterbacks entering a season in several years. To me, Williams is the easy choice at No. 1 due to his consistency of performance and rare playmaking ability. I thought he was steadier than Maye over the course of last season. Williams also has the edge in physical tools based on what I've seen.
The No. 3 and No. 4 spots feature college football's two most dominant pass-catchers from last season in former On3 five-stars, Marvin Harrison Jr. and Brock Bowers. Marvin Harrison looks like one of the more well-rounded and skilled wide receivers to come through college football in several years and looks like a future top five pick. His route-running, coordination and ball skills are as good as we've seen from an underclassman in college football, maybe since Julio Jones and AJ Green were coming through over ten years ago. No. 4 may seem high for a tight end, but Bowers is not a traditional player at the position given his elite athleticism and versatility. He's a key offensive weapon for the back-to-back national champs and sees touches in a variety of ways, including handoffs.
I also think the offensive tackle group is very strong. Olu Fashanu may have been the top offensive tackle in this year's NFL Draft but opted to come back to Penn State. Joe Alt has been fantastic over two years at Notre Dame.The second level defenders in the mix are all playmakers. Harold Perkins and Abdul Carter were in my opinion the top two true freshman defenders last fall. Both are dangerous as blitzers and create a bunch of disruption with their speed and physicality. Kool-Aid McKinstry and Kalen King are two savvy corners with ball skills.
At running back, Blake Corum was in the Heisman mix prior to his late season injury and Quinshon Judkins had a sensational freshman year at Ole Miss.
Clark Brooks
College football's top two signal-callers start us off — for obvious reasons. Beginning with the reigning Heisman Trophy winner, Caleb Williams might be one of the most natural throwers of the football in recent memory. Though his top-end accuracy can improve, his mechanics rarely show any sign of strain while delivering passes within structure, on the move, or playing backyard ball. He is simply the game's best playmaker behind his premier arm strength, strong creativity when things break down, and sturdy processing power. Having one of the sport's best play callers at one's back doesn't hurt either. Frankly, Williams is the most dangerous and impactful non-professional football player in the world.
But as captivating as Williams is, Drake Maye might be the most polished pocket passer to emerge from the college ranks in a half-decade. Tall and statuesque, his ability to maximize downfield leverage with his receivers' routes is truly next-level stuff. Maye has displayed nuance manipulating throwing lanes, changing up his velocity for touch throws, and taking care of business outside the numbers. Even his most challenging defensive foes last fall failed to prevent him from being accurate on over half of his deep attempts. But with only one year as a starter, the young gun can shore up his performance outside of structure and against pressure — areas Williams has seemingly mastered.
Having a moderately impactful position inside the Top five might raise eyebrows. But then again, that's exactly what Brock Bowers has done in his time at Georgia. On the Bulldogs' back-to-back championship squads, he has been arguably their offense's best weapon. Whether blocking inline, catching passes flexed-out or taking jet sweeps to the house, his versatility is unmatched. Again, we're talking about a tight end. Speaking of, he was the SEC's only pass catcher last year to be inside each of the conference's top10 in Yards/Target (10.8), YAC average (8.1), and First Down+TD Rate (47.7%). His ability to dictate matchups and capitalize on chances downfield or in space is extraordinary (and so so fun to watch).
Harold Perkins is the top defensive dynamo in college football. His motor runs red hot, he is active and he is destructive. Though he might operate more as a stack linebacker for LSU moving forward, his ability to conjure havoc was far beyond the levels of a first-year. Almost 9% of his defensive reps consisted of either a sack, QB hit, pressure, batted ball, forced fumble, or interception. No other qualifying LB topped 6.8%. Plenty of foes suffered from his dark arts and were left shouting, "What is this magic!?" as he took over ball games. Additionally, Perkins logged 35 defensive stops. Again – all as a true freshman in the Land Where it Just Means More. His coverage skills need some work. But at bare minimum, the Bayou's Berserker walks into this year as one of the most impactful pass rushers.
"Charles nailed it when it comes to the offensive tackles. I think this group is deep and uber-talented. Nothing against the previous crop, but even the top guys had serious hangups on their profiles. For 2023, really it's 1A or 1B for preference for the top spot in my opinion. Joe Alt came on strong as one of the position's best maulers while only giving up ONE pressure per 100 pass snaps on average last year. Kicking butt for a major brand, the 6-foot-7 Golden Domer has the frame to be a force at the next level. In a dropback league, locking in quality pass blocker prospects is a necessity.
Olu Fashanu squarely fits that mold. Despite only 9 career starts and missing the final month-plus of last year, he flashed brilliance. Neither Ohio State's nor Michigan's DLines logged a single pressure against him. Duke's Graham Barton and Alabama's JC Latham are also high-potential blockers, assuming both can cut out logging penalties. Among the returning tackles, both rank inside the top seven in Total Pressure Rate allowed. But, don't think of them as just passive setters or hand-fighters. The pair displayed talents carving up fronts when it came time to mash.
Jared Verse will headline Florida State's stacked defensive line. Last fall, the former Albany transfer cracked the nation's top 15 in Pass Rush Win Rate (23.7%) and owns college football's best Sack Rate (4.4%) among returning edges. He is definitely on the short list for many to be the top defender off the board next spring. Though down a peg, UCLA's Laiatu Latu, Washington's Bralen Trice, Penn State's Chop Robinson and Ohio State's JT Tuimolau all are capable of ruining any offensive line's day. The two Pac-12 standouts both totaled as many havoc plays as Will Anderson last fall and return with the two best Total Pressure Rates among the position. Along with those two, Robinson rounds out the top3 for best returning Havoc Rates.
Like our top bookends, there are a lot of backenders worthy of attention. As Nick Saban's best defender, forgive me for drinking the Kool-Aid over Alabama's McKinstry. Some might be surprised he kicked the group off since he only logged one interception last year — sigh! — but only one other college corner had more total defended passes than his 17. And despite fielding the 7th-most targets, McKinstry placed comfortably inside the top 20 in Yards/Target Allowed (4.4). Stingy and lengthy, he is well-positioned to remain one of the game's best ball hawks. Penn State's Kalen King and Notre Dame's Ben Morrison are two corners emerging among the nation's elite. King returns with 12 defended passes and as the Power Five's top-graded coverage corner, according to Pro Football Focus. Morrison picked off six passes and and only surrendered a cumulative 29.2 QB Rating – phenomenal for a freshman.
Charles and I disagree on Cooper Beebe being an Impact five-star. I don't deny guards and interior linemen are the least impactful positions. Docking him down the list was greatly considered. But at the end of the day, I wanted to give some love to the Big 12's best blocker. After all, Beebe has experience at tackle, where he performed pretty nicely unlike other converts. Regardless of where he lined up, he hasn't allowed a sack in his 803 pass sets since 2020. And strictly as a guard last year, he placed inside the top 25 in PFF Run Block Grade (76.7).
1. Caleb Williams, QB, USC
2. Drake Maye, QB, North Carolina
3. Marvin Harrison Jr., WR, Ohio State
4. Brock Bowers, TE, Georgia
5. Jared Verse, EDGE, Florida State
6. Harold Perkins, LB, LSU
7. Olu Fashanu, OT, Penn State
8. Joe Alt, OT, Notre Dame
9. Kool-Aid McKinstry, CB, Alabama
10. Kalen King, CB, Penn State
11. Michael Penix Jr., QB, Washington
12. Graham Barton, OT, Duke
13. Bo Nix, QB, Oregon
14. Blake Corum, RB, Michigan
15. Quinshon Judkins, RB, Ole Miss
16. Abdul Carter, LB, Penn State
17. Jer'Zhan Newton, INT, Illinois
18. Dewayne Carter, INT, Duke
19. Laiatu Latu, EDGE, UCLA
20. Bralen Trice, EDGE, Washington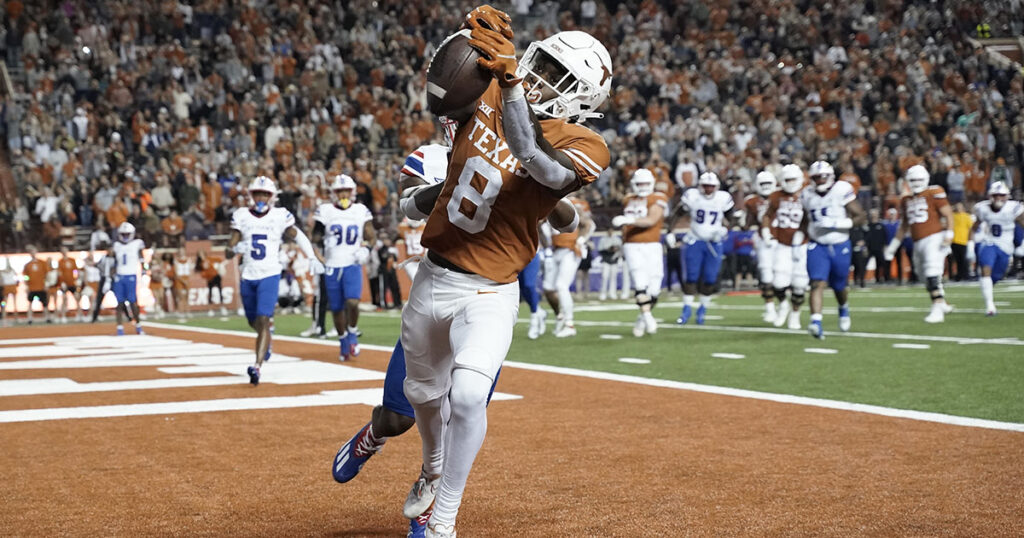 Top 100 Players in College Football 21-40
Charles Power
The group from 21-40 features a handful of second and third-year players who could be primed for breakout seasons. The defensive backs are particularly strong to me. Malaki Starks started on Georgia's defense as a true freshman. He was a high school quarterback who took to safety very quickly. Now that he has a full off-season to continue developing, I think there's a good chance he'll be the top safety in college football for the next two seasons. Kamren Kinchens is a highly instinctive, heady safety who is the key driver behind Miami's defense. Benjamin Morrison and Will Johnson were true freshman All-Americans. Both could make a leap as sophomores.
Travis Hunter enters the season as one of the more hyped newcomers. The former five-star is transferring up from FCS Jackson State to join Deion Sanders in Colorado and is expected to see time as a receiver and corner for the new-look Buffaloes. I'm interested to see how he holds up in coverage, but his ball skills are among the best I've ever seen from a young prospect.
Xavier Worthy and Emeka Egbuka are foils of each other in a way. Worthy showed a ton of promise as a true freshman, but struggled at times last fall and was playing with some injuries. Egbuka is very steady as Ohio State's No. 2 option in Brian Hartline's loaded wide receiver room.At running back, I view Nick Singleton as the top pure talent at the position in college football. He splits carries with fellow top 100 member Kaytron Allen, so we probably won't see him post the gaudiest stats. But the burst, home run speed and physicality are on the high end.
I'm also interested to see how JC Latham comes along as a junior at Alabama. The former five-star made strides as the Crimson Tide's right tackle last fall.
21. Xavier Worthy, WR, Texas
22. Emeka Egbuka, WR, Ohio State
23. Malaki Starks, S, Georgia
24. Jeremiah Trotter, LB, Clemson
25. Chop Robinson, EDGE, Penn State
26. J.T. Tuimoloau, EDGE, Ohio State
27. Brant Kuithe, TE, Utah
28. JC Latham, OT, Alabama
29. Kamren Kinchens, S, Miami
30. Benjamin Morrison, CB, Notre Dame
31. Travis Hunter, CB, Colorado
32. Cooper Beebe, OG, Kansas State
33. Nick Singleton, RB, Penn State
34. Rome Odunze, WR, Washington
35. Will Johnson, CB, Michigan
36. Jordan Travis, QB, Florida State
37. Leonard Taylor, INT, Miami
38. Raheim Sanders, RB, Arkansas
39. Johnny Wilson, WR, Florida State
40. Aydan White, CB, NC State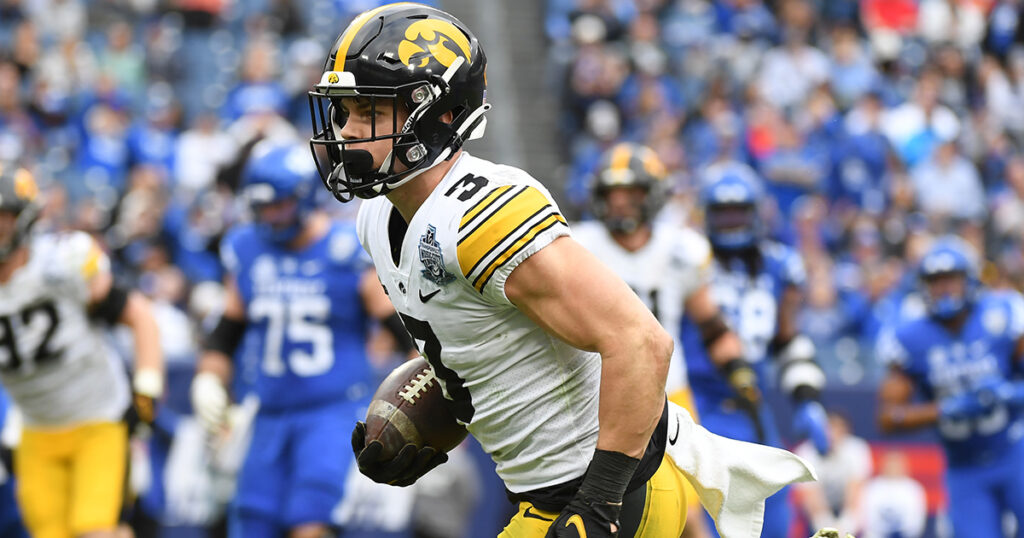 Top 100 Players in College Football 41-60
Clark Brooks
Perhaps under the radar some, CBs Aydan White and Cooper DeJean both have first round potential. White was one of the more tested back-enders, defending 82 targets. Yet he still finished inside the 87th percentile in yards allowed per target (5.5) while not allowing a score. Plus, he tacked on four picks, seven deflections, and 22 defensive stops — good for a top-20 finish at the position. Shifting to DeJean, only two returning corners had more interceptions than him last year. And behind plenty of splash plays, the Hawkeye ballhawk owned a top-10 PFF coverage grade.
Whether you want to consider him a flexed-out tight end, power slot or big-bodied X-receiver, Syracuse's Orande Gadsden is the unicorn every play-caller dreams of. Only a handful of qualifying pass catchers topped his remarkable 54.8% first down+TD rate last year. His 2.3 yards per route run — the ultimate measure of a receiver's potency — reached the 85th percentile and even bested big names like Zay Flowers, Josh Downs and Cedric Tillman. Additionally, Gadsden was 1/14 pass catchers last season to log at least 6 TDs, 60 receptions, 10 contested catches and over 900 yards. He was the only Power Five player over 6-foot-3 to do so.
Dallas Turner might become Alabama's next big time EDGE. After logging 14 sacks over the last two years, some are certainly treating him as a first-round lock. That said, I would like to see him become more consistent and productive. His havoc (6.2%), sack (1.6%), and stop rates (3.4%) were all average or worse compared to others at his position last year. I don't think anyone will question his motor, drive or ability to bring people down. After all, his freshman highlights were riddled with rundowns, second- and third-effort plays, and palpable energy. Though I remain optimistic he can eventually put it all together, he's allowed others to pass him up in the Impact Rankings due to iffy efficiency.
Sam Hartman was one of the top gets out of the portal this season. At the very least, he should provide much more, verticality, to Notre Dame's passing offense. Last year, his 12.8 average depth of target was the nation's third-highest. Almost 22% of his passes traveled beyond 20 yards downfield, good for the 12th, with the third-most attempts (93) and completions (41). About 42% of his touchdowns came on deep balls. Playing one/one outside the numbers is a major part of his game that requires at least moderate success winning against tight windows, which he has accomplished.
To date, Hartman has been savvy delivering downfield passes in a catchable manner — for both his receivers and coverage-men. I charted Hartman to have a double-digit interceptable pass rate against his 10 hardest foes over the last two years (five each year). Let's just say, that is well into the danger zone and unacceptable. One way or another, he'll be impactful.
A couple of sophomore tackles are shooting up the Impact Rankings for developing ahead of schedule. Both Texas' Kelvin Banks Jr and LSU's Will Campbell were thrown into the fire as freshmen, but they more than held their own. Funny enough, both logged almost identical efficiencies, so it really is hard to separate them at this point. Both placed inside the top 35 in pass block efficiency with only one combined pressure allowed between them over their last 4 games.
Though there is a bit of a drop-off among the top WRs, don't kid yourself. There are still plenty of dangerous pass catchers out there. From the SEC, Malik Nabers and Antwane Wells Jr definitely come to mind as a pair to monitor this fall. Nabers is coming off a season where he led the SEC in catching success rate (65.4%). He also was the conference's most productive receiver from Week 10 on and returns a fairly consistent distributor in Jayden Daniels. Assuming LSU's staff's wishes of optimizing yards after the catch further this fall, Nabers' could put up some nice numbers. Wells' profile at the next level is a little in question, but he too is prolific to ignore. And if Spencer Rattler's late-season verticality carries over, Wells is bound to be a popular all-conference pick.
Tory Horton might be the best player no one knows about in college football. Colorado State football has seen brighter days, but it has an absolute star in Horton. Again, I think he's a tier below the main group. But he's a stat stuffer and a dark horse to be the Group-of-5's best player.
41. Cooper DeJean, CB, Iowa
42. Oronde Gadsden, TE, Syracuse
43. Kingsley Suamataia, OT, BYU
44. Tommy Eichenberg, LB, Ohio State
45. Donovan Ezeiruaku, EDGE, Boston College
46. Kris Jenkins, INT, Michigan
47. Dallas Turner, EDGE, Alabama
48. Zak Zinter, OG, Michigan
49. Owen Porter, EDGE, Marshall
50. Calen Bullock, S, USC
51. Kelvin Banks Jr., OT, Texas
52. Sam Hartman, QB, Notre Dame
53. Malik Nabers, WR, LSU
54. Antwane Wells Jr., WR, South Carolina
55. Barrett Carter, LB, Clemson
56. Jarquez Hunter, RB, Auburn
57. Will Campbell, OT, LSU
58. Mykel Williams, EDGE, Georgia
59. Chico Bennett Jr., EDGE, Virginia
60. Justin Dedich, OC, USC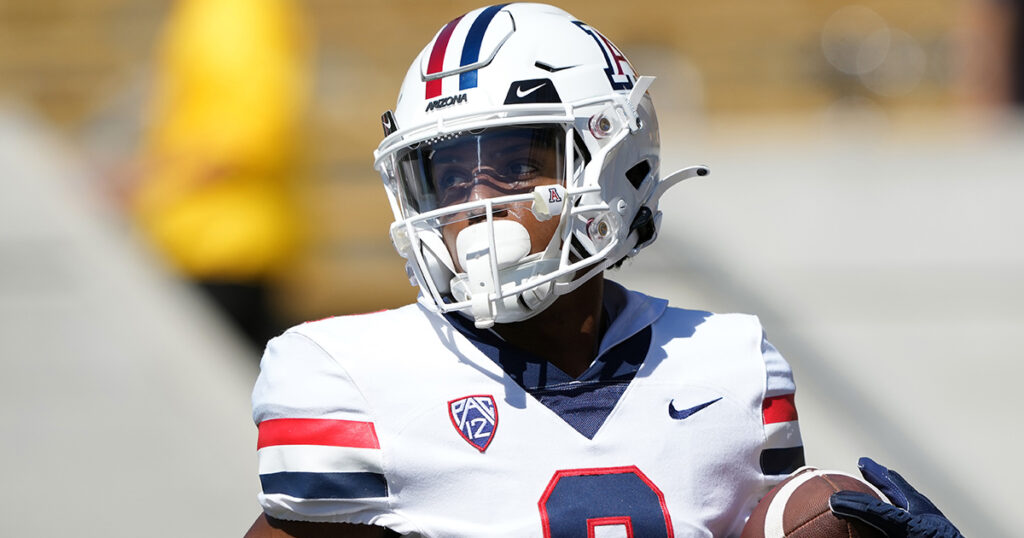 Top 100 Players in College Football 61-80
Charles Power
I view several players in the 61-80 range to have high ceilings. I think you have to start with the quarterbacks. JJ McCarthy showed some real flashes as a playmaker in leading Michigan to the College Football Playoff last fall. He's not always asked to do a ton with the Wolverines' preference to grind things out on the ground, but I think we could see McCarthy take a jump as a junior if he improves his overall consistency. The talent to make big plays as a passer and runner is there. It's a massive year for Quinn Ewers and Steve Sarkisian at Texas. Ewers tailed off in the middle of last season, his first as a college starter. With a revamped receiver room and a full off-season in the program, it's put up or shut up time in Austin.
There's no doubt TreVeyon Henderson has the talent to be the top running back in college football. The Ohio State back has a bunch of juice as a rusher and receiver out of the back field. He just needs to show he can stay healthy for extended periods. I think Donovan Edwards is also one of the more underrated talents at the position in college football. Edwards shares the backfield with Blake Corum, but we saw what he could do with feature back touches once Corum was injured late in 2022. I view Edwards as a higher end talent and his versatility really projects well to the NFL, in my opinion. I'm also interested to see how the scheme change at Wisconsin affects Braelon Allen. The Badgers are going with a completely different style offense with Luke Fickell bringing in Phil Longo to run an uptempo attack.
61. Jacob Cowing, WR, Arizona
62. Tory Horton, WR, Colorado State
63. Tyler Nubin, S, Minnesota
64. Ashton Gillotte, INT, Louisville
65. Fentrell Cypress, CB, Florida State
66. Josh Newton, CB, TCU
67. Marcellas Dial, CB, South Carolina
68. Troy Fautanu, OT, Washington
69. Grayson Murphy, EDGE, UCLA
70. J.J. McCarthy, QB, Michigan
71. Miyan Williams, RB, Ohio State
72. TreVeyon Henderson, RB, Ohio State
73. Braelon Allen, RB, Wisconsin
74. Amarius Mims, OT, Georgia
75. Quinn Ewers, QB, Texas
76. Mike Hall, INT, Ohio State
77. Jamon Dumas-Johnson, LB, Georgia
78. Trey Benson, RB, Florida State
79. Donovan Edwards, RB, Michigan
80. Tate Ratledge, OG, Georgia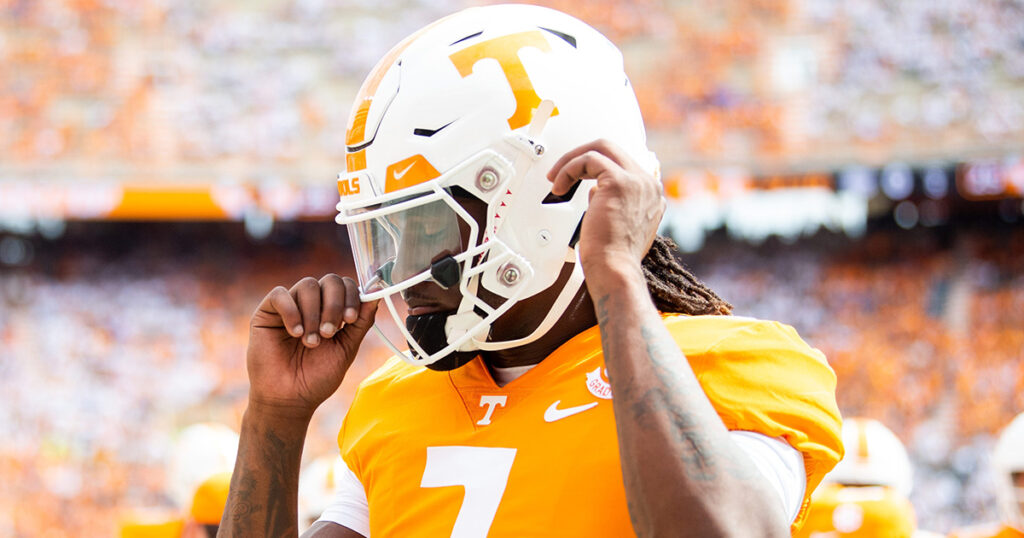 Top 100 Players in College Football 81-100
Clark Brooks
Joe Milton here will draw a lot of hate. And even though it does me no pleasure to extend the benefit of the doubt to Rocky Top, Tennessee's Trebuchet is more than capable of keeping the Vols relevant. His arm strength pops off the screen. In the past, he has had issues controlling his throws and serving up catchable passes consistently. But it appears strides have been made there. Some are still hesitant to say he's turned the corner and put his past inaccuracies behind him, and I agree, his mechanics still have kinks that need ironing out. But if last year's Orange Bowl was any indication, even a few biffs shouldn't derail Heupel's "Veer and Shoot" offense from capitalizing on Milton's mighty arm.
Both Malik Benson and AD Mitchell are playing for new teams this fall, and both are poised to threatening weapons for their respective offenses. The top JUCO prospect has earned nothing but rave reviews since trotting into Tuscaloosa. And this spring, it has become apparent Benson will be the Tide's WR1. Considering the questionable nature of Alabama's receiver room after last year's disappointment, I think it's pretty remarkable how Benson has established himself within the program. Mitchell has struggled with injuries and consistency, but he's a big play waiting to happen. Let's remember, he scored a TD in each of Georgia's last 4 playoff games. Paired opposite Xavier Worthy — one of the true burners in the class — with a strong-armed Quinn Ewers, I love his upside this fall.
Barion Brown and Dont'e Thornton are a couple sophomore receivers expected to do big things in 2023. And by do big things, I mean make big plays. Brown was a Freshman-All American behind his blazing open-field speed and was often utilized via outlet screens and returns. Assuming he fixes his drop problem (9 – 14.5%), he could be the headliner of one of the more sneaky-good receiver corps in the nation. Like Brown, Thornton might be a tad high based on his resume. Even so, he looks to be one of the nation's best deep threats. Oregon wasn't the most vertical offense last year, yet he flashed downfield with his length and fluidity tracking balls. Now, he'll get much more practice honing in on this skill playing in a scheme with a QB that enjoys testing secondaries.
Dwight McGlotern is a favorite of mine. He isn't as heralded as other SECers, but the guy is super consistent and dependable. In all of college football, only three other cornerbacks logged more snaps than him last year, but he only gave up one TD. All the while, he finished well above par in yards per target allowed, yards per coverage snap allowed, catch rate allowed and ballhawk rate. Speaking of, over the last two years, he has 22 defended passes.
Jonah Monheim is a somewhat divisive tackle prospect. And I'll tell you, I don't like him as much as other places seem to. For what it's worth, he finished with the 10th-best PFF offense grade among tackles last year. That said, he was almost moved to guard this off-season — a tell-tale sign something with his current game is lacking. While I don't think arm length is as big a deal as Charles when it comes to evaluating tackles, he did allow north of 20 pressures last year. And that cannot fly for a top-tier tackle prospect. Despite that, he was fortunate enough not to log a single sack (thank you, Mr. Heisman).
Devin Leary is another player who will generate split opinions. Honestly, it's probably a little bold to say he and Milton are the SEC's QB1 and QB2 at this point. Many expect to see KJ Jefferson, Jayden Daniels, or even Spencer Rattler inside the top 100 — not an NC State transfer coming off an injury and rocky season. Leary might be a little battered and a little slight, but he is undeniably accurate. That matters a whole lot.
And while he is much more diminutive than his predecessor — which naturally can result in his vision getting obstructed and undesirable results — Leary can still drive the ball downfield adequately. I caught a few passes in his sample top 50 yards past the line of scrimmage. That'll do just fine. Liam Coen should have plenty to work with to get the 'Cats offense back on track. And if that happens, Leary's name could sneak into being a Thursday or Friday draft pick.
81. Joe Milton, QB, Tennessee
82. Jordan Morgan, OT, Arizona
83. Micah Abraham, CB, Marshall
84. Rod Moore, S, Michigan
85. Malik Benson, WR, Alabama
86. AD Mitchell, WR, Texas
87. Taliese Fuaga, OT, Oregon State
88. T.J. Jackson, EDGE, Troy
89. Akheem Mesidor, EDGE, Miami
90. Barion Brown, WR, Kentucky
91. Dwight McGlothern, CB, Arkansas
92. Jonah Monheim, OT, USC
93. Chris Braswell, EDGE, Alabama
94. Tyreek Chappell, CB, Texas A&M
95. Dont'e Thornton, WR, Tennessee
96. Devin Leary, QB, Kentucky
97. Dorian Singer, WR, USC
98. Chau Smith-Wade, CB, Washington State
99. Javon Bullard, S, Georgia
100. Curtis Jacobs, LB, Penn State