Where Notre Dame Fighting Irish rank in On3's top 100 college football players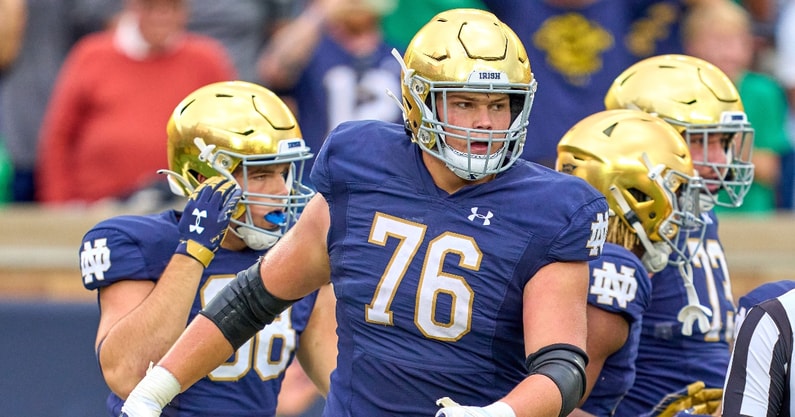 Notre Dame no longer has Michael Mayer to fall back on in national rankings of the best players in college football. But the Fighting Irish still have one of the very best individuals in the country in junior offensive tackle Joe Alt.
According to On3's ranking of the top 100 players in college football in 2023, Alt is No. 8 overall. He checked in as the No. 2 offensive lineman behind Penn State's Olu Fashanu despite having the best Pro Football Focus grade (91.4) of any offensive lineman in the FBS in 2022. Fashanu was tied for No. 117 among only tackles with his grade of 71.0.
Notre Dame had two other players make the rankings. Sophomore cornerback Benjamin Morrison came in at No. 30. He was the No. 3 corner behind Alabama's Kool-Aid McKinstry (No. 9 overall) and Penn State's Kalen King (No. 10). Graduate student quarterback Sam Hartman came in at No. 52. He was the No. 6 QB behind USC's Caleb Williams (No. 1), North Carolina's Drake Maye (No. 2), Washington's Michael Penix Jr. (No. 11), Oregon's Bo Nix (No. 13) and Florida State's Jordan Travis (No. 36).
Notre Dame was one of 12 schools to have three or more players make the cut. Michigan, Ohio State and Georgia led the way with seven. Penn State had six. Florida, Alabama and USC had five. Washington and Texas had 4. LSU and Miami joined Notre Dame with three.
Here's a look at the entire top 100.
On3's top 100 players in college football in 2023
1. Caleb Williams, QB, USC
2. Drake Maye, QB, North Carolina
3. Marvin Harrison Jr., WR, Ohio State
4. Brock Bowers, TE, Georgia
5. Jared Verse, EDGE, Florida State
6. Harold Perkins, LB, LSU
7. Olu Fashanu, OT, Penn State
8. Joe Alt, OT, Notre Dame
9. Kool-Aid McKinstry, CB, Alabama
10. Kalen King, CB, Penn State
11. Michael Penix Jr., QB, Washington
12. Graham Barton, OT, Duke
13. Bo Nix, QB, Oregon
14. Blake Corum, RB, Michigan
15. Quinshon Judkins, RB, Ole Miss
16. Abdul Carter, LB, Penn State
17. Jer'Zhan Newton, INT, Illinois
18. DeWayne Carter, INT, Duke
19. Laiatu Latu, EDGE, UCLA
20. Bralen Trice, EDGE, Washington
21. Xavier Worthy, WR, Texas
22. Emeka Egbuka, WR, Ohio State
23. Malaki Starks, S, Georgia
24. Jeremiah Trotter Jr., LB, Clemson
25. Chop Robinson, EDGE, Penn State
26. J.T. Tuimoloau, EDGE, Ohio State
27. Brant Kuithe, TE, Utah
28. JC Latham, OT, Alabama
29. Kamren Kinchens, S, Miami
30. Benjamin Morrison, CB, Notre Dame
31. Travis Hunter, CB, Colorado
32. Cooper Beebe, OG, Kansas State
33. Nick Singleton, RB, Penn State
34. Rome Odunze, WR, Washington
35. Will Johnson, CB, Michigan
36. Jordan Travis, QB, Florida State
37. Leonard Taylor, INT, Miami
38. Raheim Sanders, RB, Arkansas
39. Johnny Wilson, WR, Florida State
40. Aydan White, CB, NC State
41. Cooper DeJean, CB, Iowa
42. Oronde Gadsden II, TE, Syracuse
43. Kingsley Suamataia, OT, BYU
44. Tommy Eichenberg, LB, Ohio State
45. Donovan Ezeiruaku, EDGE, Boston College
46. Kris Jenkins, INT, Michigan
47. Dallas Turner, EDGE, Alabama
48. Zak Zinter, OG, Michigan
49. Owen Porter, EDGE, Marshall
50. Calen Bullock, S, USC
51. Kelvin Banks Jr., OT, Texas
52. Sam Hartman, QB, Notre Dame
53. Malik Nabers, WR, LSU
54. Antwane Wells Jr., WR, South Carolina
55. Barrett Carter, LB, Clemson
56. Jarquez Hunter, RB, Auburn
57. Will Campbell, OT, LSU
58. Mykel Williams, EDGE, Georgia
59. Chico Bennett Jr., EDGE, Virginia
60. Justin Dedich, OC, USC
61. Jacob Cowing, WR, Arizona
62. Tory Horton, WR, Colorado State
63. Tyler Nubin, S, Minnesota
64. Ashton Gillotte, INT, Louisville
65. Fentrell Cypress, CB, Florida State
66. Josh Newton, CB, TCU
67. Marcellas Dial, CB, South Carolina
68. Troy Fautanu, OT, Washington
69. Grayson Murphy, EDGE, UCLA
70. J.J. McCarthy, QB, Michigan
71. Miyan Williams, RB, Ohio State
72. TreVeyon Henderson, RB, Ohio State
73. Braelon Allen, RB, Wisconsin
74. Amarius Mims, OT, Georgia
75. Quinn Ewers, QB, Texas
76. Mike Hall, INT, Ohio State
77. Jamon Dumas-Johnson, LB, Georgia
78. Trey Benson, RB, Florida State
79. Donovan Edwards, RB, Michigan
80. Tate Ratledge, OG, Georgia
81. Joe Milton, QB, Tennessee
82. Jordan Morgan, OT, Arizona
83. Micah Abraham, CB, Marshall
84. Rod Moore, S, Michigan
85. Malik Benson, WR, Alabama
86. AD Mitchell, WR, Texas
87. Taliese Fuaga, OT, Oregon State
88. T.J. Jackson, EDGE, Troy
89. Akheem Mesidor, EDGE, Miami
90. Barion Brown, WR, Kentucky
91. Dwight McGlothern, CB, Arkansas
92. Jonah Monheim, OT, USC
93. Chris Braswell, EDGE, Alabama
94. Tyreek Chappell, CB, Texas A&M
95. Dont'e Thornton, WR, Tennessee
96. Devin Leary, QB, Kentucky
97. Dorian Singer, WR, USC
98. Chau Smith-Wade, CB, Washington State
99. Javon Bullard, S, Georgia
100. Curtis Jacobs, LB, Penn State