On3's top 20 most ambitious NIL collectives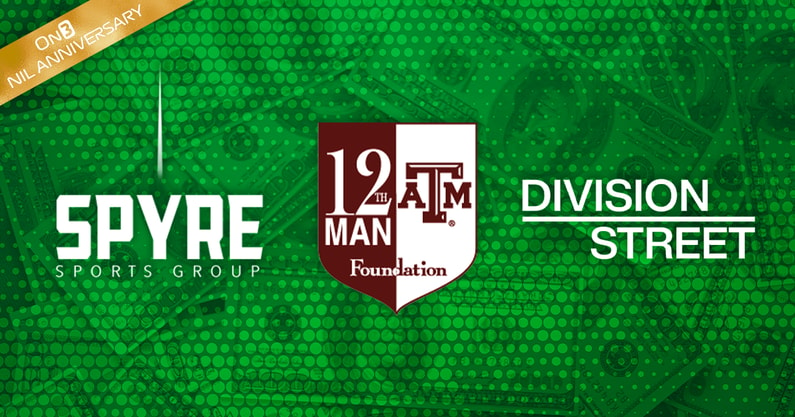 Collectives have become the leading source of compensation in the first two years of NIL.
Donors and stakeholders thought they had collectives figured out last summer, too. Pooling together funds from a wide swath of donors to compete in recruiting, all while creating NIL opportunities. Then Texas A&M announced plans for The 12th Man+ Fund in February. The fundraising arm of the institution has begun to accept donations for boosters, which will be funneled back to athletes. College athletics is paying attention to how the next few months bode for the initiative.
As Walker Jones, who has become one of the leading voices in the NIL collective space, tells it: "Listen, not all collectives are created equal." The executive director of The Grove Collective at Ole Miss runs the day-to-day operations. The collective has executed deals with at least one athlete in every varsity sport.
That's the world these organizations live in. Some only have to worry about the revenue sports — basketball and football. Others have to service every varsity sport. All while combatting donor fatigue in the ever-changing world of NIL. Just this week, the NCAA issued new NIL guidance. The result? A collective groan from multiple leaders in the space.
On3 is analyzing the most pressing issues nationally with an eye on Year 3 of college athletics' modern athlete compensation model. Here are On3's rankings of the top 20 most ambitious NIL collectives through two years. There are new names since the list released last August. These all play a unique role in helping to shape this category in real-time. All are impactful.
1. Spyre Sports Group (Tennessee)
Last spring, Spyre Sports Group caught the nation's attention when word leaked of a five-star quarterback signing a contract that would pay up to $8 million deal by their junior year. Turns out it was Nico Iamaleava signing with Spyre, as The Athletic has since reported. That was college football's introduction to the sports marketing agency. Since then, however, Tennessee's NIL operation has become the leading collective in the country. 
This fall, Tennessee football finished 11-2. The Vols knocked off Alabama for the first time since 2007. Led by co-founders Hunter Baddour and James Clawson, former sports marketing professionals, Spyre was ready to pounce. 
The for-profit arm, The Volunteer Club, has grown to 2,769 members with an expansive e-commerce business. According to Baddour, Spyre has executed 1,400 deals since July 2021. They currently have 90 athletes on active contracts. Spyre told On3 in February the Volunteer Club had procured $13.5 million in NIL deals. 
2. 12th Man+ Fund (Texas A&M)
Texas A&M has not been able to stay outside of the NIL spotlight since July 2021. The Aggies pieced together the best-ever recruiting class in 2022, with many pointing to NIL being the driving force. Then Alabama head coach Nick Saban called out Texas A&M and Jimbo Fisher for buying every player in that class. 
The Aggies' collective – "The Fund" – was thought by many to have some of the deepest pockets. Investors in The Fund told The Athletic last April they didn't understand why boosters in other collectives feel the need to advertise their groups.
That narrative has been put on its head in the last few months. The 12th Man+ Fund was launched publicly in February as an extension of the 12th Man Foundation, a 501(c)(3) that has been around since the 1980s and led funding initiatives for scholarships, programs and facilities in College Station. The IRS' recent memo on nonprofit collectives does target this structure, yet it does not set a precedent. The expectation is the collective will begin announcing deals July 1.
"Everyone is watching and taking notes," an SEC leader said. 
The new collective model has grabbed the attention of college athletics. Despite the NCAA releasing guidance this week, a new state law goes into effect Saturday. The quasi-collective will be able to work with the athletic department to hand out priority points, while having a safe harbor from the NCAA due to protections in the law. Many have dubbed The 12th Man+ Fund as the future. Others have called it illegal. Either way, Texas A&M won't be scraping by for dollars anytime soon. And that makes whatever collective run out of College Station a threat. 
"A&M has to be one of the top collectives because of their sheer buying power," another collective operator said. "Not a lot of creativity. But they have unlimited cash. If it comes down to who has the deepest pockets, they're winning."
3. Division St. (Oregon)
Division Street was one of the first NIL collectives to launch in September 2021. Since then, it has become one of the most highly-regarded organizations in the space. Some of the brightest sports marketing minds have played an integral role in the day-to-day operations of the Oregon-driven collective. 
The role of Nike and Phil Knight cannot be understated, though. The swoosh has always driven athletes to Eugene. But the NIL era has been able to marry the two brands – Nike and Oregon – together like never before. Division Street is littered with former Nike leaders, including former VP of Nike Women Rosemary St. Clair, who is the collective's CEO. 
Division Street has not been forced to plead with donors to subscribe to a monthly program. Instead, it has its own apparel line, Ducks of a Feather. All merchandise is created by Nike, with profits going back to Oregon athletes.
"They do what they need to do," a collective leader in the Pac-12 said. "They don't need to build a social media brand around it. They don't need to be as public facing as a lot of us feel like we need to. They just don't have any of those needs. They just get to operate in the shadows and take their kids to Nike. It's almost like they're in a different category."
Oregon has figured out how to best use Division Street, too. Knight's name was trending on Twitter by noon ET of December's National Signing Day. And as one agent pointed out, "No head coach in the country is more aggressive about NIL than Dan Lanning."
4. Texas One Fund (Texas)
Roughly six months ago, five separate NIL entities focused on Longhorn athletics came together to form the Texas One Fund. After jousting for funding, all efforts were consolidated under one umbrella.
In an NIL space where it's common for collectives to contend with one another for control of a college market, Texas got its act together. It's paid off. The Longhorn-driven collective has Patrick "Wheels" Smith running day-to-day operations. Football coach Steve Sarkisian and men's basketball coach Rodney Terry recently held a meet-and-greet with fans, with a $1,000 entry fee for a couple. 
Similar to Texas A&M, they have embraced the new state law. The Texas athletic department announced earlier this month that current members of the Longhorn Foundation will earn loyalty points for any donations to the NIL collective starting July 1. With donor fatigue remaining an ever-present issue for collectives, this will give boosters a tangible return on investment. 
If there's any questions remaining about viability, look at the collectives that came together to form the Texas One Fund. Clark Field Collective announced an initial commitment of $10 million at its launch. Horns with Heart generated headlines with its plan to pay each offensive lineman $50,000 a year. Everyone is in unison in Austin, including the donors. 
"It goes without saying, Texas has made some really strategic moves recently that have put them in a really good spot," an SEC operator said.
5. John Ruiz/Canes Connection (Miami)
John Ruiz has now made appearances on three sets of collective rankings released by On3. But the Miami businessman has seen his role in the world of NIL shift dramatically change in recent months.
The CEO of LifeWallet and Cigarette Racing made a name for himself as one of the biggest spenders in the space. He distributed more than $10 million in NIL deals in the first year of college athletics' new era. While the brunt of those partnerships have come with athletes who attend Miami, not all of the athletes are Hurricanes.
He grabbed headlines shortly after former Kansas State guard Nijel Pack committed to Miami in April 2022, announcing that LifeWallet had signed the guard to a two-year deal worth $800,000 along with a car. He signed three other basketball players: Isaiah Wong, Jordan Miller and Norchad Omier. The Hurricanes made the Final Four back in March, delivering a return on investment for Ruiz. He has been adamant, however, that LifeWallet's return on investment in NIL is not tied to the University of Miami's success.
He also signed endorsement deals with the Cavinder Twins, the NIL stars who transferred to Miami last offseason. The NCAA placed Miami on probation this spring regarding an impermissible benefit during their recruitment. The NCAA said the Cavinders had an impermissible meal with Ruiz, who it classified as a Miami booster. The governing body did not disassociate him from the institution, which would prevent him from receiving special in-venue seating, booster memberships and interactions with coaches.
Ruiz told On3 he planned to sue the NCAA this spring. He has yet to file the paperwork. All of this comes as his healthcare company missed its 2022 fourth quarte and fiscal year earnings, according to the Action Network's Darren Rovell.
Canes Connection has become a prominent collective in the space in the past few months, taking care of many NIL deals with the football team. When rumors circulated Tyler Van Dyke might transfer to Alabama, it was Canes Connection who signed an NIL deal with the star quarterback
"Nobody really knows what's going on in Miami," a source in the space told On3. "You don't know what to expect there. You obviously know John's body of work."
6. The Battle's End (Florida State)
When Ingram Smith launched The Battle's End in December, he made one promise to Florida State fans. And a warning to the rest of the country. "I'm not going to tell you that I'm John Ruiz and I have unlimited money," he said. "But I will tell you that we can be as competitive as we want to be in this space."
The Seminoles-driven collective has not disappointed, especially after Florida and Miami dominated headlines in the first 18 months of NIL. A day after its launch, Jordan Travis was under contract. Making sure the quarterback is back for another season has the Seminoles in the mix for a College Football Playoff berth this fall. 
Florida State was active in the transfer portal this offseason, too, landing major names like wide receiver Keon Coleman and cornerback Fentrell Cypress. The Battle's End has been innovative in motivating boosters. The collective sent Travis and Trey Benson to the Super Bowl, flying on a donor's private plane to Arizona for the game. And in March, a trio of linemen attended the John R. Lewis Legacy Gala in Atlanta.
Smith told On3 in March the collective is fully financed for this year and next. As of June 22, The Battle's End has more than 60 football players and golfers under contract.
"Florida State has been aggressive, they've come on really strong," a source in the industry said. 
Added another: "They're very sharp."
7. House of Victory (USC)
Less than three months since its launch, the USC-focused collective has quickly moved up the NIL ladder. The collective is nearing 50 athlete contracts across seven sports, with the intention to hit 100 deals by the end of 2023. Alumni-led and board-operated, the collective has a flavor of BLVD LLC, which was launched back in Aug. 2022 as the official NIL entity at USC. 
The collective also has a sponsorship agreement with Playfly Sports, USC's multimedia rights holder, which makes it an institutional sponsor. It also opened the opportunity for sponsoring opportunities. In early May, the USC basketball-focused 3400 Club merged with House of Victory – a sign of where things are headed in the NIL market. 
Led by USC's former Director of Player Personnel Spencer Harris, the organization has proven to be one of the most innovative in generating revenue dollars. Its QB U event earlier this month featured support from stars, including Carson Palmer and Mark Sanchez. The collective charged $20,000 per table and $2,500 for an individual. More events are in the works. 
"To compete in today's college athletics, it takes a major commitment from USC alumni and a strong NIL program to support the current players," Harris recently told On3. 
8. OneArkansas NIL (Arkansas)
While Texas A&M has grabbed headlines for its forward-thinking, landscape-changing collective model, Arkansas has quietly been running a similar structure for months. ONEArkansas NIL launched in August 2022, led by Marvin Caston, a former Razorback football player and senior director of development at the Razorback Foundation. 
There are other connections between OneArkansas NIL and the nonprofit Razorback Foundation Inc., the private fundraising arm that raises millions of dollars in support of the University of Arkansas athletics department. According to the Arkansas Secretary of State's office, Razorback Foundation executive director and general counsel Scott Varady is the collective's manager and registered agent. 
A registered nonprofit organization, the collective has been active in its football dealings. Quarterback KJ Jefferson and running back Raheim Sanders signed in early January, a key sign of roster retention after rumors surfaced of Jefferson leaving for the NFL draft or transfer portal. 
OneArkansas signed every incoming transfer and early enrollee in January, assistant director Sydney McGlone told On3. As part of the agreements with each athlete, they promoted the United Way of Northern Arkansas for Arkansas 211 Day. 
9. The Grove Collective (Ole Miss)
When Walker Jones took over as executive director of The Grove Collective in September, he had some heavy lifting to do. Ole Miss was playing catch up in NIL, a position no collective wants to be in. By late November, the collective topped the $10 million mark in fundraising. It remains one of the top reported totals in the NIL collective market. While Jones hammered home the importance of donors contributing to The Grove, he made sure the collective was locating revenue outside of the fan base. 
He told On3 last week that the collective has done more than 50 deals with national and local brands. That includes a Wheels Up partnership, which has provided athletes with access to travel opportunities in exchange for community work. Another recently announced partnership will bring the Hyperluxe platform, an eSports tournament platform, to the collective. 
In total, the collective has contracts with 165 athletes with at least one player from each varsity sport. The amount of capital raised by The Grove this fall also played a role in Lane Kiffin staying in Oxford. 
"Their school has really gotten behind Walker and his team," a source said. "They run a buttoned up operation. When their name comes up, you know you're going up against a legit collective. They're organized. They know what they have to work with, and they're smart about it."
10. Country Roads Trust (West Virginia)
Bob Huggins resigned as West Virginia basketball's head coach on June 17. But even with the legendary figure in exiting, there's optimism in Morgantown because of NIL. Country Roads Trust executive director Stephen Ford told On3 the collective has executed 620 total deals, with 420 going to male athletes and 188 serving female athletes. 
Make no mistake, however, basketball has been a driving force behind Country Roads Trust's success. The collective launched a "Million Dollar May" campaign, bringing in $730,000.
The Mountaineers picked up Syracuse center Jesse Edwards and Arizona point guard Kerr Kriisa in the transfer portal this spring. Since Huggins left earlier this month, Tre Mitchell has transferred to Kentucky. Krissa entered the portal and pulled out just two days later. 
There's optimism West Virginia can sway back ​​Joe Toussaint, who entered the portal last Friday. Despite who leaves because of Huggins' actions, West Virginia has emerged as a power player on the NIL side of college basketball. 
"We all sat down after the season and said, 'We need to figure this out. We need to do it now,'" Ford said. "We set a goal. We said, 'Hey, what did we do last year?' We really kind of did it Moneyball style. 
"And we just said, 'We need to do five to six times what we raised last year for men's basketball.' We reached into our rolodex, and we were able to put that all together in 72 hours."
11. Matador Club (Texas Tech)
What was once an anomaly in the NIL space, Texas Tech's Matador Club collective has made its calling card. The organization grabbed college football's attention last July when it signed 100 Red Raider football players to one-year contracts worth $25,000. It's only been a start, though. 
Executive director Cody Campbell told On3 the women's basketball team also received $25,000 this past season. The collective extended $10,000 contracts to the baseball and softball programs, too. Campbell is also the co-Founder and co-CEO of Double Eagle Energy Holdings.
The Matador Club will sign contracts with 120 football players next month, valued at $25K again. The collective will be operating with an $8 million budget this coming academic year. It's obviously caught the attention of recruits, as Texas Tech currently ranks No. 21 in the 2024 Industry Ranking Football Team Recruiting Rankings. 
The Texas Tech athletic department has been impressed, too. Director of Athletics Kirby Hocutt announced plans to promote and assist money-generating efforts for the Matador Club earlier this month. 
"We're not inducing recruits," Campbell said. "We want a kid who wants to be in Lubbock. We'll develop them and then retain them. And we'll keep our word."
12. On To Victory (Auburn)
On To Victory has not struggled to fundraise since its launch less than a year ago. Sources confirmed to On3's Auburn Live in September the collective raised more than $10 million in the first month of its 30 in 3 campaign. A registered LLC, On To Victory states 90% of proceeds are going directly to Auburn athletes.
A source close to the situation told On3 the number has ballooned to $20 million. Executive director Brett Whiteside said the collective has facilitated 250 deals across 13 sports since July 2022. When Ole Miss head coach Lane Kiffin was tied to the Auburn job, a robust NIL infrastructure was part of the pitch. 
The Tigers ultimately got their guy in Hugh Freeze. The collective has been active with all sports on campus, signing the entire men's and women's basketball rosters, along with the volleyball team. 
"I think a strong NIL collective is now a vital part of college athletics," Whiteside previously told On3. "We're confident On To Victory will have the resources to support Auburn student-athletes at an unprecedented level. It's a great job. Auburn is one of the few schools in the nation that has all the tools needed to win a championship in all of our sports, including football."
13. Valiant/Champions Circle (Michigan)
When Jared Wangler announced the formation of the Champions Circle collective last summer, he had already been operating Valiant Management since the jump of the NIL era. Valiant has become the go-to sports marketing firm for Michigan athletes, facilitating a deal with Alo Yoga and quarterback J.J. McCarthy, for example. 
The organization has a successful partnership with The M Den store in Ann Arbor, organizing a number of meet and greets and revenue sharing initiatives. A Valiant representative told The Wolverine in December it had surpassed $4 million in deals for Michigan student-athletes.
Champions Circle has become an extension of Wangler's initial operation. The collective formally launched in April, with a website and endorsement from Michigan head coach Jim Harbaugh. With heavy alumni support, fans can join the collective with subscription packages ranging from $10 to $500 monthly. Each tier comes with an annual option, too, with different perks included.
When Harbaugh began traveling this month to promote the "M Power" program, an initiative to provide the foundation of an athlete's brand for life, Wangler and Champions Circle was part of the presentation. 
14. Classic City (Georgia)
A registered LLC, the Classic City Collective does allow for Georgia boosters to donate. Run by CEO Matt Hibbs, the collective has prioritized finding outside revenue sources. A former football compliance officer at Georgia, Hibbs has helped secure corporate partnerships with Truist Bank, Apotheos coffee roastery and The Players Lounge. 
In the last week, the collective has become the first to launch software that offers short-form videos that provide original content while overlaying advertisements from companies. It could be a significant revenue stream for athletes who promote companies. 
Classic City has had to adjust on the fly like many in the space, but they've been able to do it at a high level.
"They've won back-to-back national championships, they don't have to be the richest," an SEC East competitor said. "They're on it; they're ethical."
15. Montlake Futures (Washington)
Montlake Futures joined the NIL landscape in Feb. 2022. The collective helps 501(c)(3) organizations work with University of Washington student-athletes to "promote, fundraise and support their missions." The collective pairs athletes with non-profits and each pairing features hours, promotions and NIL rights that the non-profit can apply at its discretion.
In recent months, Montlake has gained notoriety in the space. They were one of the collectives to make the trip to Washington, D.C., earlier this month to lobby lawmakers. Multiple sources have told On3 the collective has been successful working with donors and head football coach Kalen DeBoer, especially coming off an 11-2 season. 
"There's a ton of money up there, and they're never going to waste it," a Pac-12 collective operator said of Montlake. "I think it could impact recruiting in the long run."
16. Garnet Trust (South Carolina)
Garnet Trust was one of the first-ever NIL collectives to launch. But in the last year, the organization has evolved drastically. The South Carolina-driven collective has raised a substantial amount of dollars in the last year. It has signed more than 160 athletes over the last calendar year. Of that number, 35% have been female athletes. 
South Carolina's women's basketball players had the opportunity to earn an average of at least $25,000 through the collective Garnet Trust. The collective has done a solid job of retaining football talent, too. Quarterback Spencer Rattler made the decision to return, in part because of the NIL opportunities Garnet Trust can provide. 
Initially launched as an LLC, the collective announced plans for a philanthropic wing in October. 
17. Crimson and Cream (Oklahoma)
Since Crimson and Cream joined the Oklahoma market in September, the Sooners have been on the right trajectory. At the time of its launch, Strengthening Oklahoma merged with Crimson & Cream. 
Student-Athlete NIL runs the day-to-day operations of the collective. SANIL's founder Jason Belzar shared with On3 the collective now has more than 1,800 members. Over 300 athletes have signed deals with the collective, including more than 90 female athletes. On top of that, 130 athletes are on retainer, including football and men's basketball players. 
Crimson & Cream's initial fundraising campaign resulted in $1.6 million in annual donations. By January, the collective signed or offered an NIL deal to the entire 115-member Sooner football roster. Oklahoma is really just getting started, though. A new state law prohibits the NCAA from coming down on institutions involving protected NIL activities. Athletic departments are now legally allowed to throw their power behind preferred collectives, too.
The Oklahoma athletic department is expected to fully endorse the collective. Crimson and Cream uses the school's colors through a partnership with Learfield. Now coaches like Brent Venables and Porter Moser can openly discuss which collectives fans should donate to. According to a source, the Sooners are also on track to launch an entity similar to The 12th Man+ Fund. 
18. Mass St. (Kansas)
Mass St. Collective joined the NIL landscape with a splash. When the for-profit entity launched last July, the organization said it  received a $1.5 million gift from Ripple CEO and Kansas alum Brad Garlinghouse.
The Kansas-focused collective has found success from there. While Reaching Champions Joining Hearts (RCJH) is the non-profit arm accepting tax-deductible donations, Mass St. has facilitated deals for KU athletes with adidas, local Wendy's franchises and MiniJerzeys. 
Michigan transfer Hunter Dickinson picked Kansas this spring, with NIL earnings being a reason he left Ann Arbor. He recently told ESPN that must schools, "were pretty open with it, like, 'This is what you could get if you came here.'"
"Basketball will always be Kansas' bread and butter," a Big 12 collective operator told On3. 
19. The 1890 Initiative (Nebraska) 
Dollars are not hard to come by at Nebraska with The 1890 Initiative. Former Husker great Matt Davison partnered with Nebraska businessman Tom Peed and Shawn Peed to form The 1890 Initiative. As part of the launch in October, the group took over Athlete Branding & Marketing. 
Since the announcement, the collective has worked with a number of football and volleyball athletes. Matt Rhule held a camp earlier this month in the Dallas. The 1890 Initiative held a fundraising event that night for Nebraska boosters in the area. They also have hosted booster events in Phoenix and Denver.
Yet, athletic director Trev Alberts has not come out in support of the collective on NU's official channels. The 1890 collective has made a public push, however, to get in front of fans. They have done TV commercials, radio ad and bill boards around the state. According to a source at Nebraska, more than 85 football players have signed with the collective.
Whenever industry sources talk about the NIL landscape in the Big Ten, Nebraska is one of the first collectives brought up. Five-Star Plus+ quarterback Dylan Raiola committed to Georgia last month. A Nebraska legacy, his father played for the Huskers and his uncle is currently Nebraska's offensive line coach. Multiple sources have indicated to On3 that if NIL had been a major factor in his decision, he would be a Nebraska commit.
20. Boulevard Collective (SMU)
SMU was a college football power in the early 1980s. And Boulevard Collective is setting the Mustangs up for years of future success. It's a reason why the Pac-12 is currently taking a hard look at the Dallas-Fort Worth school. 
The collective announced in August it would pay players on both the football and basketball teams $36,000 a year — a total payout of $3.5 million annually — for NIL activity. The compensation is unprecedented in college athletics. Only The Matador Club's $25,000 comes close.
Driven by Dallas business leaders and SMU alumni, Chris Kleinert, CEO of Hunt Realty Investments, and Kyle Miller, president and CEO of Silver Hill Energy Partner, the collective has made SMU a threat. 
"It's behind only Division Street. That's where we are," executive director Chris Schoemann told John Canzano earlier this week when asked where SMU would rank in the new-look Pac-12. 
Honorable Mention: The Foundation(Ohio State), The Kingdom NIL (UCF), LinkingCoogs (Houston), Hoosiers For Good (Indiana), Tiger Impact (Clemson).